…..honestly I don't know now many more times I can say this about the trend turning so pretty and remain fresh about it…..WOWZA!!!
Take a look at the Naeem Kahn Fall 2012 show….it's easier for me to pick out the bummers rather than the winners, IOW, almost every item in there is a winner. (BTW, these are NOT the bummers….)
Isn't this beautiful…OK maybe we wouldn't wear it long, but look at the really cool design here….this could make a great decoration for a tunic or top type garment and work great over pants.  I love this design (actually I did something like this about 25 years ago….gotta see if I can find the picture for that someplace.)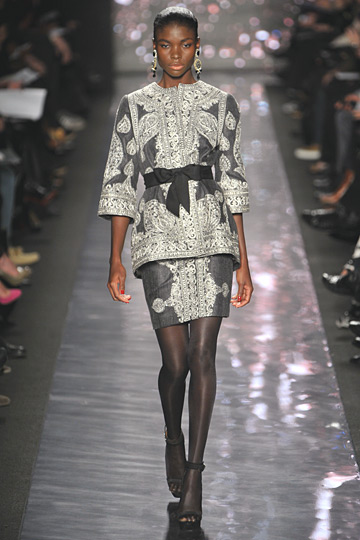 Really cool lines…a great tie (you could use a nice thick belt too), great trim around the bottom and top  (you know you could make this up from a saree and use the trim as an appliqued design on the tunic or jacket.  If you needed to round it, just dart the fabric about every ½" or so.)
OK here's another great idea….love the idea of the feathery type print stopping….I probably wouldn't have a need for long (although this is a great look long), I would do this shorter and makes for a great look.  and then just put a simple, not-quite-so-full-as-the-feathery-chiffon crepe, under the chiffon and hem it right at the knee or a little lower (where the shallow dip of the knee hits).
Well, I could sit here and copy all the show, but it's just easier to include the link….have fun and Enjoy!