I really enjoyed most of the fashions at the Oscars, but there were a few that stood out for me.  Some obvious (Gwyneth Paltrow) but others you might not think.  So I decided to take a closer look at some of the more outstanding looks.
This may look obvious, but the reason I want to take this apart is to give you heads up on how to design and sew better for yourself, using (none other) that the stars and the gobs of stylists who get to strut their stuff.
One quick word here – it's amazing what a dress can do….at the Oscars we completely lost sight that Jessica Chastain was the ditzy southern blond in The Help when she wore that gorgeous McQueen dress.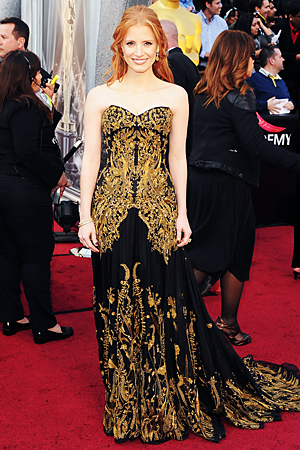 Is this really the same person?  Yep – what a difference a dress can make.
So now back to Octavia.  There's a lot to this dress.
First thing to notice is the wonderful pleating/ruching that the gown had – all centered toward the waist – not the bust nor the hips, but the waist.  Why is this such a great line?  Because it's the waist we mentally think of as being small. When you focus like this (like the spokes of a wheel all come from the waist area), then you give the illusion that the other stuff (hips and shoulders) are larger, and an hourglass figure is born.  I especially loved how the skirt lines are longer than the bodice – this makes the bodice look wider at the shoulder, than the hips.  This is exactly the look that she needed to have and did.
The second big thing to notice here is the waist.
The way the designer did the waist is perfect.  He didn't nip in too much (cause if he would have done that, it would have over-accentuated the bust, making the bust look way larger than it does now.)  He also created a very smooth line from the shoulder to the waist and then another very smooth line from the hip line to the floor.  The shoulder-waist line is a little more flared out (making the shoulders look broader), but kept the bust from looking large because this area was clean – which is my way of saying no wrinkles or gobs of fabric showing up.
Keeping the line straight from the widest point in Ms. Spencer's hips makes her hips look more in proportion.  These are some key elements to design that can make your garments a WOW and without them make your garment look OK, but no matter the expertise of technical ability, you can not overcome, bad design or bad lines.
Lest you think Ms. Spencer has the perfect figure, here are some other looks during the awards season.  I know the illusion/draw of wearing something at the hip is a lot of fun, but it really just doesn't work for her.  She really needs to show that waist and that's what keeps her hips from looking large or her bust from looking large.  The dress from the SAG awards (right) is why we must have fit.  Wrinkles like this through the bust and below the bust, draw away from the beauty of this gown, which had a lot going for it.  My only other problem with the gown on the right is how snugged in at the waist it is making Ms. Spencer look like she has MTS (muffin-top syndrome).  From these two pictures look back at the Oscar dress, and it begins to look really wonderful – even more so.
On most folks, I like to keep the "money" next to the face.  So if I'm doing a lot of detailing or whatever, it's around the face where I want the majority of that to show.  This is also a place to be careful that the lines don't conflict or run into problems.
One thing that is most important here….this is exactly how designers design….they show it on starving victims of a post-apocolyptic WW14 or something (I know I can't help rail against this sort of stuff), and here it is on a normal shaped person.  The point is that if you see it on the runway, it doesn't mean you can't wear it.  The designers design for folks and they want their dresses to be worn by anyone!  I love that this picture is seen both ways here.
But one problem – I adore the dress on Ms. Spencer except for the neckline….Ms. Spencer really needs either a V or Scoop neckline:
Here is the same dress with a v neck that I morphed onto the dress, and it looks so much better – much more flattering.
One more example of those lines in the dress that Octavia wore at the Oscars: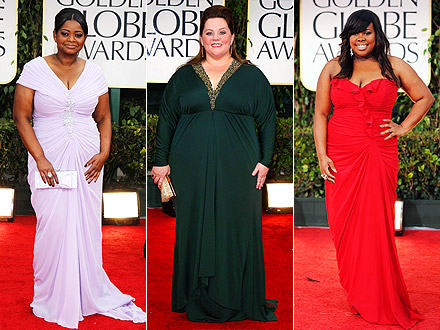 Again a great looking gown- although can you see how severely the gown is nipped in under the bust and how this makes her bust look so much larger?  The Oscar gown didn't do this and thus everything looked more in proportion.  This gets into other ladies in plus sized range at awards ceremony.
Melissa McCartney got huge raves for her performance, and I'm not sure she wasn't going for comfort or what at the Oscars, but she could have done better.
You know this is a good effort, but there are some details here that don't work.  First, light (white) always projects and dark (black) always recedes.  To put white around an area that needs to look smaller, isn't really the best idea.  Also billowy chiffon is comfortable, but it's also a lot of mass (whether it's airy light or not, it looks massive and all that extra something around a plus size can backfire.  And this nude is not her color – she is a strong person and has very delicately colored skin – the nude just takes all that away when she could have worn a wine color or Persian blue or even a dark black green – or black.  If she had to wear a strong color a great blue or royal purple would have been good.
Even some basic modifications: – First of all taking the beading at the waist off, and secondly not cinching in the waist so tightly to cause the bust to look larger than it is, is helpful.  And a darker color makes her look a little less "plus".  The fact is that when you are plus sized or for that matter have some figure areas that you want to diminish, then you have some basic rules that you have to follow.  If you don't follow those rules, that's fine, but you won't be putting your best foot forward.
  Now if you're headed to the local market to pick up some groceries, then you don't need to worry whether your ensemble is silk chiffon or cotton twill.  If you're on the red carpet at the Oscars or going to tea with the Queen, then you do need to concern yourself with whether you look better in silk peau de soie or silk chiffon.
Here's my point in spades:
Personally, I think she even looks happier here, but she certainly looks better.  It's those clean lines from the shoulder, through the side bust and waist.  As well she's not cinched in at the waist, the dress glides over her waist and she looks much trimmer and much better – of course she's also got on a dark color.
Like I said, Ms. McCarthy may have wanted to just be comfy at the Oscars, and was willing to sacrifice a look to do that.  That's a decision we all have to make.
And please don't think I'm dissing the stars – they are all at the mercy of their stylists who usually are the ones to bring in clothes for them to choose from.  Most of the time this works pretty well, I just think Ms. McCarthy could have been better served in a more classic column type dress.
The reason I like to do these posts, is that we can all learn from them….getting ready to be MOB (Mother of Bride), MOG (Mother of Groom) or some other important event coming in your life – award for you, your child – at some point we all need and want to look exceptional for that important occasion, and what we want most of all is to look appropriate and the very best we can.  Looking at what looks good on you is just as important as dressing at the right formality for the occasion as well as being in style with the times.  It's all part of what makes us look really exceptional, and it's a long way toward making us look really great in our own creations!