NOTE:  I think this got posted, but I'm not sure – so I'm posting it again (I'm learning the new format of WordPress!)
Deb asks about Haider Ackerman and his fall show and how to adapt his designs for patterns.  I love stuff like this so here we go.  Also there's a great article on Ackerman here.
I sort of did these in groups and then going to take them apart.  Both of these styles are same silhouette…one is a jacket and the other I'm interpreting as a blouse, albeit very constructed and jacket-y looking.  They both have the signature belt from Ackerman.
So let's take the jacket first and the one on the left in particular.  There's several different ways to handle this.  First I look at the line – it's close to the body, it does not meet in front, the shoulders are pretty strong (considering in comparison to the body & waist of the jacket), and there's no collar.  There also this pleat feature on the sleeves.  That can get a little funny looking fast if you don't know exactly what you're doing, i. e. have an exact pattern from this model.  So if I were recommending this to a student, I would recommend picking out a pattern that is close in shape to the jacket (not meeting in front [course you can alter that], slim and nipped at the waist [can't really alter that – it's in the line and cut of the pattern], no collar and strong shoulder), and that's what I would make up.  I would use only the main elements of this jacket.
Now if you are emotionally, psychologically, spiritually and hormonally bonded with that pleat feature around the shoulder down the sleeve, there's a technique in the Pattern Magic 2 book by Tomoko Nakamichi that has this pleat in it.  Before I made up the jacket though, I would seriously considering doing a muslin (maybe more than one) to work out the manipulation of the pattern the way you would want.  There is also some Transformational Reconstruction work that would help in doing this pattern (done by Shingo Sato). Below I've outlined how this pattern could be done using this method.  It's long, so I've put it at the bottom if you want to print all this out.
But the main lines and cut of this jacket are fairly straight forward.  I would use something that would easily fit like princess seams.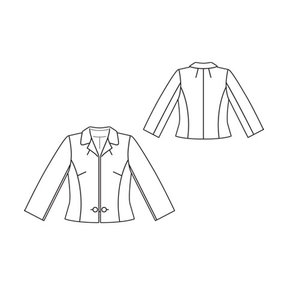 This is just a clean nice Burda pattern (click the picture to go to the information about the pattern).  It's got a strong waist, nice sleeves (although you'll be redesigning sleeves) and you would just cut away from center front where the jacket doesn't close.
Both pictures have a belt, and this is very straight forward.  Just trace from a sloper or fitted piece above and below the waist.  I would use ultrasuede or faux leather with a nice Bemberg (it's my favorite lining) as a lining (that way it would feel nice and move well on you), but the main thing here is to give it some very stiff backing – possible two or three layers to get the belt stiff enough.  The belt could be detachable or not depending upon your preference.
OK – I'm going to go a little faster on these two.  The one of the left has exaggerated proportions, and if you were to use this piece as inspiration, you would want to modify it a lot to make the proportions more eye friendly for our thinking today.  Today we're used to things being a little more in proportion.  But the design below has better proportions, except for the profusion of ruffles in the peplum part of the skirt (and have you noticed how peplums run amok in this collection?….peplums are back [I'm getting ready to do a whole blog on that]).
So the one left would be the one I would get the most inspiration from, and what I would like to use is the opening on this jacket, the modified peplum (this looks to be a circular ruffle type peplum, but I would cut it way down from what is shown here), and the thin sleeves (but let's be realistic here and realize that we gotta have some ease in here to make this practical, so not quite so tight as shown here) and a nicely modified belt from the group above.  Use a nicely proportioned jacket with: no collar, straight CF closure, doesn't need peplum (you're going to draw a new one), thinner sleeves (sort of leg-o mutton-ish shaped).  In a future post, (I've written it so it's schedule within the weed), we'll do a complete peplum, so won't put that here.
One more style.  I picked this one because not everything a designer does is gold.  A lot of what a designer will do is throw some things out there that he/she thinks have good line/style and see how it goes with the public – for whatever reason, we can only guess why.  And this is one of those pieces.  I'm left wondering "why?" on this piece after there was one gorgeous piece after another.  But this is to show you that not everything is worth of our attention.  What I do not like about this is the lines and cuts that we're seeing a lot of are missing on this model – the accentuated waist, the strong shoulders (although these are pretty strong), the girlie, hourglass silhouette is nada!  Every designer has them.  What we hope is that a designer will have more winners than losers, and in my mind Ackerman did have way more winners.
Hope you all enjoy that trek, and click below for an in depth of how I did the top pleat jacket.
Here we go on this trek….
Here's the style we're looking to work on….first thing you have to do is get the jacket pattern fitted (in a muslin) and basic line and style nailed.  The pattern I chose (the Burda above) needs to be altered.  So the first thing you have to do is rotate the shoulder dart (in the shoulder seam) to the neck.  Since you already have a dart there this shouldn't be all that difficult, but let's say you've picked a pattern that doesn't have a neck dart, so you just rotate it to the neck.
First on left, is a sketch from side view.  2nd is I've taken the dart and rotated it to the neckline (remember the Burda above already has this dart in it) and third I've drawn a line through the bottom of the dart points, through the sleeve header, and down the sleeve and curving to the back which is what the jacket pleat in the picture looks closest to.
So now essentially what we want to do is add that pleat in back, so we need to cut and spread the pattern to do that….here's what I mean.
I cut along the pink line and spread the pattern pivoting on the point at the end of the of the pleat (or where the pleat goes into nothing).  Here's how to do that on the pattern. (Actually what you would do is work up a fitted muslin in the line of the jacket that you want, then you would mark this line (the place to add the pleat) and then slash along that line.
Now here is a picture of the pattern pieces (front on bottom, sleeve on side, and back on top, I haven't drawn in the side & waist darts in the front piece, but they are there.)  You can clearly see here where I've drawn the line to make the pleat.  To keep there from being too many pieces, I'm going to do away with the sounder seam and the outside piece of the shoulder seam will go onto the back piece, while the inside neck and upper back will all be a part of the front piece.  Oh yeah, and did I say this way of designing and sewing uses a ton of fabric?….well it does.
Here I've now pivoted the line I've cut to make the pleat.  The pleat ends in the back side seam at the bottom of the sleeve, so that's where to start the pivot.  When I reach the end of the sleeve, then I have to measure on the armhole to make sure that the sleeve will be the same with the new additional fabric, as it will be in the shoulder .  This is probably the hardest thing to do.   And this is why it's so important to do this up in a muslin first.  Check also to see how much if any, interfacing and the body & weight of the fabric you will need for this design
This is a marvelous learning exercise cause it gets you into thinking about clothes, construction and design in a completely different way.  BTW, you're cutting two pieces here….front/back and sleeve, and you will need an under piece to be the stay so that the pleat will fall in the right place, and then you will need to tack it down so that it will stay in the right place.  Some designers add a top stitch here (and I think you can see one on the Ackerman jacket if you look closely)
Now this is one of those things, that seen all at once, you think: "Oh that's nice, well yeah, I see how to do that now," and then never pick it up or do it again.  Don't be that way – just go through this process one step at a time and remember that one step at a time, it's manageable and understandable.   Don't get carried away what you will have to do next, just go with it.