March 25th – the exhibit at the Denver Art Museum will open the only US venue for the Yves Saint Laurent – The Retrospective.  I'm so excited, cause there's a chance I might be passing through Denver, and will definitely see the show and make a report here.
But I have to start this by explaining that YSL in his heyday was the same time I was cutting my teeth learning how to couture sew.  He came to the fore about the same time I began to understand construction and designing techniques.  So YSL was like my second mentor (beside the wonderful lady who taught me the couture techniques I know today).
He was not only a master of the Parisian couture world, in my mind he was the master.    I could not wait to see each new collection to see the beautiful creations he would parade down his runway.  Now, not all of them were for the street, but a lot of them were and they were elegant, exquisite, delicate and glamorous beyond my wildest imagination.
This is one of many great media flooding the net and there's lots of beautiful things.  This features the curator, Florence Müller and Pierre Bergé the co founder of YSL who M. St. Laurent himself credited with a lot of the success of the house.
I disagree with Pierre Bergé in that I do believe that fashion is art (otherwise why is it in a museum – duh!), but he does admit that the designer must be an artist – OK so we're half way there.  I guess old ideas take a while to move.
These are some of my favs that I remember when I was a young fashionista just discovering fashion and the beautiful clothes that inspired me so much.
This was what I called his harlequin look.  No one had done such beautiful designs in embroidery and beading.  What was so fabulous about this design was how the harlequin diamonds are arranges so artistically on the bodice.  See how all the top diamond lines go out – and this causes you to look in at the waist – it gives that great illusion of shoulder out; waist in; hip out which is that gorgeous feminine look.  The jacket on the right is so timeless you could wear it today and be perfectly in style.
These are just the sort of thing that I adored seeing and working with when I would look at these designs.  Of course this was all hand beaded which took hours and hours (see my Opium knock-off – just this small amount too about 50 hours of beading – and this was back when I was young and fast!)  But the beauty and delicacy of this garment totally charmed me.
Now this I could do and loved.  This is that gorgeous embroidery that was very effective and yet beautifully detailed.  This type of work would be encrusted on a garment, especially toward the end of the 80's.
YSL started many trends, safari, Mondrian (art), classic jacket, and the tuxedo for women .  I couldn't resist this look and made my own YSL-inspired tuxedo suit which I adored (it was so comfortable and so chic).  There are many variations of this theme and YSL worked them beautifully….like a master artist.
This is one of the signature pieces.  What makes it so special is that it's classic and yet it's very complicated.  Why?  Because that bow has to be just right or you loose the whole figure and certainly the waistline.  What YSL did to solve this problem was make the body of the dress black, with the gorgeous bow in a completely contrasting color.  That way when you see this from the front you still have the silhouette….
This is a quick little sketch to make my point.  If the dress is all the same color, then the silhouette gets lost in the bow.  This is the worst thing that can happen.  The beautiful bow and the drama of the bow is all gone and lost.
But what happens when you put the bow behind a black dress.  Two things happen:
1. The dress is in direct contrast with the gown
2. The dress (because it is in a receding color) makes the wearer look smaller, waist look smaller, need I say more.
This is the genius of a great designer.  He worked through this wonderful design element:  the back bow and made it dramatic and made it work.
Yves Saint Laurent also had some magnificent quotes.  One of my favorites was that a woman's body has 7 points of interest:
Shoulders/portrait area
Buts
Waist
Hips
Legs
Back
Silhouette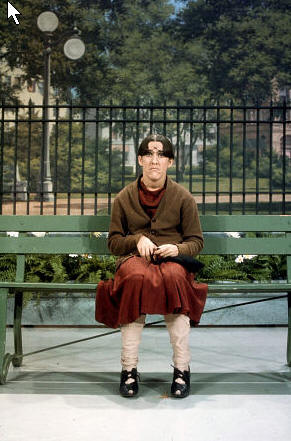 If a designer showed too many, the woman looked like a tart (left) and too little and a bag lady (right – as if you needed to be told).
There are assets and liabilities to both looks, but YSL's point was that you have to mix them appropriately or you loose the whole effect of any sort of beauty.
My other favorite quote was when the Iron Curtain was falling/crumbling in Europe, there was an whole new market going to emerge – the Eastern Block.  Being deprived of any sort of fashion for decades, and with very limited resources, what was YSL's advise to this new market – what should be the first thing they should buy:  YSL's great suggestion was a black turtleneck and black pants and/or skirt.  With that base a woman could add a pow jacket, jewelry, sweater, purse, shawl and any number of different accessories.
It's going to be fun to watch all the press and pictures that come out of this exhibit, and by all means if you're in the Denver area, you have to go see this show!