The Victoria and Albert was set up as a craftsmen and artisans museum, full of trendy things but also of incredible resources.  The whole idea of a museum being resource for artists is not only novel, but I find immense fun in perusing their site (albeit  I would often like to see these things in person).
They are starting a new exhibit of artwork from King Henry VIII to Elizabeth I and the part that interests me are the costume and wardrobe details.  Some of the intricate work involved in these garments is astounding, and with what is available today, we can get many ideas that will work for us today (without the huge collars of that time!)
Although these collars are a little much, they make the point that collars were a very strong trend and artists (as well as wearers) loved the effect these collars had on their looks.  And just in case you think this is a passé trend, notice the Michelle collar here that is just as framing and beautiful as the ruffs of old.
Collars are really important little details, because they frame the face. This was the whole idea of the collars back in the day of Henry 8 & Elizabeth 1, because especially for portraits and miniatures, the whole point was the face, and the collar would bring all the attention to that part of the body.
Another advantage here, and I can't pass this up, is that if you have a less-than-perfect body figure (and who has the perfect one, and what is perfect anyway?..oh don't get me started on that!), then again, here is the attention to the face, where your bright cheerful eyes, sunny smile can over shine even the most major of figure faults.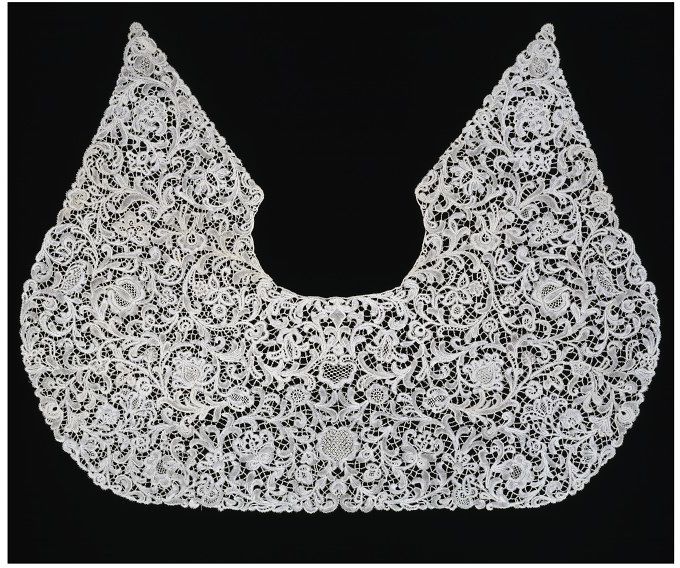 And although this is an exquisite example of a collar, there are ideas to be had here.  For one, if you're doing a blouse (say one of my favs, Simplicity 2339, this is great inspiration for a nice sweet piece of lace, or even just a great eyelet.  Or even if you found a piece of vintage eyelet or lace that is the size of a collar.  The amazing thing about this is that because a collar is so small, you can really go nuts on the fabric (it probably only takes 1/4 yrd or less to do a collar), so if the fabric is $200/yd (that's gotta be some hum-dinger of some fabric), then it's going to run you about $50 for the collar, and you end up with at least a $1K blouse or top!
But here are some other ideas for ornamentation around the neck too:
Even though the embroidery is fabric, and VERY ornamented, there are things to notice like the symmetry (albeit the shield is not exactly symmetrical), and this is always a good rule of thumb when doing something around the  neck (at least until you are really comfy with it, then you can break this rule).  And these silver gates for a monastery in Kiev (also part of this exhibit), is another fabulous idea for ornamentation.
Here's a really neat video on restoration of an Egyptian robe – talk about pressure!!!
And finally a wonderful video on the use of the V & A as a resource from two very talented artists in England.  And yest they do have the V & A in their backyard, but the V & A has wonderful virtual capability that makes it very handy for those of us without the V & A in our back yard.
Here's a couple of more examples – there's nothing like bringing attention to the face than a dramatic trim:
I love perusing this site as there's just gobs of ideas there – from fashion to design, it's just a wealth of information.