As many regular readers know, I'm not much on Punk or Grunge or any of that look.  Polly Mellon once said that Ugly is the New Beautiful, during this period, and I nearly croaked!  Ugly is ugly and beautiful is always beautiful.  I realize that in fashion, as in every other aspect of life, the pendulum swings from one side to the other – from ornate to simple; from girly-girl to androgynous; from hipster/hip-huggers to high-waisted, but ugly is still ugly.  And I do have my fav looks and trends through the years, as everyone does.
So Punk doesn't hold much interest even if it is couture (the title of the new Met exhibit is Punk: from Chaos to Couture), but I do like couture.  Why?  Because it is rich with creative ideas and problem solving techniques!
But onto the fashions caue they were fabulous
First we have to start out with the Diva who seems to do everything she can to promote that title:
This is a killer gown by Givenchy with boots to match!
This is couture to me….gobs and gobs of beautifully layered fabric that takes gobs and gobs of time.
Some folks didn't like this but Dolce & Gabbana know how to bead, and for technical work, this is an incredible piece to see and get ideas from.
Another Givenchy piece, and this one can be zipped up all the way to the neck or worn like Ms. Mara does here – I'm left wondering if the fabric is stretch lace, or has been fitting within an inch of her body….I suspect stretch which brings all sorts of possibilities to your mind.   And notice the application of ruffles….don't like them around your neck, but them on the shoulder or hem.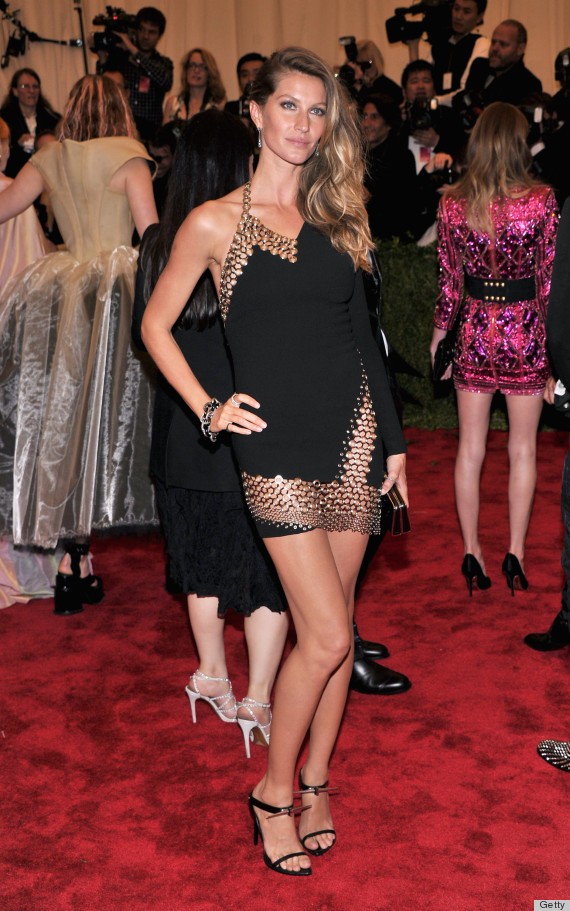 I loved this whole idea….it looks fabulously comfy (most off the shoulder gowns look like they are just a slight tug away from fall off the shoulder and therefore the whole torso), but also it had the metal sort of punk nod – and not too fond of punk, this is about as much of a nod as I want to give…..
except for…
Who always looks stunning (although I'm not a fan of those boots with that gown) who's real nod to punk was….
Phillip Treacy fascinator or hat or whatever in the fashion of a mohawk hair do!
But for my money Zac Posen takes the prize in this elegant gown that shows all and ever error in execution, and all the design detail you can imagine.  This looks like a heavy-weight satin or peau de soie or something like that, but whatever it shows the great use he made of the grain detail (and the nap, which is what causes the differentiation in color on the bodice).  Uma looks so glamour-puss that it's hard to tell who she is here.
Now I know a lot of this stuff is not pertaining to driving carpools or running to the grocery store or checking the mailbox or even just lounging around reading a good book, but there are some excellent ideas here….placement of prints and how to cut them out…..how to use nap to make things interesting (think about putting the yoke on a blouse or  the  front placket on the widthwise grain to get an interesting play in color on a blouse), and zippers, Givenchy's zippers – what ideas there!