Here are some summer ideas to keep you cool
First of all – we all KNOW that lace is hot now – don't we – well, we should.  You can do it in all sorts of looks, but my fav is to do an overall under a little bit of a contrast – not a lot, but this dress reminds us that lace is hot and do something – at least one thing this summer with lace or a pretty eyelet.
Do you have or have seen a gorgeous border and don't know what to do with it.  Well, this is a great idea – the border should be symmetrical (so that when you turn it on itself – it's mirrored).  It's OK if it's not, but it should at least be balanced or appear to mirror – this happens lots with borders, but don't do one that's an obvious one way.  Anyway, do a center front seam, and border away!
See thru is hot or cool, but we REALLY don't want to see everything. You sure don't want to see all of me or you will have some visual pollution!  So a great slip dress under a dress or garment is perfectly fine, and then you can have total fun with the see-thru look.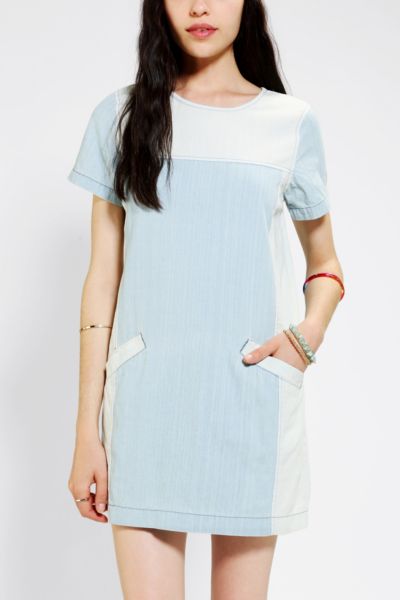 Well, this is just plain classic.  Also great ideas on color blocking – aren't those pockets a neat idea.  I'd do the lighter, more projecting color in the center and the darker more receding color in the sides and pocket flaps.  But great idea.
And here's something just to have a lot of fun with.  Lots of ideas here – this would be fabulous with a lace inset….and look at where the lace inset is and those seam….right across the bust point – use those seams for fitting – they are almost like princess seams. and look again at the lines on the side – great lines for slimming, and the insets on the sides are a little darker.  There's just a lot of good design – you can use some of them or all of them.