I love new little things especially when they aren't orbiting Mars (my cute little way of saying things that are so weird they aren't "of this Earth!!!!").
But this is a neat detail that can update your pants.
But here's a good start on this.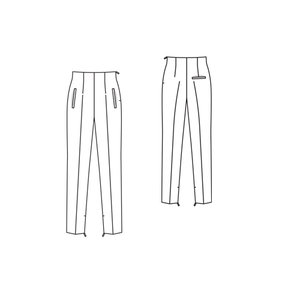 The front of the pant already has the seam in it.  But the back doesn't.  I'll be honest, having the seam up the front and up the back side is a GREAT way to fit.  You can do all sorts of nuances that you really can't get to.  Another thing is that this gives you a great perspective on how to fit the original pattern.
Here's what you can do

From the left to the right:  On the original piece, and draw a line from the bottom of the dart, parallel to the straight grain of the pattern.  Now separate the two, and at the bottom of the piece, either make a slit or veer it out slightly to make the slit at the bottom of the pant.  Notice the top seam line is the dart on both sides of the pant.
Another feature of this is you can do some color blocking.  The view to the right shows how this would look, just be sure and do the projecting color on the inside and the receding color on the right side.  For you subscribers, I included a good chart for receding and projecting colors in the bonus for the April first mini-newsletter.  Be sure and save these as they are really great resources for you.
OK – hopefully you'll try this new trend and play around with this seam for fitting – it's a whole new take on pants.