So now enters the Roger Moore period – sort of an meyh moment, but the fashions were still great.
I mean honestly – this was almost up to Elizabeth Taylor's entrance into Rome in Cleopatra!
This is total symmetry and for anyone who watched the movie, this was not really something Solitaire moved around in – it was a chair or sort of cage, symbolizing her trapped existence in her life with Mr. Big!!!
You can't not talk about this movie and not talk about Geoffrey Holder as the voodoo priest.  The costuming here is more than just clothes, it's how they painted his body which was just as remarkable.  I'm sure he did the choreography (he was a principal dancer for the Metropolitan Opera Company in NYC at the time), which include all the movements in his scenes.
When I first saw this movie, I thought this was one of the scariest costumes and make-up I had ever seen – more so than the monster movies – maybe because Holder made a fine line between reality and fantasy, which is the scariest kind of horror!
The most remarkable thing about the fashions in The Man With the Golden Gun was Nick Nack's wardrobe.  Why?  Becuase look how beautifully balanced and tailored this is to his body.  Of course he has to have everything made, so that's a dead-giveaway that ever thing is sewn for him, but the beautiful tailoring is gorgeous – how his tails in this jacket fall just right, and to the correct height for his size.  The pants have a great GREAT fit – they hang straight, they aren't overly wrinkles (notice that he's stepping forward with one leg so that's causing a slight pull in the pants, but you can easily see the crease on the pants is falling perfectly.  There's a slight break in the crease on the pants which is what most tailors aim for in pants – that is the fashion these days.
This is one of those gowns (in The Spy Who Loved Me), that had to do yeaoman's work.  They probably had more than one gown – I know they did  – and my guess is that the other gowns were constructed differently to function differently.
If you recall, Anya here goes to meet a villain the Russians are after as well as Bond, in a local night spot, so of course she has to wear a seductive evening gown, here looks like it's created out of nothing which are the hardest ones to construct.  But the evening then leads to a chase through the dessert where they are left without transportation, and pic up a vehicle which is barely a car, and have to do maintenance on it, and fend off villains and all in an evening gown – yeah, right – I do that every day!!!
But what's fun here is how the movie really makes you believe that this is not only possible, but doable, all with illusion.  When Anya is doing all her fighting to fend off the bad guys, she's probably wearing a different gown or one that is more anchored so that things are falling out or amiss – the censors will have a field day with that.
But the movie pulls it off and we actually believe it's the same dress, when it's not.
This design shows the total effectiveness of a border trim.  For evening sometimes all you need is a little bling around the edges, and it's a go!
You know the Brosnan-Dalton period was just bad, and there wasn't too much redeeming except Xenia Onatopp – another memorable name – and the hilarity that this had reached that her combat uniform had little shoulder pad thingies inside the mesh top – to me this showed how unfortunately hopeless the series had become
And then…..
Comes Casino Royale and WOW we are back on top – including dresses – this is the slinky number that Bond wanted her to wear so that he could get the distraction of everyone in the room.
But this has some very interesting support and fitting mechanisms that are worth noting.  One is that dramatic drop in the front, made eve more dramatic by the straps that are wide at the top and narrow at the bottom – not only is this support, but it makes the v in front look even lower, and it's pretty low.  To support that low "V" and keep the girls in place, you gotta have good support in back – which means that has to go straight across the back – without this there's flopping all around, and although the back straps look rather convoluted, the two-back strap look is another support that makes this work.  The bare spot in back is probably cause they wanted it to be just a little more bare in back, but I don't care, cause they've got that support straight across which is what gives this dress support and comfort.
….but this isn't my favorite…
This kind of detail is my metier and probably my downfall, but I love it.  It takes a normally dull and drab dress, and immediately makes it a wow garment.
What's interesting here is how they've done the design in front to make it look like it's really a deep V, but the dress totally has Vesper Lynd covered up.  I love this sort of illusion as it can also be used to make a person look like they have a small waist, make them look like they are thinner, and just have all sorts of effects like that.  And you don't need beading to do it – just a design in front.
For all you who have those beautiful embroidery machines, this is a great idea to use to give the illusion of a shapely and thinner figure.
Camille's big dress in Quantum of Solace is this Prada number.  Actually the costuming in this Bond movie were probably some of the best, cause Camille wears another outfit that's really neat (more on that one below).  But this dress had to do what's become a trait of the new Bond girl…..she has to look absolutely dramatically drop-dead gorgeous at a cocktail party and then run out into the dessert and cope in a cocktail dress.  Speaks well of the dress, if they didn't use two or three, which they probably did in the movie.  But even if they did use more than one, tells me that the dress is made well.  That's what you get when you buy a major designer and spend $2K on up for a little cocktail number.  But as we sewists know, you can do this on your own and have the same durability, quality and fit (which you do not get at the designer boutique), for really a better garment!
OK – this is probably Prada too – it looks like it, but a GREAT look…..love the statement necklace, top and skirt and all the right colors for Olga Kurylenko, the actress who played Camille.  Everything is done beautifully except that hem….why oh why would they not fix that – as much $$$ as they spend on these movies, this isn't all that hard, and you can tell it makes a huge difference in the look of the skirt – I dunno, maybe someone at Prada told them it was supposed to look this way – I sure hope not.  The skirt dips in front at the waist and this doesn't bother me….there's lots of folks who have a sway back, but PLEASE  – if you do – please hem it even with the floor…just put a ruler on it and measure it from the floor and make it the same measurement all the way around.  See the difference between left & right – and I didn't mess with the waist just the hem and it's remarkable the difference it makes.  Now if you're wearing those maxi's don't even THINK of not hemming this parallel to the floor.  This is one of those rules that should never be broken (OK the mullet hem is different), but if you want a regular hem, make it parallel to the floor.  This attention to this small little detail will make such a difference in your look.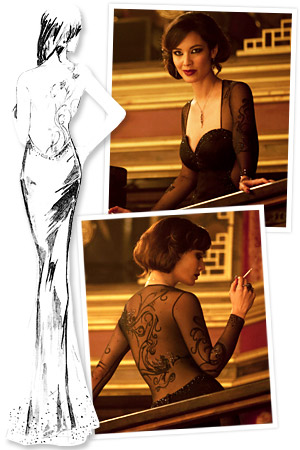 There's lots of great looks in Skyfall, that later, but this has got some great ideas.  This is a stretch knit that was first used by Vera Wang.  She was an ice skater as a kid and developed & used this stuff on her ice skating costumes.  It's a great idea, and although it makes it look like it's not doing much, believe me – it's holding up this dress.  And the additional embroidery makes it even more special – you can't have this design without doing it specifically for this design – in other words, this wasn't a bolt of fabric they happen to buy that just happen to fit the design – it was do the design then do the embroidery on it.  I haven't tried embroidery on my Bernina embroidery machine, but I'm sure you could do it.  But if you can't, I know you can find stretch knit with embroidery on it, and you can cut it so that the design works for you.  Now we're all not going on with our backs completely showing (I gotta wear a bra thankyouverymuch!!!!), but if I would like a little lower cut in front on a shell, or a dip in back AND front but need the support of the back being high, this is the perfect place to use this stretch knit.
OK – now to the best part of the later Bond movies – M.  As you all know, who have read the blog, I adore what Dame Dench wears most of the time, and the Bond movies are no exception so here's a short rundown on them and why I like these costumes.  Either Dame Dench has a clause that she can pick and choose what she wears or she has such a stellar rep, that no one wants to ruin it, she ALWAYS looked good as M!
Now really – how could you not love this? M's wardrobe is a go-to look for anyone wanting to get ahead in the work world, especially if you are in the upper echelon of your company.  Granted this is not the latest, hippest look, but large companies aren't looking for that.  They are looking for leaders, and face it, if you're in one of M's outfits and leading a seminar or just speaking at a meeting, you're going to demand more attention.  (More on this look later.)
The one on the left, doesn't look all that spectacular, but there is NOTHING that beats a white shirt and a dark jacket.  A white shirt should be a mainstay for your wardrobe whether you're working or not, and  white shirt with a dark suit/jacket or even under a dark dress (dark is black, chocolate brown, true navy, deep wine, forrest green – that sort of thing) this is a fabulous look.
The jacket on the right is even better.  Both of these frame the face and bring the attention to the face, and when you're working especially in a leadership position, and you have on a deep V neckline or a short skirt with a slit, folks are not going to be looking and your face and they certainly aren't going to be paying attention to you.
The other thing I like here about M's wardrobe is that unlike all the Bond girls, it's been a while since Dame Judi has been on a diet or worked out other than just to stay healthy.  That means she has a regular figure, and these styles can be something that all we normal people can use and adapt for us.
OK – as far as looking good for what you want to do at work, I know this raises a lot of ire.  If you have a killer figure, you are want to show it off a little more than someone who doesn't, and although that isn't all bad.
But the truth is that Hollywood is fiction, and it's a very few who have figures good enough to wear the clothes that are worn on Suits.  These women are all actresses, and they go to work then they go home and work out or go to the gym and work out and then they go home and eat one rice cake and then they get up and go to work….their figures are part of their business so they must stay thin.  In addition this predilection with wearing stretch clothes 1 or 2 sizes too small is NOT A FIT!  It never has been and never will be.
Here's a reality check
These are some top women in corporations today – they are leaders.  I don't see one spandex outfit two sizes too small and there's certainly no ill-fitting clothes.  These are women who make a LOT of money and can afford beautiful clothes and wear practical, useful clothes for their business.  These are the real-world models, and that's what M shows in the movies with a little style
That's why I'm so hot on M's look.  Skyfall looks like the end of Judi Dench as M – they'll probably bring back a man (I think it's going to be Ralph Fiennes, which will be fine – bad joke!), but I will miss the Great Dame D as M!
OK – hopefully a look through some Bond stuff has given you ideas – it has me!!!