This is a hot dress in Hollywood, which doesn't mean it's a must for the rest of us, but for a great dress that works for a lot of different occasions, it's worth a close look.
The thing is that the more you look and know about this dress you see it everywhere.
And really this doesn't look like that much to try and work with.   There's a middle band (nice for fitting), a skirt, a top, and those flange-y things on the shoulders.
They even come in prints and various color blocking combinations.
The more I look at this, the more there are some problems that seem to crop up.   I've noticed it on news anchors, advertisements and in more places once you know what the dress is.  Here it is even on a Nutrisystem ad:
But there are some changes I would make.
First of all I'm not excited about this back and this needs to be fixed.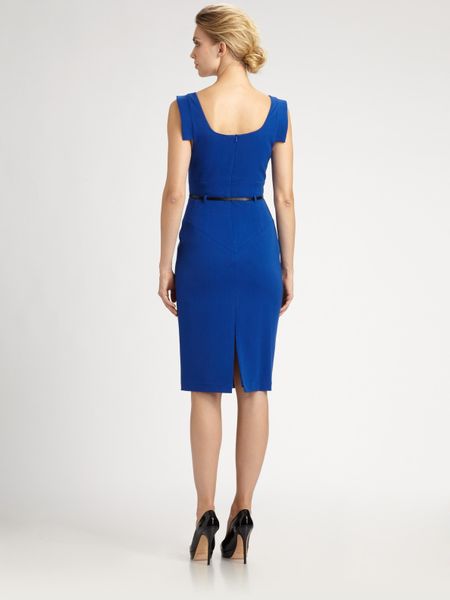 This might be great for movie stars (who live on trendmills), but this makes the shoulders not that stable.  I would make this back higher so that there's no shifting from side to side.
The original dress is definitely made from some sort of a stretch fabric, and the more I look at them the more it looks like a stable knit.  A stable knit is technical fabric talk for a minimal stretch – something like 25% or less.  This means when you take 4″ of fabric (on the widthwise grain usually)), and stretch it to it's max, it will stretch to 5″ long.  (25% of 4″ = 1″ + 4″ = 5″)  So anything from 15% to 25% is usually classified in this stable knit category.  These knits don't stretch much and usually have lots of body, and therefore can be made into more tailored and shaped garments.  Whereas something that is a knit Lycra that has 50% or more stretch is usually a drapier and more relaxed fabric.  A stable knit would make a great comfy suit, whereas a knit Lycra would make a great cardi.
So for the Jackie O dress here I would use a stable knit – like a ponte or double knit.
So onto drafting the pattern.  I'm perusing through Burda, New Look, and Vogue looking for somethingn I can use, and GUESS WHAT!!!!!  For the first time in aages, there it is – already done – with all the corrections.  Usually I'm drafting the dang pattern and THEN it shows up in the book.  Not so this time.
Folks here is the pattern already done for you:

From these models, I would do View B front and View D or E back (top right only), and I would seriously think about making this out of a stable stretch fabric (no Lycra or Knits), as this is designed for a woven fabric.  You can get away with a little exchange here, even though a stretch is not recommended for this pattern on the pattern envelope.  But I would not make it in a stretch that has more than 25% stretch – 25% is the max and really it would be better in 20% or 15%.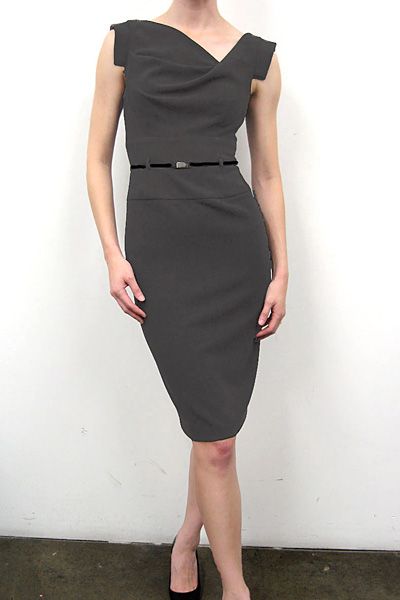 And There's some pulling going on from one side to the other that doesn't look right.  This could be because most starlets wear their dresses 2 sizes too small and it's pulling to stretch around the bust area, or just because it's not made well, and either or both possibilities are good candidates for the explanation of this problem.  So that needs fixing.
So that's the second part:  there is a drape on the original and that's effective, but it comes with a caveat that often this stretches.  In the Vogue Pattern version, they have dealt with this and there is a nice drape in front (so that means your stable knit can't be too thick), and I think that Vogue has done a very good job in solving this problem.  I don't have the time today, but I will do a video on how to drape this on your mannequin so that you can totally solve this problem.  Of course, realize that if you go to Neiman's or any other fine store to purchase this dress and you actually get the correct size you might not have this pulling, but it does appear in almost all the versions that are worn by the starlets, that this is a problem on all these pictures.
Additionally you can do the belt loops (View B) or not, but if you do, make sure that belt is around 1″ or hitting above the waistline.  This is part of what makes this dress, so this is important.
The Neiman Marcus version (above) has this in print and some other stores do blocking.  You could even mix print with solid if you like.  Here's the best way to do the blocking.
Remember this is all about projecting and receding colors.  In the April Newsletter I talked about that, so go back and refer to that.  But here are some great examples…A for if you feel that your bottom half is not your best asset, B for accentuating the lower half over the upper half.  Then prints make a nice touch on this style for C & F, and D is a take off of the Breton Shirt, with a little bit of sophistication, and then G is the classic Dior or district check with the black center.
[private]If you've either misplaced, lost or just can't find this receding/projecting color chart,
here
it is.  The left colors are receding (to be placed on the part of your bod you want to hide) while the projecting colors (to be placed on the part of your bod you want to accentuate) are to the right. [/private]
As you can see there are copious options with this.  And you also have the option of doing this in woven or a very slight stretch (stable knit) fabric.  With the woven you will have less ease, and with the knit you will have more comfort.  Since this is designed for the woven, you might have to make some minor adjustments on the dress, but they won't be that much.
For a very hot look and in the exact print/solid color you want, this is a great design for a professional look.  Of course you make up the size that is appropriate for you.  And this wouldn't be good for a too-busty figure, which is a figure that has a large variance from waist to bust.  But if your bust waist and hips are in good proportion albeit a little large, this would be a good style – if it is fitted correctly.  As a matter of fact this dress probably will never be available in a size suitable for a larger sized model, and the only way you could have one is to make it up for yourself.
I'll do more on this tomorrow.