Sometimes a fit is good and sometimes it isn't.  Like during the summertime, you're out on the lake, or the ocean or near water, and you're not exactly crazy about walking out in a bikini or even a one-piece suit and would like to have something stylish (because remember no matter our size or shape, we always want to be stylish), to wear.
What's a gal to do?
Well, a cover up (without the Liz Taylor caftan please) is a great solution, and they come in  many different styles.  But the main feature of a beach coverup is that it is loose and cool.
Here are some ideas:
This is probably the most fitted, and I like the line of the hemline – this is always flattering.  So if you feel that you are fuller figured and aren't really interested in wearing a bathing suit, then shorts and a knit camisole under a white linen blouse from this pattern is a great look.  And you can button just the middle buttons and it will flow in the wind and look great.  I would make the longest version here (View A in 3/4 sleeve or rolled up sleeve or View B without the ruffles – they aren't working on this look).
For another look to make this last, when you are away from the beach, a pair of leggings (lace if you have access to good stretch lace – it has to have at least 40% to 50% stretch to work for leggings), and a classic tee under, again with the middle buttons buttoned, would make an excellent summertime look for a cool and breezy feel for a summertime day.
This is a little fuller, and this works that way because it's a top that slips over your head, so the front doesn't button, but again, I would wear this over a suit, and then when away from the beach, with leggings and a simple tee.  I like these tops in a mid to light-weight linen as it just looks so right, and even though it wrinkles it still looks good.  A nice alternative is a crinkled cotton gauze.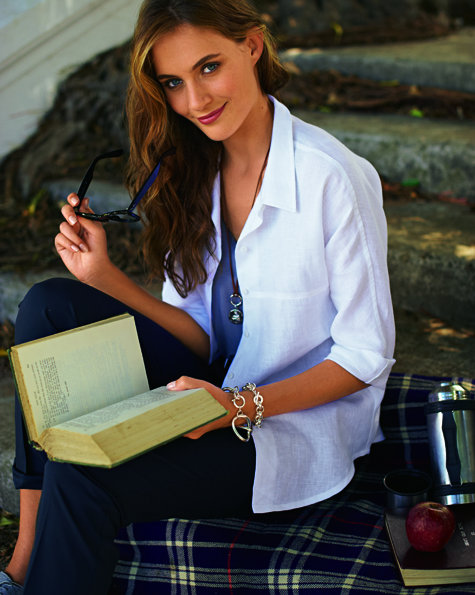 This is another great look, also a little fuller look.  These tops are great just as a light-weight jacket for the summertime,, and I always wear them with the long sleeve rolled up or make them at 3/4 sleeve for the summer.  Long sleeve in white is too much and you really shouldn't do it.
And now for something completely different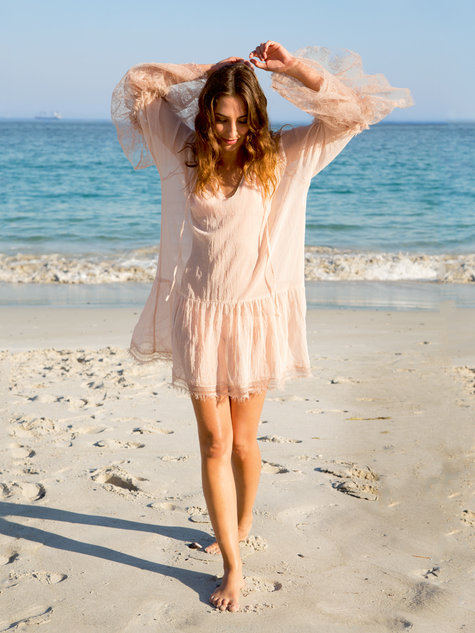 This is definitely a lot different, but don't dismiss this immediately.  This works for someone who has a larger bust and shoulder area, and again keep it light.  This would look great in a semi-sheer, light-weight crinkled cotton gauze or a light-weight eyelet or even a cotton lace look.  As well a wonderful light-weight linen, but one that is more relaxed than stiff, is best for this.  For away from the beach, leggings with flats and a knit camisole or knit sleeveless tee would be perfect.  I would consider making those sleeves a little shorter as fuller sleeve can have the cuff in the soup problem which isn't much fun while you're active on the beach.  I also like what Burda has done here with a sheer lace for the cuff ruffle, and you could use an eyelet for that too.
Most of these are downloadable patterns (click on the photo to go download them).  And hopefully that gives you some ideas before you get ready to head out for August by the beach.
Be cool and be stylish out there on the beach!!!