I conducted a great teleseminar the other night, and thanks to all that participated – and the questions…..what great questions.  Unfortunately I couldn't get to them all, so hopefully we can do this again – it was really fun.
But one of the questions was about inspirations and where do I get my inspiration.
Mostly I start out the way almost everyone does….looking in my closet and thinking I need something for a special event – a friend's cocktail party.  I'm a little lacking on edgy cocktail things – most of mine are conservative. Sooooo – I'm looking in the closet and thinking, and the next thing you know I'm surfing.
Most of my favorite sites are Neiman's, Bergdorf's and Barney's, also Net-A-Porter.  I also get beau coup twitter fashion feeds all the time during the day and will just peruse through those.  Amazingly enough the fashion feeds on twitter are better than the #sew or #sewing feeds as most of the sewing stuff is "how to make a ball gown in one hour," or some such nonsense.  Yeah, I bet that's one flimsy ball gown!!!
But I got this feed today, and this is a great one to think about – and lots of ideas here.  The title of it was "A Transition Jacket" and really who doesn't need that – in the fall or spring. You don't want something really heavy, but at the same time you need something for those cool evenings.
First idea –
What a  fantastic idea for just a coverup for either cool late summer evenings or for cool fall evenings.  Either is a great look – both have sort of a waterfall look in front which does nothing but elongate you – one of Dame Judith Dench's great looks.  I like the tunic length on the right a little better, but if you don't want that much lace, something like the left is great.
There are two patterns here that would be great to use….one is Vogue 8885:
It's View D that is the one I like, and you can lengthen it to your right length.  It makes up really well.
Another one is Burdastyle 3/12 #122 (click the pick for more info)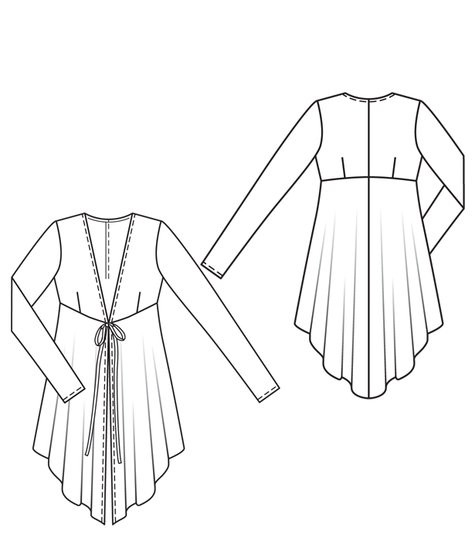 This one needs some work too.  I don't like the long front or "V" in back.  So I would recommend you shorten this one in front (shorter than the side seams), and shorten in back, but longer than the side seam – just make it a more gentle curve from front to back and it turns out great.
Another pattern is Vogue 1346
This one needs some work – I think it's WAY too full, and doesn't have any shape, but that wonderful waterfall front is worth the effort on this.  I also like the sleeve/bodice/front seam….picture that in lace, and the rest in a nice washed dupioni silk – and that would be a kickin' top to wear for anything.
Next up is this one:
This is a basic side zip in a leather or leather-like fabric.  You don't have to do it out of leather, and there are a ton of options.
Vogue 8863
I like this pattern, but it needs some shape – that means an FBA at the least, and a gusset under the arm wouldn't be a bad idea to take all the extra fabric out from under the arm.
For a better fit here's BurdaStyle 3/12 #116 (click photo for download instructions)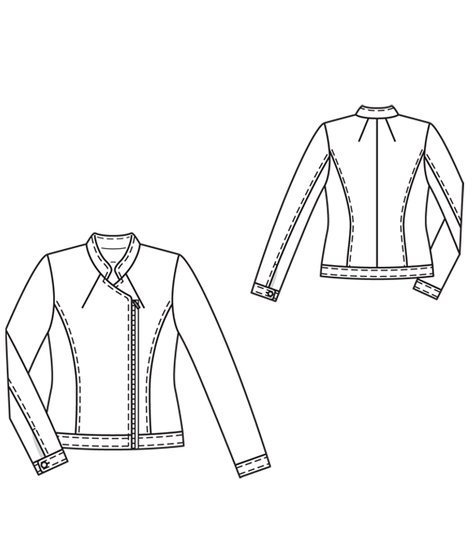 This has a lot of pizzazz and fit to it and would make up really well.  If you're not hot on things around your neck, you can easily take the collar off (just face the front and back).  Also think about making this out of a fun leather-looking type fabric, but definitely a fabric.  It could be a little shinier than what you might think of which will make it look leather looking.  Also silk works well for this – something like a tafetta or smooth and consistent yarn type silk.  It will need some backing to make it keep stiff like a jacket.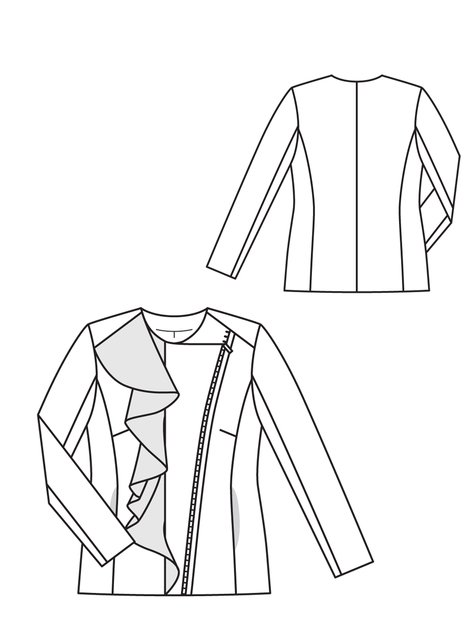 This is a great jacket, I just wouldn't insert that ruffly thingie….that means you'll have a center seam, but it won't really be on center front – if you're OK with being a little one bubble off plumb, this is a great look – lots of great fitting seams here.
Finally, a vest type look:
And basically this means just making up your fav jacket pattern without sleeves, then wearing a turtleneck or other shirt or blouse under and slipping on a vest or sleeveless jacket just for a little warmth for a cool evening.  Any number of tunic, jacket or top patterns would work for this, and just don't do the sleeve.  Usually I like to take a piece of bias strip and use it as a small facing around the edge and tack it down by hand for an very nice clean look.
I know hot August isn't normally the time you start thinking about this, but the last couple of days here in the southern plains have been positively cool for this time of year, and it started me thinking about being a little cooler and dressing for it!