….and they are mostly about sewing.  They are amassed from various headlines throughout the internet.  But the one thing  notice above all else is the variance between media……
like this from print media:
Groups Sews Pillowcases For Needy
Now, I have no doubt that the needy are terribly thrilled to have these pillowcases, but I have to wonder if this is really on the top of the list for the needy and if this wasn't more of an event that was organized to help the givers rather than the needy.  It just seems a little like we're stretching the point to get a headline about "sew" or "sewing" and this is the best I can get from print media.
While on the other hand, in the blogosphere or on social media or electronic media I usually get headlines like this:
Tutorial: No-sew one shoulder t-shirt refashion
or
Seattle Sewing: Chatting and Shopping with Sew Maris and District Fabric
or even
Sewing Gift Tutorials (on Pinterest)
The pont is that the print media is missing the story.  This doesn't happen just one day or two or here and there, it happens almost every day.  Well, there's the exceptional SEW mixed with the SEO (Search Engine Optimization on how to better construct your web site so that it's picked up as #1 or #2 on Google Search or other engines), but aside from that, really the only difference is that in the print media sewing seams to be something done by elderly grand mothers or country folk who haven't got anything else to do, while the more hipper, younger social media or blogosphere is filled with posts about sewing garments tutorials, how-to's and other really neat, fun and exciting ideas.
I'm not sure why, unless print media does rely on persons to bring it to the media, whereas social media is more about individuals just writing about what's on their minds.
And for a lot of folks, sewing is a big thing of what's on their minds.  Some of it is crafts, but most of my headlines I get about are about garment designs, projects, techniques and a sharing of ideas about what and how to do garment sewing including fashion.
I even have a philosophy about why so many young gals love the designs of the 50's & 60's (a la Mad Men craze).  Those garments actually fit, as opposed to the cop out of the fast fashion world (the cop out is that they all use plenty of latex so that it will stretch and that's supposed to be the fit you want, because that's all you're gerna get from the fast fashion folks).
This is a typical example….on the dress see the seam that comes right across the bust line and down to the waist?….and then see that side bust dart?   All of those are fabulous fitting tools in this little ensemble.  Next notice that jacket and how the dart goes up to the sleeve line (there isn't a set in sleeve but if there were, that's where the top point of the dart would go), and then it continues down the inner sleeve.  That cute little seam, and there's some others in there, make that under sleeve area very fitted and easy to alter for larger busts or other fitting problems.  Back then designers, manufacturers, retailers and pattern makers all understood that women had different shapes and sizes and styles (imagine such a thing).
So, they knew how to design something that could be easily altered to fit a myriad of sizes and shapes.
Here's another one:
The one that is most interesting is the vest looking dress on the far right.  There's a side seam, a side bust dart, and two waist/bust darts on each side of this little number.  Don't think you can get a good fit on that – how wrong you can be.   All those darts and seams give you a dreamy fit.
All these styles are great for fitting.
So here's the thing.  Why can't we do this today?  We can.  There's lots of things out there we can do this to.  Here's some examples: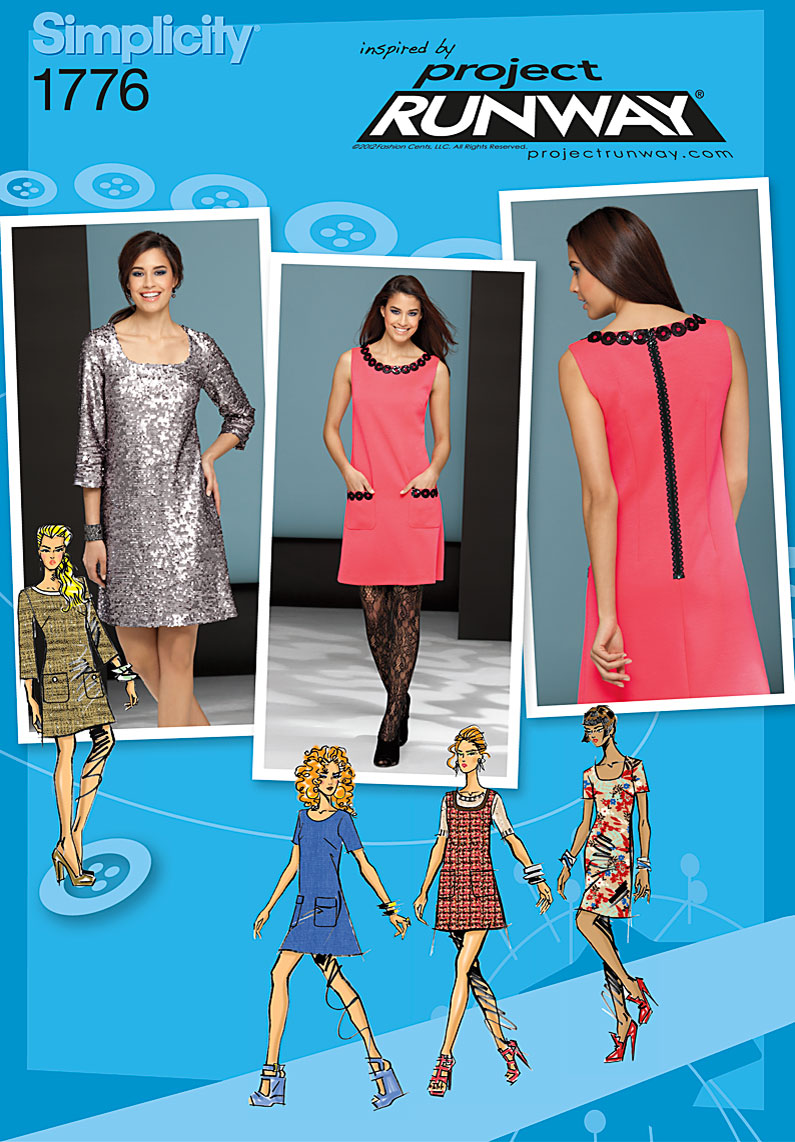 Here's another view: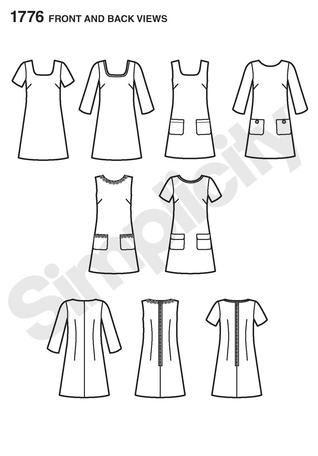 There are already darts in back, and in front is the FBA (the hardest dart to add), so all you would need to do is add some waist/bust darts, and then belt this and talk about C-L-A-S-S-I-C and one that is ripe to be done over and over and over and over (tunic, top, dress, blouse).  I'm not so hot on the pockets, but what you could do, is make one of the waist/bust darts lower and add a pocket in that seam.
So now you have a dress with two different necklines (I prefer the higher one), two different sleeves, with pockets (I probably put them in a bit low, but you get the idea) and fitted and looking excellent on you.
Down here in my neck of the woods, we're getting ready for a snow day, so you know what the REALLY means…….
S-E-W  D-A-Y!!!!!
So now's a perfect time to go out and get some patterns (this Simplicity 1776 is a good one), and do a tissue fit so the next time you have some spare time it will be all set to sew up, or if the snow day is longer than one day (please, oh please on puhlease!!!), then go for it and get a great dress out!  BTW, in a nice silk or taffeta this would be an excellent holiday number!