OK – I'm baffled why Simplicity discontinued this pattern.  It was a classic.  It would/will never go out of style.  I'm at a loss.
Unless it was for one reason:
That ruffled center front is so awful – it's the worst version of the shirt/blouse and doesn't even begin to describe the beauty of this thing.
BTW- you can still get it (at a premium price) on the Simplicity site (click here)
But to explain why I'm so nuts about this pattern, here we go.
It has all the fitting elements already built in.  Although it's very empowering to know how to do an FBA, this one is already drafted in.  Not only that but it comes in cup sizes – so that means if you have a large bust measurement but a small bust circumference, you can be fit;  if you have a small bust measurement but a large bust circumference, you can be fit – just by picking out the right pattern piece. The pieces come in size 6 with an A cup, 6 with a B cup, 6 with a C cup, 6 with a D cup;  then size 8 with an A cup, 8 with a B cup, 8 with a C cup, 8 with a D cup and so forth.  The pieces have already been drafted to fit you and you have a huge selection of pieces to draw from.
Now from time to time I've known pattern companies to have a popular pattern, like this one hopefully is, and they will take it out of the book and re-release it.  My hope is that is the case here (and I'm screaming as loudly as I can to Simplicity to do that), and even with a better picture.
Everyone should have at least one white blouse in their wardrobe, and if you don't – go get some nice (not quilting quality – I'm talking REALLY nice) cotton and make yourself a white blouse – it goes with anything.  I've even worn a white silk blouse to the most formal of balls – it's that versatile!
And that's just the front.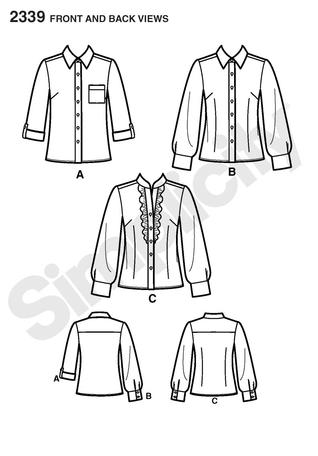 Look at the back.  It has a yoke, and this is a most excellent place to alter for prominent shoulder blades – no matter if you are a jock or maybe you have sloping shoulders from age, you can fit with this yoke.
Don't like the yoke – after you make it with the yoke, you'll have a dart in there – like this:
OK – when you have adjustment through a back yoke (and BTW if you aren't making an adjustment on this seam, you're missing a fitting opportunity).  But when you make this – you're curving every so slightly on the ending (both sides, I've just shown one side for simplicity), and you can take that and make a dart, then rotate it into the shoulder seam or neck seam.  Both of these are traditional placements for the shoulder/neck/sloping back area.
Just another feature of this pattern that makes it so easy to fit, but also so easy to make into another garment – a dress, tunic, top, shell, shirt, blouse and on and on.  About the only things you can't make are jackets and coats (of course I'm talking about stuff for the upper half of the body) which usually require heavier fabric and therefore a little more ease in the size of the pattern.
For some more ideas, I've put up some of my favorite classics on a Pinterest Board.  In the mean time, there's another one out there that can work (and it includes all the usual suspects, FBA, front waist/bust dart, back waist darts and back yoke).  I don't like the pockets on this one, but then 2339 had pocket(s) too, just don't put them on.  It also doesn't have the marvelous bust sizes like 2339.  We just have to work to bring back 2339!
Anyone for a revolution?!