And for goodness sakes what in the world is she talking about?
Is she the Dominator of Pressing?
The Pressinator?….the Pressinatorama?…the Pressmeister?….dare we say the Iron Lady of the Pressed Cloth?
Well the Pressinatrix is the counselor extraordinaire or a.k.a. Her Most Highness of the Unwrinkled;  the Master of Smooth and the Purveyor of the Pressing Process with Particular Precision!
 There's a rumor that she's been seen running amok with Ann of Gorgeous Fabrics fame, and she, like me, is a devout follower of the ways and philosophy of the Pressinatrix.
Part of the reason I take to the Pressinatrix so well, is because it is the unsung technique/process/element of sewing that hardly gets any press (Ok, bad humor).  Plainly speaking – – most folks don't think about pressing when they are sewing or that the two are so inextricably connected.  One of the things I stress in my classes is not only pressing but pressing with the right tools, and that includes an iron.
(Confession:  I think some folks just come to my class to use the iron!!! Cause I have a killer iron w/tools in the class!)
But onward to tools and irons.
I'm amazed that some folks will spend a good sum of money on a fine machine then tinker with a couple of dollars over an iron.  If your machine is worth that much, then why would you consider sewing (and yes think of sewing with your iron) with an inferior iron, and particularly without the tools needed.  (Click here for a short list from the Pressinatrix herself on tools).
IT'S TIME FOR AN INTERVENTION!!!
Yes, I'm screaming.  Take the bull (or bull-ette) by the horns (or lace collar) and go get yourself a decent ironing system.  There are a bunch out there now that are affordable.  And stop this nonsense about spending too much.  OK, it's expensive at first, but haven't you learned yet, that spending a little more now, is soooooooooo much more economical in the future.
Case in point….in my local Bernina shop, the owner has started stocking a fabulously wonderful iron.  I picked one up as a stand-by/class/traveling iron, and it's now become my main squeeze.  I adore it.  It's from the company I've used for three decades (in three decades I've bought 2 irons from them – do the math on that one thankyouverymuchladiesandgentlemen!!!)
That's the REAL bargain, is to get a good iron ONCE and then you don't have to continually replace the dang thing.  It works once, now, tomorrow and again and again and again…..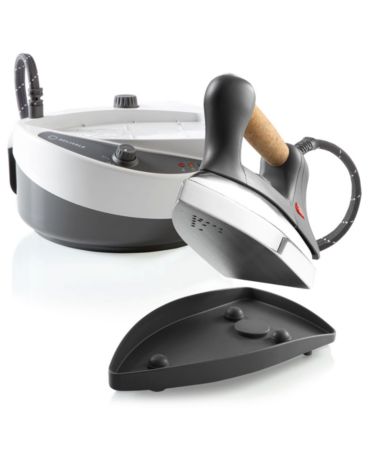 Click the photo for more info.  I like to support the local businesses and companies, but if you aren't in the area, you can pick this little jewel up on the internet (over at Bernina, they are having a bit of a sale, so that's another reason I like to shop local.)
Now after you get a great system like this, your basic tools are minor…ham, sleeve roll, press cloths and the Pressinatrix has all other suggestions.
This will all improve your pressing so beautifully, it will astonish you.  Pressing can be addictive (as the Pressinatrix has taught us!)
So keep sewing – – and pressing!!!