I know it's late, but I couldn't help myself.  There's always one or two pictures that make me go nuts.
The memo must have gone out that red is the new black, because it was there in force, and it's hard to wear on the "red" carpet, but this outfit makes it look really great.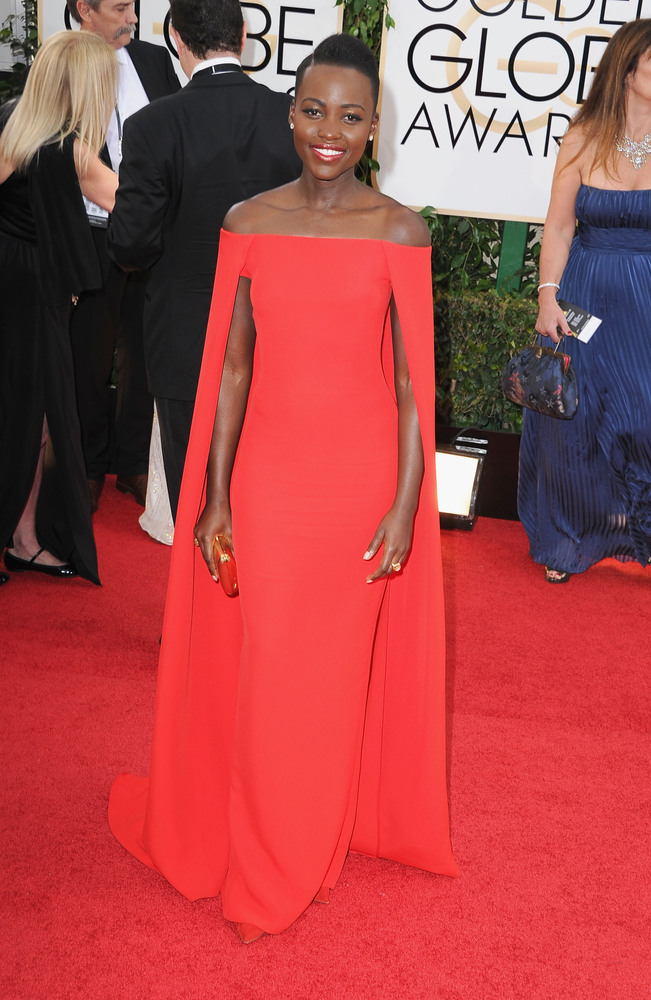 This is about as classic as it gets, for an off-the-shoulder look, which isn't my favorite, because it's not that comfy to wear.  Most starlets know that (or they should) and work the dress.  But it still doesn't make it more comfortable.  That off the shoulder has to be very snug on there, and the more snug the better the stability, but less movement (try raising your arms with them pinned down like that).  The looser, the more arm movement and less stability of the dress.  It's the snug fit on the upper arm that holds the dress up.  This one is by Ralph Lauren.  This is for pure show – just a classic design, but probably wouldn't do it.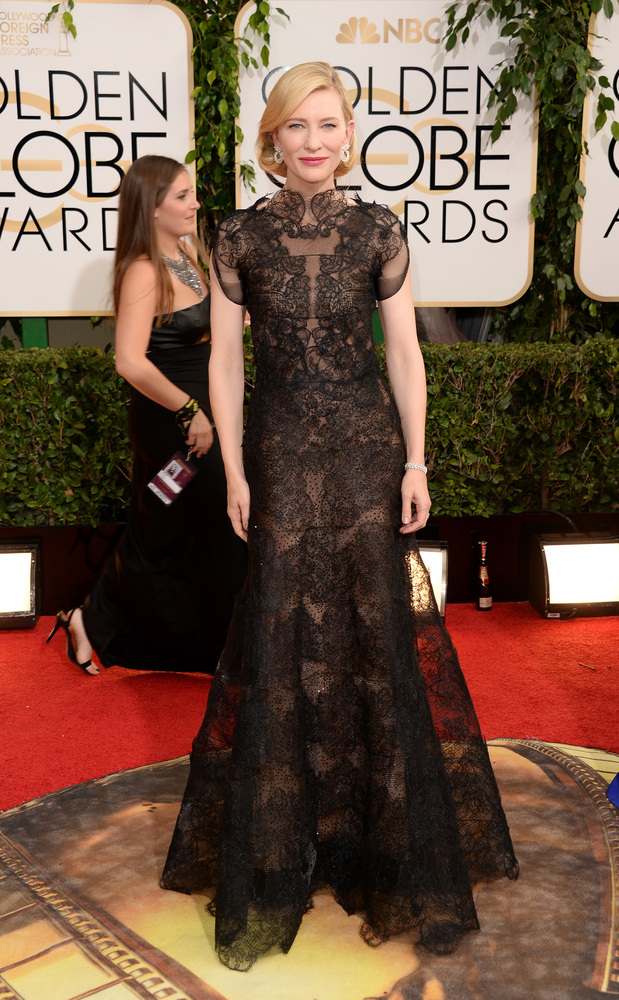 I know this maybe didn't win a lot of hearts, but I love it.  The design is beautiful (it's small here but right click it for a detail of the collar).  Her light coloring is in great contrast with the dark dress.  If you have dark colored skin, a light colored lace will do the same!  Think about this in a top under a suit.  Of course we would make it with a skin-colored lining (whatever your skin color is) and contrasting lace.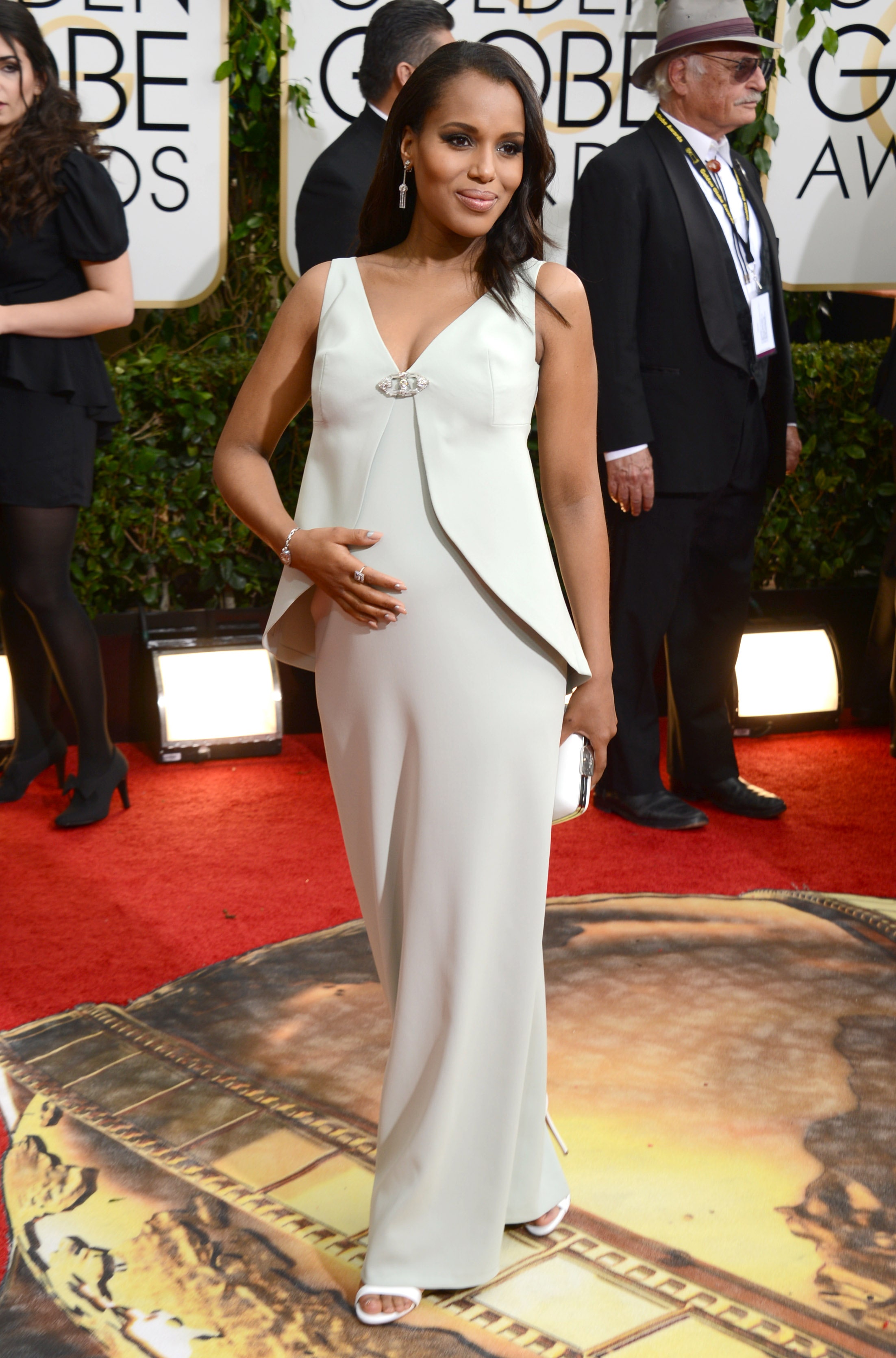 This is without a doubt one of the best looking pg dresses I've seen in a long time.  1.) it accentuates the bust (all pg moms know that their normally small bust will turn absolutely voluptuous during pregnancy) and 2.) that jacket does some magnificent eye trickery to more the eye away from the belly and back to the face/bust/portrait area.  This is Balenciaga, and WOW!!!  Wouldn't this be stinkin' cool in a short dress?….or maybe a jacket/top over a looser dress – like a gauze that was on the beach and the jacket/vest was a nice mid-weight linen.  See you can get all sorts of great ideas from the red carpet.
Here's the remaining calendar:
Sunday, January 12th – 2014 Golden Globe Awards
Thursday, January 16th – Oscar nominations announced
Thursday, January 16th – 2014 Critics' Choice Awards
Saturday, January 18th – 20th Screen Actors Guild Awards
Saturday, February 1st – 2014 Writers Guild Awards
Saturday, February 8th – Art Directors Guild Awards
Sunday, February 16th – 67th BAFTA Awards
Saturday, February 22nd – 50th Annual CAS Awards
Saturday, February 22nd – 15th Annual Costume Designers Guild Awards
Sunday, March 2nd – 86th Academy Awards
I know, no one cares about the 15th Annual Costume Designers Guild Awards but me, but it's gonna be great!  Can't wait to see what comes out of there!