First, I was really please with the preponderance of normal-shaped bodies on the red carpet for the 2014 SAG's.
All of these ladies have normal hips, stomachs, fannies, waists and all the bumps and curves that normal bodies have.  This is such a welcomed relief.  Hopefully this is the stars rebelling against that too-thin for one's own good look.
So let's get to the good stuff.  What I liked, being a jaded fashion watcher that I am, was how many unique and different looks there were, but they all seemed to work.  So much of the time, these things can be like machinations afflicted with affectations, unbalanced symmetry and just the look that the dress is trying too hard.  But that's not what happened last night.
First up Julie Bowen in Carolina Herrera
I know this is controversial, but the graphics on the skirt work…the dark more dominant part is elongated and the grey abstract shapes do a lot to break the white-out of the allowing the top to shine as much as the skirt.  I also like the little touch of the angled waist look matching the angle of the strapless neckline.  This neckline, BTW is one of THE most flattering strapless neckline and I've used it countless times on bodies that need some width without accentuating the bust or chest area.  They cause the eye to move center up and out. Also the juxtaposition of the muted white skirt with the electric orange works.  You have to sort of look at this for a while to let it grow on you, but I like it – a lot.  Also the orange works on Ms. Bowen's coloring and that helps as well.
What to take away from this?….don't be too afraid to try some interesting shapes with a nice interplay between two strong, contrasting sections/parts of the garment. As an experiment – try working with these shapes within the palette of a large shirt or tunic type garment.  Remember it has to fit, but play with the shapes.
I sort of felt sorry for Juliette Lewis in the Vivienne Westwood, which was a case of things going awry which can happen more often than not.
Next….is Emma Thompson in a 1930's vintage dress with the shoes.
The shoes stole the show (loooooooooooooooouboutin!!!), but I REALLY like the dress – not the bottom part, but that didn't so much bother me as much as it bothered a lot of other folks (yeah, probably would have been better without the French-bustle type drape thing going around the hem and to allow the slits to just show naturally), but it was the beautiful beaded part on her shoulder that was so wonderful.  And to be honest, that's where we should be looking anyway, where the attention should be – toward the top and the face.
What to take away from this?…..keep all the attention at the top (even if you wear Earth-shakingly, monumentally-trending shoes!!!!)
And here's Rita Moreno
She looked positively smashing in this outfit, and although she's got three strong things going on here – it works..the strsong skirt, bodice and the jacket.  Although the bodice and jacket seem to be the same theme (we don't know for sure cause I couldn't find any ID on the designer).  And I love how the belt over the solid waistband works too.  The belt is sort of a refined, lady-like look with the toughie studded jacket.
What to take away from this?….Strong themes work, especially when you stay in a limited color scheme – gold and black which are classics together.
Helen Mirren in Escada, and I don't care who the designer is but they should all pay Ms. Mirren to wear their garments, cause she always works the dress and seems to have so much fun in the dress.  Her message when you wear what she wears?….have fun cause it's impossible not to in my clothes!!!
What to take away from this?…make your outfit fun, even for the most formal or dullest of occasions.   A professional?…don't keep your outfits so boring that they get lost in the shuffle.  If you're working on an investment/classic wardrobe a shot of color or a strong accent (gold strong belt, classic strong earrings – no chandeliers for work) makes a total difference.
And to me this was a shocker….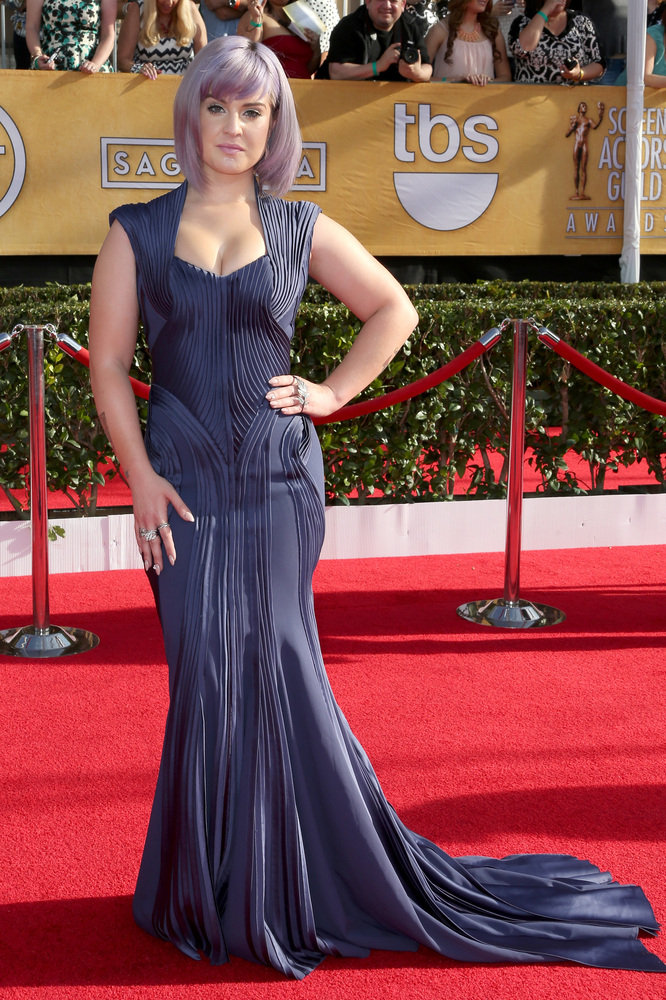 Kelly Osbourne in Zac Posen?…yep, it's really true.  Doesn't she look fabulous.  She not only looks beautiful, but confident and sharp.  I just love it.
What can you take away from this?….Don't be afraid to do a total revamp of your style.  This is particularly so if you've just changed jobs, or lifestyle changes (kids graduate from college all married off and retiring or changing from working girl to working mom).  A new update especially in a change of lifestyle is a must.
Gretchen Mol in J. Mendel.  I really like this.  There's a twist-o-rama thing going on here and sometimes these things can be so tricky, but it's done right.  It looks like what the designer has done is drape the right side up over a piece that drapes from the upper left to the lower right (under the front draped piece) with a loop or whole in the middle to thread through.  Then probably another piece behind on the left side.  To cap it all off the slit in the middle is too cool.
What can you take away from this?….unless you've tried to do a twist-o-rama anything, they are HARD.  That doesn't mean they can't be done, but truly professionals are the ones who do this well.  Doing one will make you really appreciate this garment that much more.  It's ain't as simple as it looks and that's what REALLY makes it special.
Michelle Dockery in J. Mendel.  Another great look.  Yeah, it's cut too low, but we'll forgive them for that.  The part I love here is the use of blocking to give the effect that it's cut lower than it really is.  Doing a V or just two basic strips here like this really makes a show.  Here's a little alteration and it makes my point…with the V a little higher, it still gives the same effect without massive sternum exposure.  This to me is blocking at it's best.
What can you take away from this?….blocking really does work – it can make you look thinner but can also make the cut of a dress look totally different than what it actually is.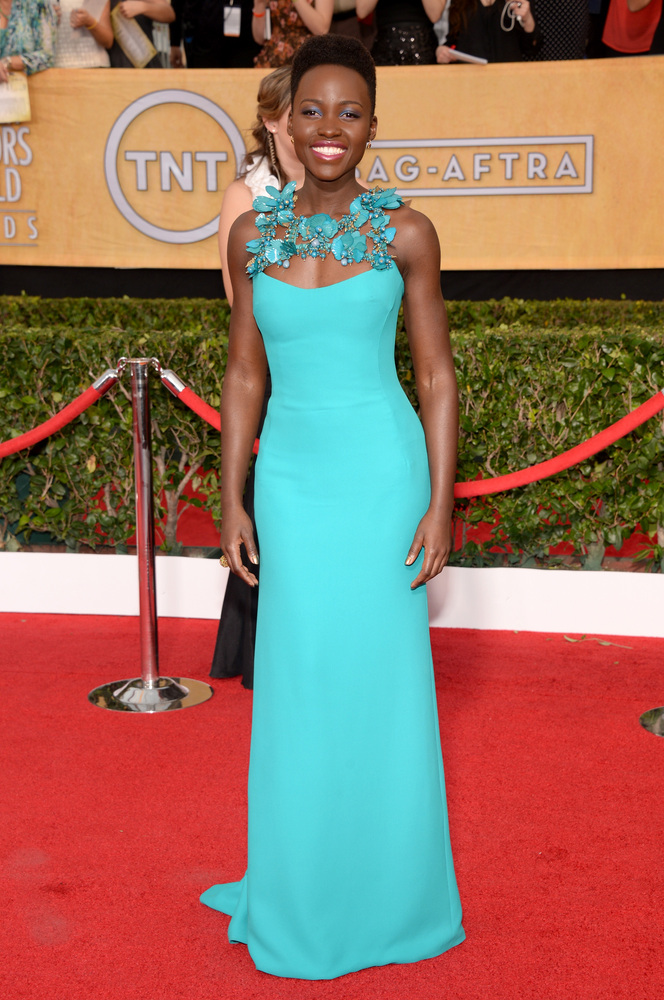 Here's Lupita Nyong'o's beautiful Gucci creation.  This is so right on so many levels.  First and foremost – it's totally creative and yet very classic (what real designers do fabulously).  Second the color is spectacular on her.  Third all that ornamentation on the top is totally right on.  It's not too much and it's not too little.    Ms. Nyong'o has a warm tone to her skin which allows her to wear this color really well.  Also this color is a great contrast for her skin color.  It really makes the dress pop on her coloring.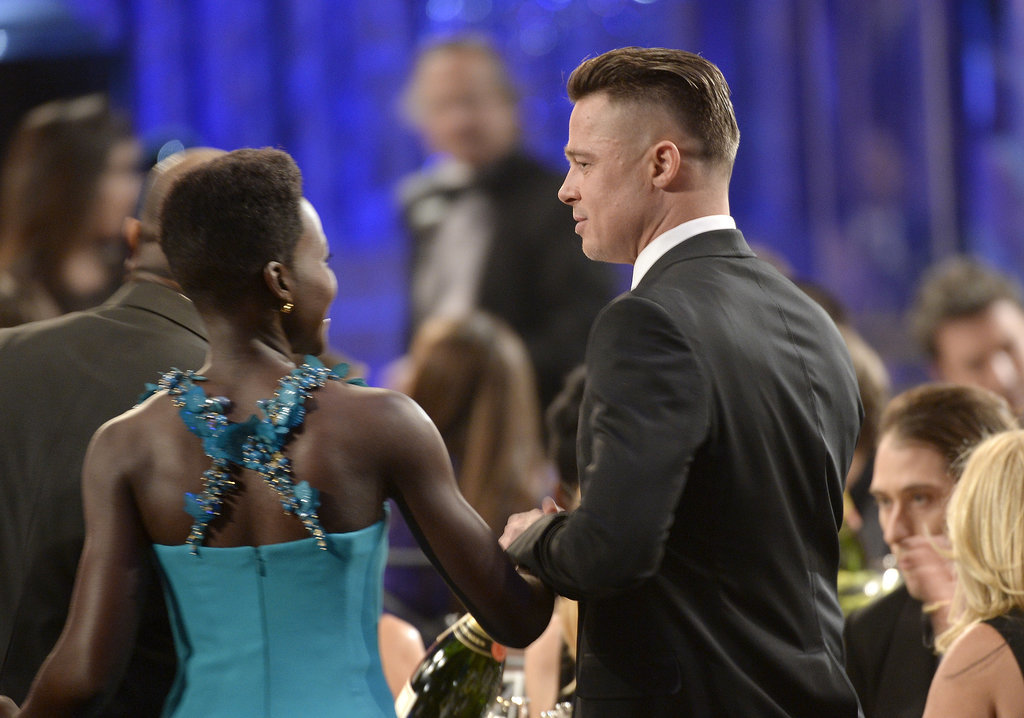 Here's a back view of the dress, and as if the front weren't enough, what I know from constructing ball gowns for 35 years, is that this configuration makes this gown totally comfy to wear.  Yes it fits her beautifully but those straps just add extra stability and security to this dress.  What that also does is makes her feel more stable in the dress and able to move easier, knowing the dress isn't going to fall down, and therefore her whole attitude this night is remarkably carefree and easy for her.  One less thing to worry about with the dress.
What can we take away from this?….make your garments comfy, fitted, secure and stable, and they will make you feel wonderful!
OK – I thought the SAGs were fabulous and can't wait for the next roundup of the Red Carpet season!