There was this blog post this morning on my roundup of RSS feeds, and it poses an interesting question.  For someone who has had to get up early, dressed up (at least for work in a suit, etc.), and commute into town, is now able to work at home, and suddenly finds himself able to grab a cup of coffee and go to work – that easy.  It's a nice option if you can work it with your company.
But the blogger posses the question about whether it's OK to just sit around in his pj's with his one major duty for the day is to take his kids to the bus stop, which he does in his pj's.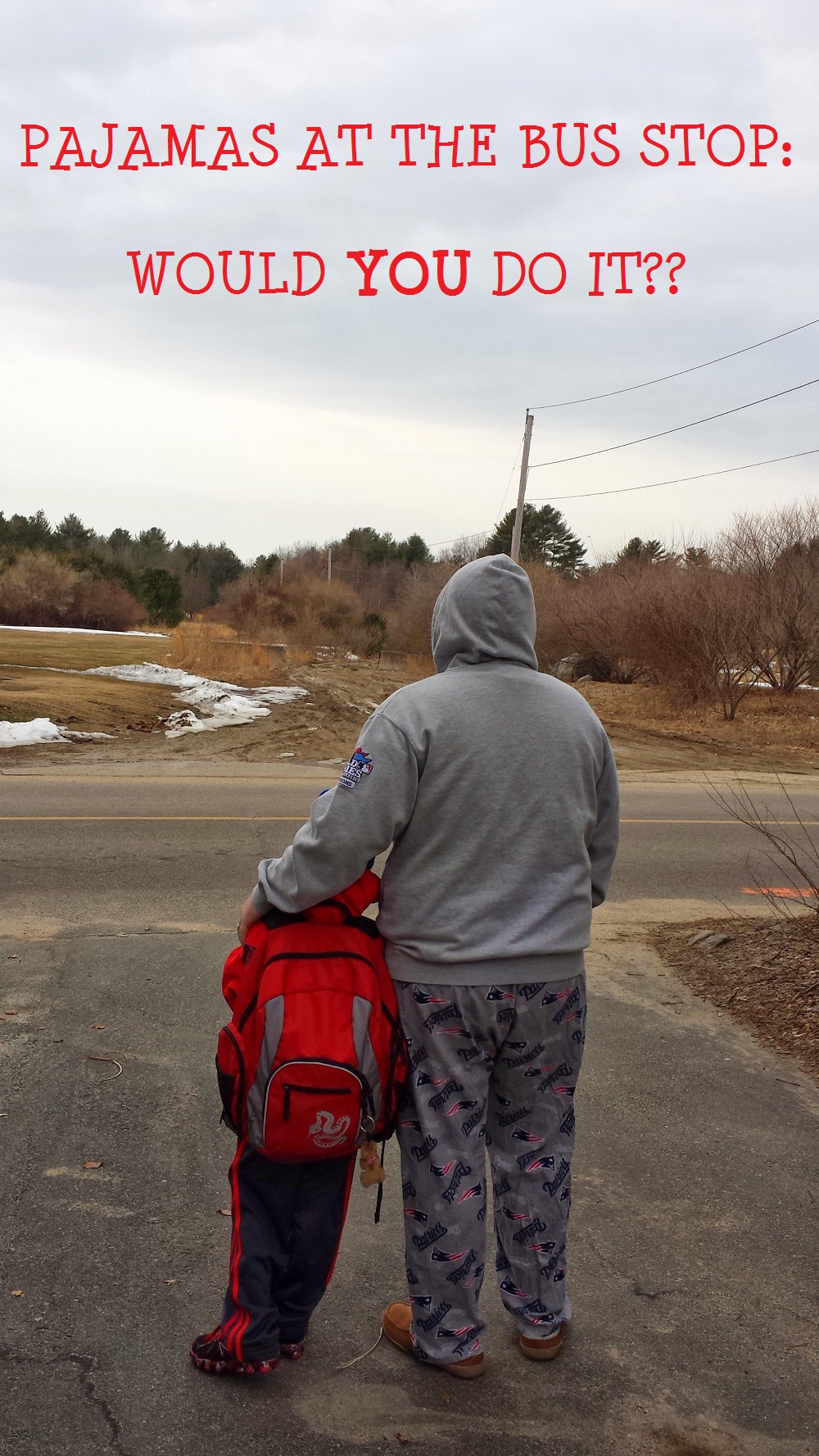 I also work at home and am known to be in my pj's for a while in the morning.  I can and I do this all the time. Sometimes it gets a little obnoxious…like not sleeping and getting up at 3 a.m. and working on a project, idea or (yes, I'll admit it) obsession du jour!!!!  The thing is, it's not really my fault cause I love what I'm doing.  I wake up and something hits me, and boom, I'm off.  But my obsessions(s) are another topic for another day.
What happens sometimes, is that I realized it was 9 a.m., 10 a.m. before I'm in my day clothes and dressed.  And I'm a person who loves to dress and dress nicely (that's what got me where I am today – wanting a simple little black dress, and dang it if I can't find the dang thing then I can go make one – – so there!!!!!!)  It was something that really gets away from you if you're not careful.  It's a seductive and very enticing way to live…get up, get the coffee, sit down at the computer and  do your work, till……whenever….lunch?….picking up kids at bus stop?…..dinner?….do you ever have to get dressed?
What ads more to this than anything is the the casual-ness of today's style of dress.  Yes, it's easy;  yes, it's simple; yes it's comfy.  But what does it convey?  I know. Boring question and sounds so like:  "I say, is the theater really dead?" a line from Simon and Garfinkle's, The Dangling Conversation – which was as much about the superficial conversation as the superficial participation in what appears to be a deep conversation – all to hide our true feelings – pretty apropos.
The thing is, like the Dangling Conversation, this dress thing can get out of hand.  And what I notice is that making a conscious decision to at least by 9 a.m. to be dressed and back working in the studio, makes me feel so much more professional, poised and prepared for the day ahead.  And doing a lot more of my clothes lately (casual and non-casual) out of nicer fabrics (silks, fine linens, long-staple cottons) equally makes a difference in my attitude about what I'm doing but also very much how I'm feeling.
But there's something else here too.  Walt gets up and gets dressed, albeit he's fully retired and usually is getting ready to work in his shop or do some other creative task.  And if he can do that, why can't I.  But also him seeing me in my outfits…..yes, it makes me look more special, but also makes him feel more special (after all he choose me, so he certainly has discriminating tastes).
This is hard to describe, mostly because it's so subtle and the after-effects of the Grunge period has been so pervasive, that our level of formality will never be what it once was.  That's OK, I'm neither into the girdles of the 50's nor the push-up numbers from the 80's.  But I do miss the elegance that a person wanted to aspire to on a daily basis.  Not that over-done elegance of the 80's (that's what brought about the Grunge thing anyway), but just the simple neatness, grooming and composed way of dressing in as much as artful and creative way as a purposefully poised look, is something I miss in today's dressing.
I've sort of taken it on as a one-man/woman effort to dress up just a little more.  If nothing else it makes me feel more special and without a doubt it gives me more legitimacy when in contact with others.  It begs the question, even if I'm at home or in my studio if that bleeds over into how I project myself on the phone, internet or any other form of messaging……but…..who knows for sure!
From the other side of the spectrum, if 9 a.m. passes then 10 a.m., then noon, then 3 p.m. – pretty soon, why get dressed at all if I'm not going out and just plop into bed, plop out and not really worry about what I'm wearing, leading us back to the Kurt Cobain frame of mind –  the point is that one thing leads to another and before you know it not only have your dress habits been casualized then what's to prevent my sewing habits to be casualized and my bathing habits casualized…..and well, you get the idea.  Before you know it cats and dogs are sleeping together and the end of the world is nigh!!!
With that in mind, if only for me, I do get dressed and at least try and look presentable, if not for my students and clients and Walt, then for me.  After all I count as much as my students and clients.
So in answer to Mr. Work-at-Home:  yes, I would get dressed, even if it's just to take the kids to the bus stop!!!