There are a number of things that are right about this jacket from BurdaStyle.
This is the basic pattern, and it does have a little younger cut, but it's a cut that is classic enough that it works for a lot of different styles – ingenue and classic.
Why?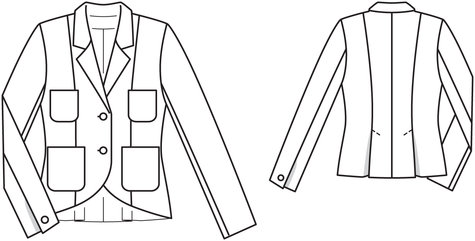 First, this has a lot of classic lines, but also it has some great seams that you can fit like a dream.  If you're one of those folks who have to put in an FBA, then you can do this on that side front piece without hindering the line of the jacket and making it fit for you.
But there's more to come…..
Here I've taken this apart.  See that seam from the shoulder to the hem?…that puppy is a gem.  This is a seam that you can fit even the greatest difference between shoulder to bust to waist.  IOW if you have a Dolly Parton figure, this jacket is made for you.  How about a Dolly Parton figure with small shoulders – yep, this will work too.  What you do is alter along that front/side seam make the bust larger, the shoulder smaller, waist smaller or whatever you need.  And then in back you have the same seam to do all sorts of altering on.
If you're making this for the first time, I wouldn't try and get too technical on this and leave off the binding and leave out the vents in back – just make those seams – you can fit along those seams, but his will enable you to get this pattern down, and yet the pattern has enough variations (the binding and vents in back) that you can grow with it – that is, you can try some more technical details after you make the first one.
Remember my saying about things that bother you?……practice.  Go out and get 4 or 5 pieces of cotton twill, trigger, or some other basic jacket-weigh fabric, and make this jacket up about 4 or 5 times, and you will have a jacket down pat.
Not only that but you'll have a great classic updated look for your wardrobe in all the colors and looks you want.  You can download the pattern here, or if you take the BurdaStyle Europe version, it's in the new April, 2014 edition.