How can you not like some of these fashions.  OK the shoulder pads are a little extreme, the lengths a little too long, but the tailoring and fit – you're almost willing to forgive anything for that quality fit!  Here's a the whole group, but I couldn't resist a few!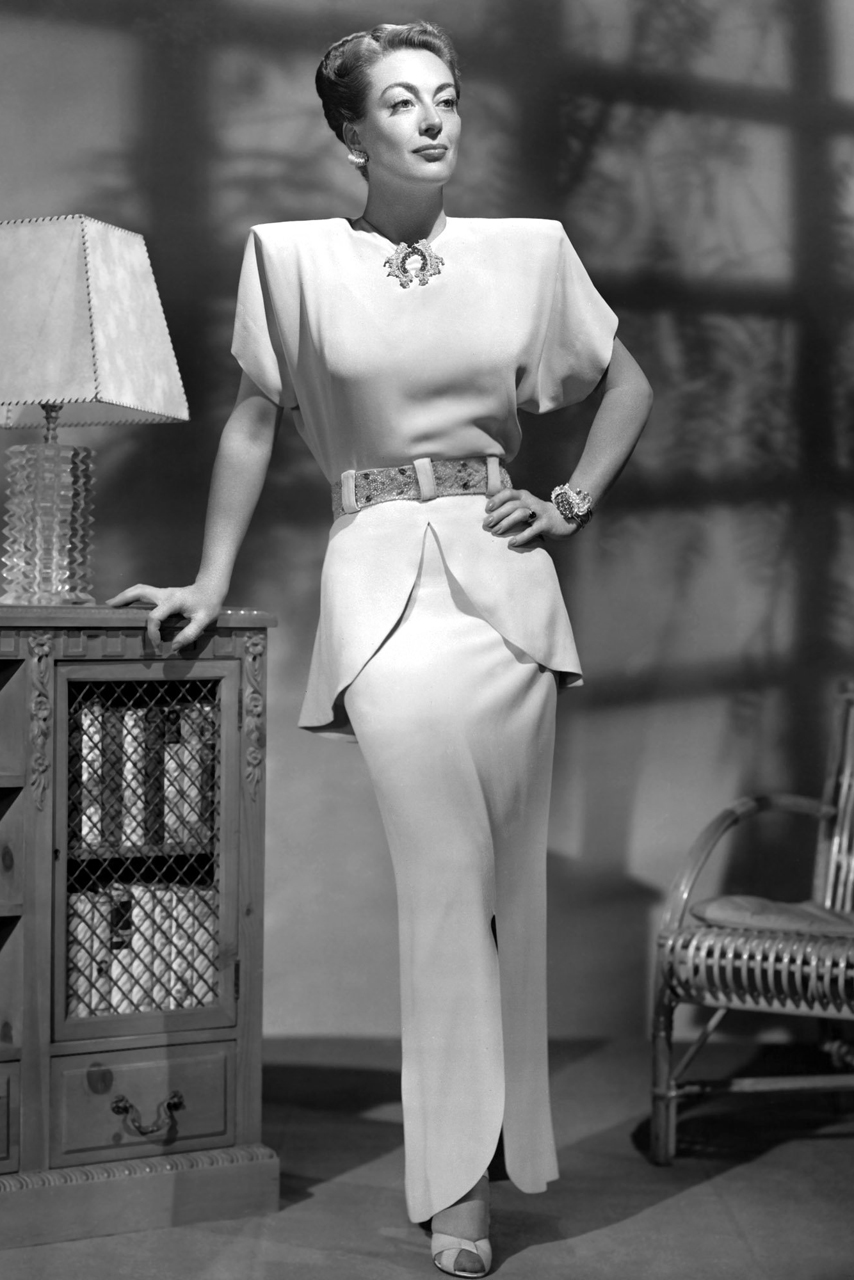 OK the shoulders are really REALLY wide, but dang don't they make your hips look really small.  Well, that's what we loved about the 80's!!!  The amazing thing is that Crawford's little number is beautifully tailored – that V in the peplum and skirt are hard to do (they're usually faced and that means that it's almost impossible not to have ripples galore) but these are smooth as glass.
What fashionista couldn't resist this…..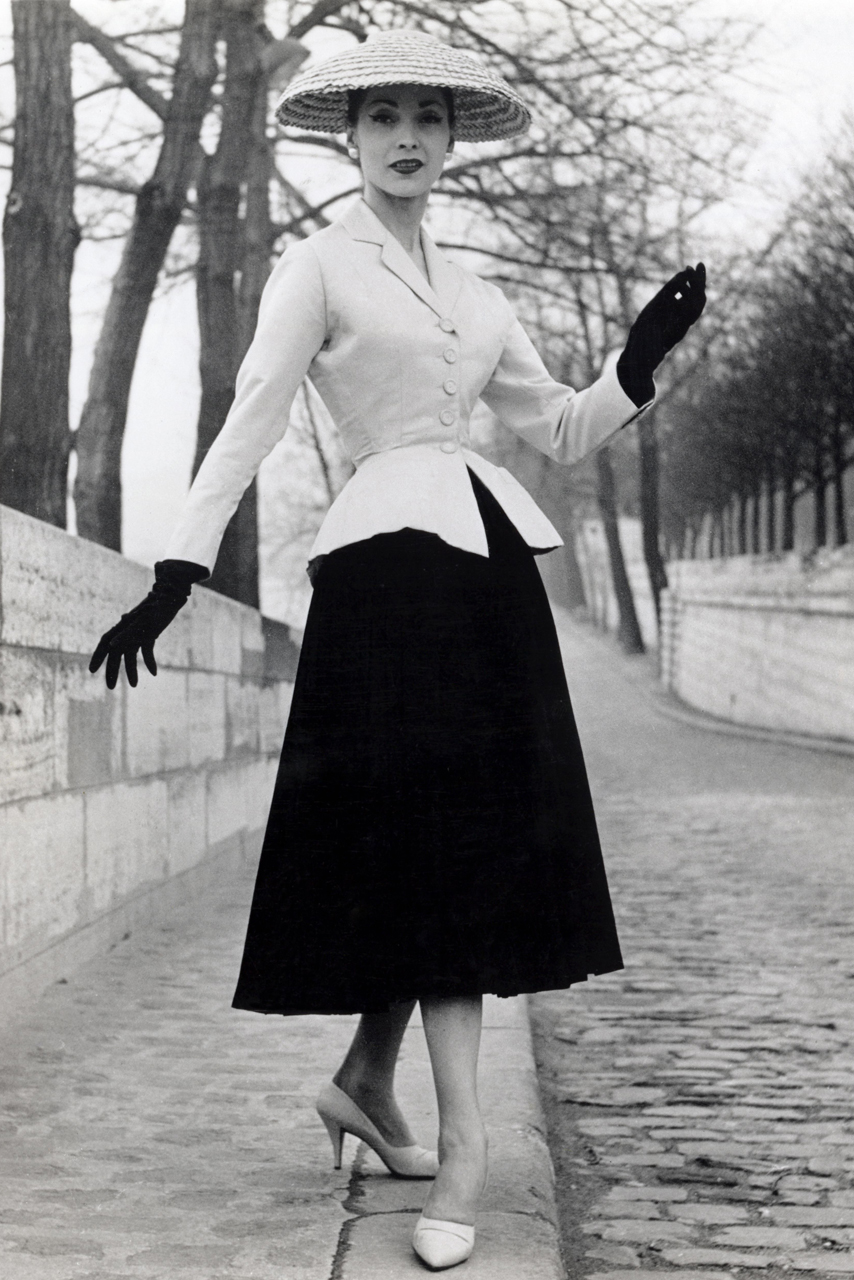 There's so much history and significance of this.  The whole Look was created after World War II and the austerity imposed on fashion during the war.  Actually there was very little fashion during the war and most of it was based on Elsa Schiaparelli fashions of the late 30's. They were austere, required very little fabric and had a modicum of style which was – at the most outrageous –  classic!!!  Then the end of the war, the end of rationing, and the end of austerity.  Out comes Christian Dior in Paris (which was decimated by World War II when most design houses closed), with this wildly, extravagent look – The Look!  The waist was thin, no more outrageously wide shoulders, a skirt that was so full that the very idea of it wasted fabric.  The whole outfit was representative of the wonderful victory of the Allies and the world was about to return to normal.
This became the look throughout Europe and US.  Every woman wanted it…….except one:  Mme. Chanel.  She couldn't stand it.  The waist was contorted beyond reason and the whole outfit screamed un-comfortability and someone needed to do something about it……so someone had to open up her maison again and show something that was the antithesis of this.    The reflection of a world not at war, the end of rationing and austerity and the rebellion of a contorted figure type – all from this one suit – pretty impressive and important!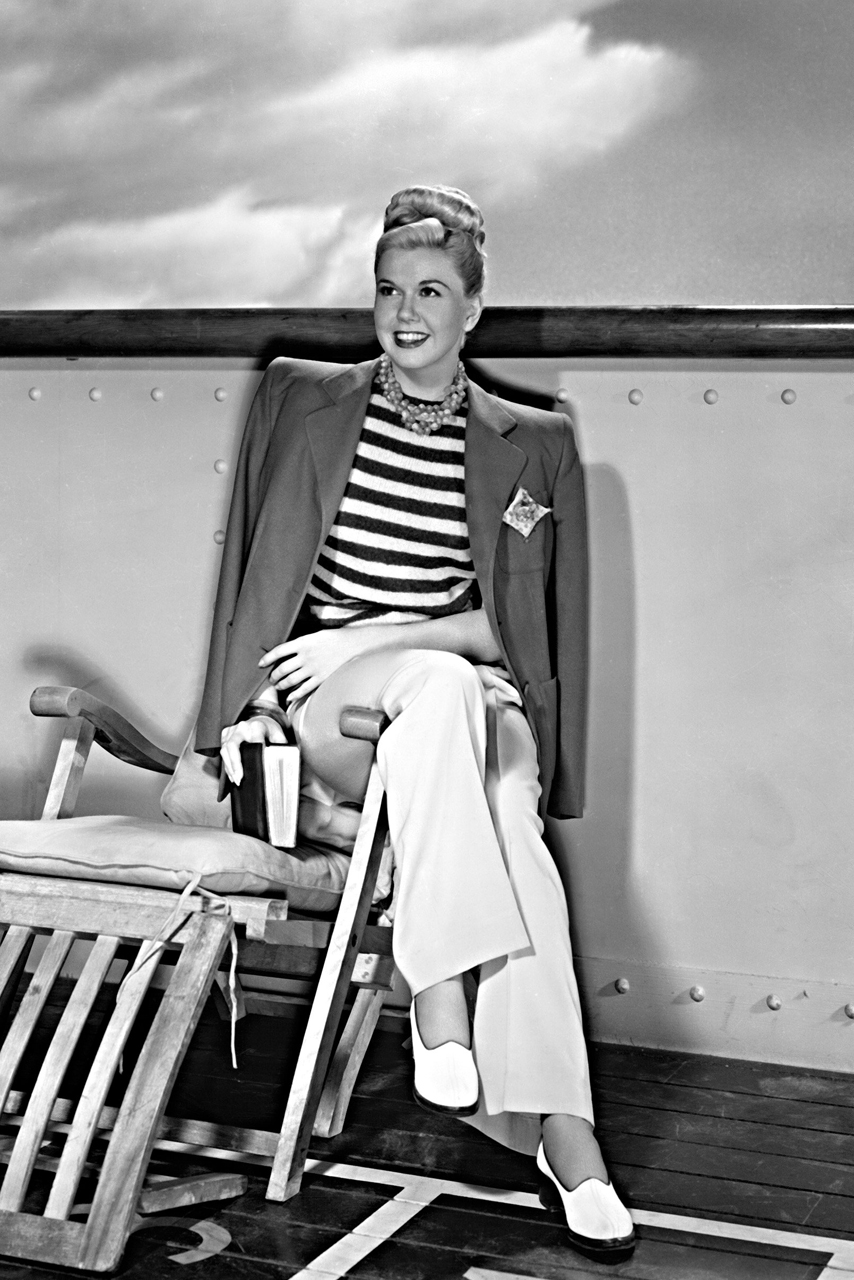 Doris Day went on to epitomize the whole California Chic/Don't Eat The Daisies type look.  But for this – the jacket over the shoulders, over the nautical shirt is just way too fab.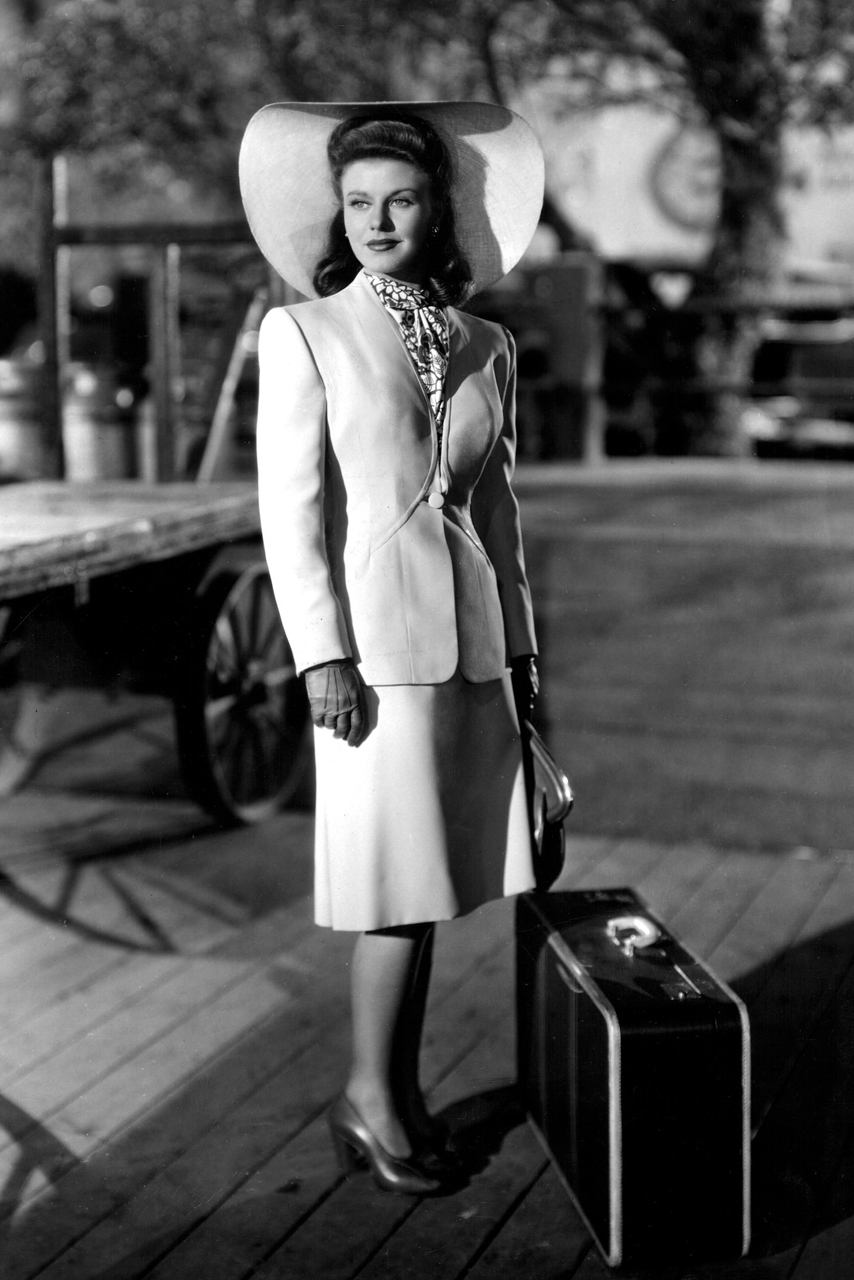 Look at the tailoring on this jacket – it is to die for….the darts that are used for fitting are also there for styling so that it looks like the seams are purely for styling – they aren't – they are there for fitting too.   It's just so clean and stylish.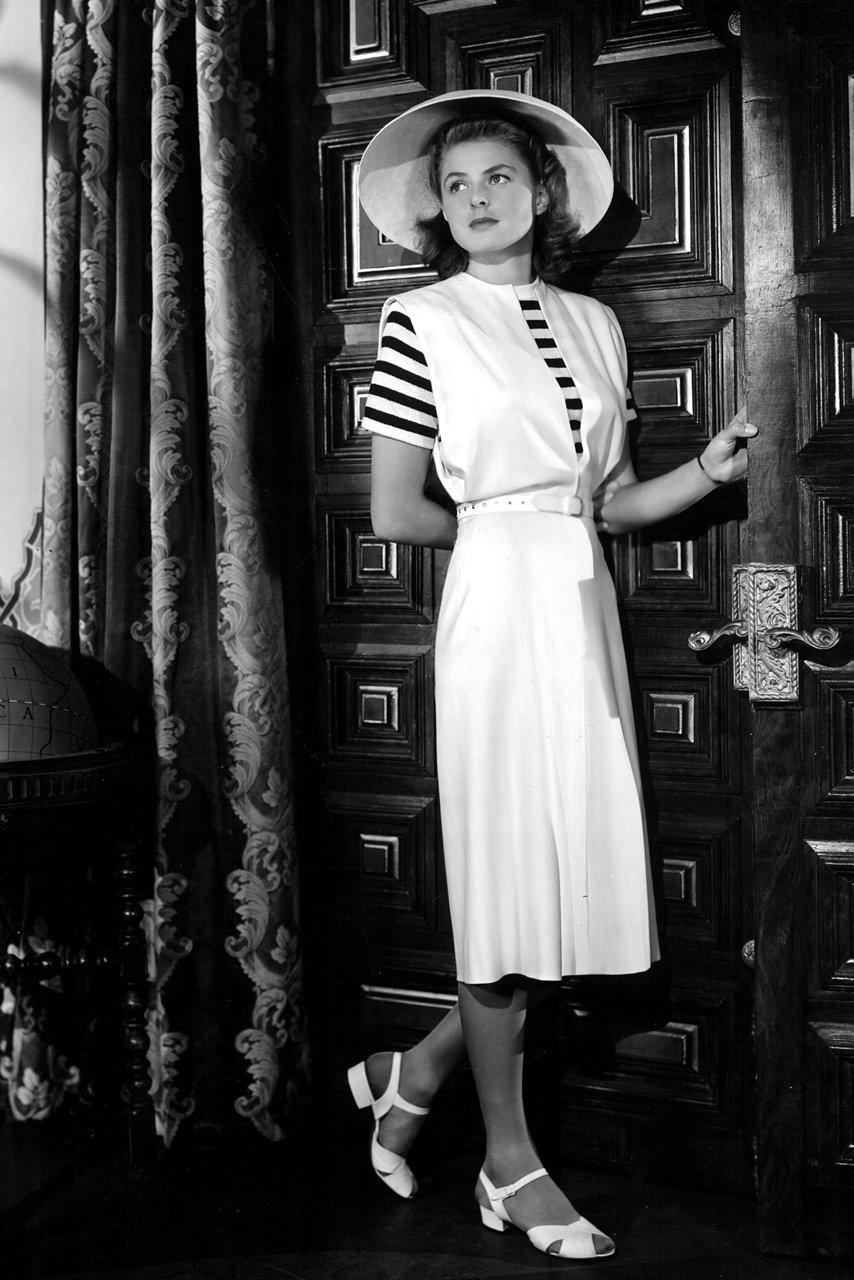 As if the Doris Day look wasn't enough, how about his cool combo:  nautical shirt with jumper – classic and totally doable today – this is a look, when the jumper is updated to say a Twee look, can be totally classic and age-appropriate as well as lasting for years to come.  What I notice here about fit is that yes, there's a belt, but notice how beautiful the fit is around the hip and lower waist area.  That's done with darts.  This whole outfit is made around the fit at the waist and just below.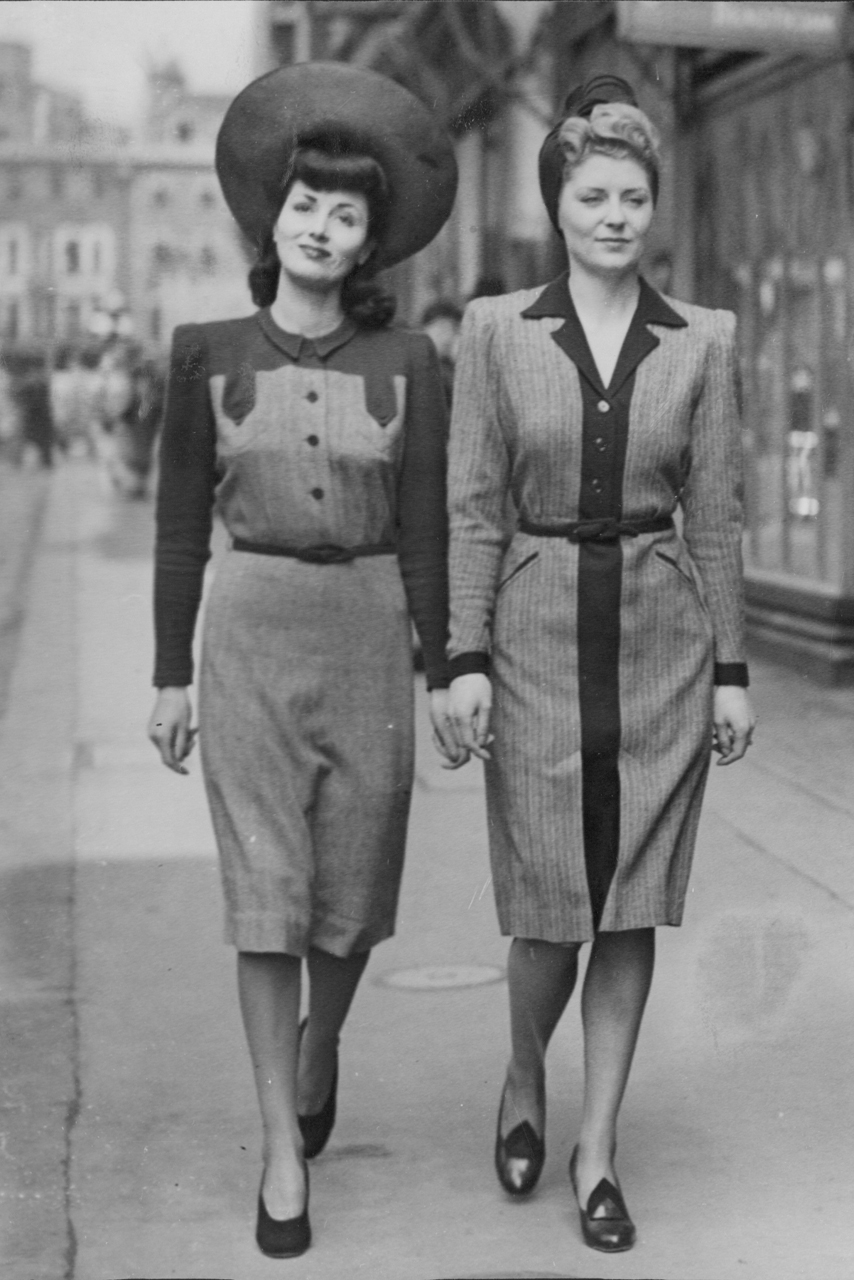 Austerity was the operative word, but even with austere and skimping styles, there was great tailoring and fitting going on.  These skirts fit – THEY FIT – beautifully, not too big, not skin-tight on he hip or torso, but are darted and seamed to fit the body gracefully with gobs of style.
There is much more in this article, but it's clear to see what clothes looked like when they fit -this is waaaay before most of us knew anything about style and fashion, much less wore these sorts of clothes.  But I can tell you owning a wardrobe full of clothes that fit, it's great.  I wouldn't have it any other way.