There are many secrets the FCF (fast/cheap fashion) industry doesn't want you to know.  One is probably gnawing at the bone of all of us that the labor force used to assembly clothing borders on slave labor.  And it's something we all enable when we buy FCF out there.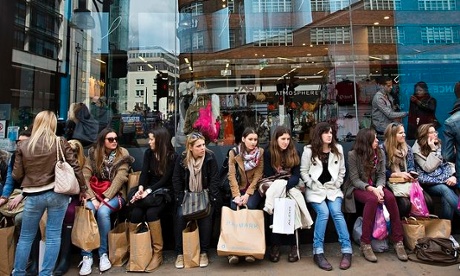 But there are other secrets too.  Because what we really don't want to face is the same indifference and callousness with which the industry looks at one end of the FCF persons involved in their business is the same way they look at the other end – – the consumer.   They treat the consumer with as much disdain as they do the people who assemble the garments.
As far as the FCF is concerned both ends are just as gullible and vulnerable.  Not only do they expect the worker to receive practically nothing in compensation, so do they expect the consumer to receive practically nothing when they purchase the garment.
Sounds radical doesn't it.  But let's look at this a little closer:
The FCF industry wants you to feel out fashion, even after you have just purchased from them. And here's the worst part, the consumer seems to be OK with that.  It's like, from the eyes of the consumer, this is all that's out there and I have to take it or lump it.  They are working from a low quality/high volume business model and need the consumer to feel out of fashion immediately after purchasing a garment.
How about this one:  discounted "designer" garments aren't really designer at all – deals are struck with the designer to use the label on inferior clothing making the consumer believe that they are getting a designer garment for fractions on the dollar.
The clothing is designed to fall apart.  WHAT?!!!!  Fall apart?!!!!  Now here is where I really ring home, cause I have a lot of would-be students (mostly quilters) who argue, "Why would I spend an entire day sewing a skirt or top that I could buy for $7.98?"  Why indeed.  Maybe because you're creating an entirely different garment than what you are comparing it to.
Comparing your made garments to what you buy in the store (and almost everything you buy in the store is far worse than what you make), is like comparing WalMart fashions to an Armani jacket from Milan – IT AIN'T THE SAME THING – it's not even close to the same thing.
Where in the world did we get the impression that self-customed clothing is worse than what we buy in the store?  It's not, and the FCF industry wants to make sure you don't discover this.  They are doing everything they can to keep you from looking at that little man behind the curtain over there, and looking at the wonderful beautiful clothing on the model that will never even come close to fitting you the same way at home!
These are just three of some other very disheartening and eye-opening comments from an article, but or me the deeper meaning here is that the FCF industry looks upon equal arrogance and disregard at the consumer and the worker.  They could care less about the outcome of their product, only that it stay together long enough to make it in and out of the store and could care less how the garment is worn, if it's worn, or how long it's worn.
The industry looks on the consumer as a group of stupid, programmable addicts, too weak, too lazy and too set-in-their ways to change and therefore are treated like little tiny dots on a map or spreadsheet to move around as they choose, not how the consumer chooses.
And I realize I sound like some wild, crazy banshee shouting at the top of my lungs.  But I have to tell you it's real hard for me to understand  this as I have spent the last 40 years with a closet full of all the clothes I could ever want, without having to sew 24/7 or even 10/7 to get there.  So things like "I can't be fit," or "I don't have the time," or "It's too complicated to learn," just don't work for me.  Now if you come at me with "I just don't want to learn to sew," that's fine.  That just means you're going to have to re-learn the value of REAL clothes, not FCF clothes.