After you learn to sew, or often while you are learning to sew, what propels you to the next level is your imagination and your inspiration.  That can take many forms.
Sometimes it's nothing more than a few synapses blinking in the little imagination section of your brain;  sometimes it's the look of a great designer;  sometimes it's a feeling – you want to swish, sway or sweep; sometimes it's of necessity like for a certain look or event;  and sometimes it's just completely out of the blue.
This will come as no surprise, but when I'm watching an entertainment feature – a movie, TV show or other medium – I am as much watching the costumes as I am the media.  It's just my nature.  Historical shows really intrigue me because they can be a very fertile field for imagination and I always find it hilarious to compare the same historical period but created in different time/fashion phases. Westerns really show this.  from the 1950 (Grace Kelly in High Noon) to Katherine Ross in Butch Cassidy and the Sundance Kid to Quigley Down Under to North to Alaska, you can pretty much tell whe these movies were created by the take on this traditional western style dress.
And although that may sound like a sort of bastardization of a historical style, it's really not – it's just a different take.  Fashion does this constantly – the sleek modern look of the 60's had as much sleekness as the 20's, but with a different take.  The femininity of the Victorian bustle and cinched-in waist had as much in common with the "Look" from Dior in the early 50's, but with a different take.  And the shoulder pads of Joan Crawford of the 40's had as much oomph as those of the 80's, but with a different take.
Period films can provide the same sort of influence, and have with me.  I adored the whole idea of Lauren Bacall's suit in To Have and To Have Not;  Yves St. Laurent's Opium gown; Breathless Mahoney's dress in Dick Tracy was for a client; and even Maleficent's pre-Angelina collar for a client.
Even designers confess to being inspired by period and historical styles as well as from other art forms like the movies.
So for the last month or so, I've had a lot of fun looking at some of the costuming on Outlander.  As with Game of Thrones and other historical or fantasy series on TV, the costumes do not suffer from a budget cut.  The embroidery work on these garments is nothing short of spectacular and that's from someone who lived through the glory days of Lesage Embroidery House of Paris.  The extent of the detailed work as well as the quantity of it, while staying within the bounds of the topic of the theme of the movie or shows, is really remarkable.  Some of these shows I've never seen or will hope to see as my feeble ability to catch into the story line is far too much, but I am thoroughly enjoying the costumes.  Game of Thrones has two remarkable galleries, one here and another one here.    I highly recommend you take a look and be prepared to be shocked at the quality and quantity of work.
One of the most fascinating pieces has been the Outlander heroine's costume (maybe cause it's turned outrageously cold, and this outfit looks just as outrageously warm, but whatever, I'm fascinated by the style.
The first thing is that it's green (being a sucker for green every chance I get – the fabric stores know that and bring out their grin to the chagrin of my purse!).  The next is the wonderful waist look.  So tired of the hipster look, this waist looks fresh and new.  And I love the pleating in the peplum part of the jacket. It may be hard to tell here, but the back is longer than the front, another really great look, and the fur trim which makes it look deliciously warm.  The white fur is particularly effective with this particular actress's coloring, as she's not a "green" person -so the white next to her face sets off her peaches and cream complexion and dark brown hair coloring.
So the first thing to do is get the design working for me.  I love this on this actress, but let's face it – she's probably 40 years younger AND she's got a lot thinner physique than moi!  So I have to make this look, proportionally correct for me.
Time to get out the old faithful croquis….don't have one?…they're easy to make – it's merely a silhouette of your figure so that you can draw pattern and other designs in pencil or ink or whatever and keep working on it till it looks right on you.  It's much easier than making up about 5 or 6 garments to see which one looks right!!!
Here are two versions – the one on the right is the original length and looks fine.  I've taken the hood off.  I love the hood on the original version, but I'm not a hood person and I wouldn't use it – a collar?….now you're talking my language.
Next I have to get the length right.  I'm into leggings these days in a big way – they're just more comfy and they work, but notice how I had to do more of a boot-leg cut on the shorter version to balance this out.  If I wore leggings with the version on the right, my hips would look wider than the Pacific Ocean – and that's not my look!  It would just look out of proportion.  And the boot-cut pants are okaaaay, but I'd like to have the option of the leggings.  Enter the longer version with the leggings on the left and wow, it works and it works big time.  To be honest I didn't think this was going to work out this fast.  I adore that the coat buttons to waist – that means sitting up and down is so much easier than having to unbutton the coat all the time.  I adore the shape of it – I have a bit of an hourglass figure and even though I won't wear this coat as tight as the original version, I would be able to do a nice waist look and feel good about it – muffin top be dashed!!!
There are some other things that make this work…the coat has to be dark and more or less solid, or heathery.  The fur trim has to be lighter in color.  And as I'm not going to do the hood, and will do a stand-up collar instead, I'm going to be lining the inside collar and cuffs only with the fur but the rest with a Bemberg Ambiance rayon….I'm south of the Mason-Dixon line so that means it's warmer here and although I adore the look of this coat, the climate here just isn't the same as the Scottish Highlands, and I have to be realistic about this (oh to be a designer for film and use that imagination!!!)  OK – back to reality!!!!
So onto patterns – there are actually two that I found that are very nice looking.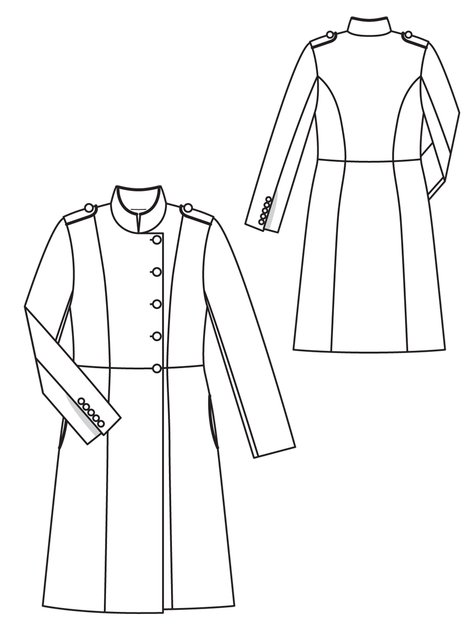 This is really a fabulous fabulous look – it's my look – I love this and it goes into a military feel that goes with the redcoats….and yes the redcoats are the enemy in the series, but no one and I mean NO ONE does pageantry better than the British – maybe cause they've had so much practice, but if you want to know how to look regal – do British, and this coat really draws me for that reason.
And if that isn't bad enough there's this model: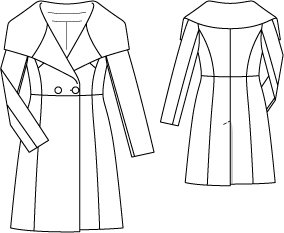 This is really dreamy.  It has all the bullet points for me – more seams (better fit – cause I'm really wanting to nip in that waist and could even put in some box pleats like what's in the original version), it has those great dart points off that princess-esque seam in front (I have loved those darts) but the most important feature is that collar.  This just look delicious to make in fur….imagine that big huge collar, and I would put a button closure up higher than just the two at the waist, so that I could pull that collar up around my neck and have it fold down over my shoulders.  I think this collar wins it.
Both coats are double breasted;  both coats have the line I like (and can modify to make them shape the way I want); both coats have a waist seam also making it easy to fit in the seam.  But the lower coat really with that collar and the multitude of seams makes a better choice for this coat.
I have the fabric – and time to find some really superb faux fur.