This is a new – or relatively new – movement or term for folks who derive inspiration from media, tv, movies for their clothes and costumes.  Then they get dressed up and go to conventions where there are other folks dressed up and they have fun doing cosplay (costume-play) together.  This isn't so odd or new really as folks have been taking  styles and fashions from movies for a long time.  One of the first recorded (at least by the marketers) was Elizabeth's Taylor's daisy dress in "A Place in the Sun"
Apparently the spring after the movie previewed, every girl wanted her spring prom dance to be this dress.  Manufacturers were scrambling to get the dress out and to the stores in time for the prom season.  And back then (1951) there was no such thing as FCF industry (fast/cheap fashion).   Now there was a thriving sewing industry and they also got into the act and although a girl might not be able to have all those cut daisies on her dress, she could have the style pretty close.
For me there were other movies that I absolutely adored….I had the suit from "To Have and To Have Not" that Lauren Bacall wore, I loved the slip in "Cat On A Hot Tin Roof" that Taylor wore; the dress Davis wore in "All About Eve" (where she delivered her famous "Fasten your seatbelt, it's going to be a bumpy night" quote); and Davis again in "Now Voyager" (talk about a transformation with mostly clothes); and Russell and Monroe in "Gentlemen Prefer Blonds," although those costumes are more for structure and construction than design.
Other media inspiration was the dress that Yves St. Laurent used to launch his perfume Opium, Melina Canonero's Breathless dress in "Dick Tracy" and who could not love Maleficient's collar (particularly when I love collars so much) in "Snow White" which means I don't necessarily have to have pictures or video; a cartoon will work for me too.
So I'm into this Outlander series and in one of the episodes the female lead (who is also namedClaire), is wearing this fabulous coat designed by Terry Dresbach (who have a great blog going now on the show).  About that time the weather turns REALLY cold here south of the Mason/Dixon line, and this coat begins to get to me.
Here are some screen shots from the show, and shows the construction and design of the jacket.  It's got several features – some of them are a nod to current trends and some are a nod to the clothing at the time.  One of the things I'm enjoying about the whole series is that the designer (Terry Dresbach) is not shying away from the small waist and large hips – this is NOT the Grunge silhouette and therefore against the trend and eye of what most people are seeing.  It is however a newer look and silhouette and I love seeing this nice nod to historical accuracy.  The fur lined trim is fabulous.  There are other things to notice about this style:  the close sleeves and close fit of the bodice, the color (I'm a green fiend) and well, in my mind, I have to have this jacket.
So I'm thinking there are several things I have to consider.  The TV show takes place in Scotland – I live in the South in the US (specifically the Southern Plains), and yes it gets cold here in the winter, but not like Scotland and even though the fur is a great look for this jacket, I don't need this to be too heavy or I can only use it a couple of days a year.  I need a lighter-weight coat for my climate.  Also I want a coat not a jacket.  And I love the waist on here, but my skirt(s), pants are not that full (I don't normally wear a false rump – sometimes I think my body wants to make one anyway!!!) so I don't really need those box pleats that are so gorgeous in this jacket for the the show.
I'm off to my local fabric store (which BTW have me pegged and always have green in the store cause I'm always buying some up), and they have a fabulous green that's been screaming "COAT" to me for a long time.  And I find a great faux fur – it's just a perfect weight for this climate.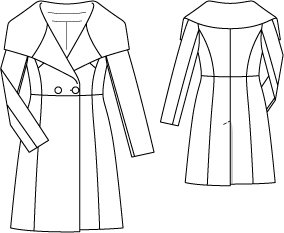 I'm looking through the Burdastyle site for a coat, and up pops this number.  I looked at this a long time before I settled on it, but here's what it had – that huge collar (I'm drooling already) and although it's not exactly what I love in that it's not high, I know I can do some manipulation on the collar to get it to lay just like I want.  Love, love, love those darts in front off that seam line; not nuts about the vent in back (I want to stay warm, not have a "vent" for cold air to sneak in) and love the two-sleeve design, and adore the waist seam.  After looking at a lot of other coats, it was the collar that sold me on this, but I'm going to re-do the roll line on it considerably.
To do that, I'm going to have to use horse-hair canvas, which is what is used in most bespoke suits, and can be controlled fabulously.
I'm using my standard Bemberg lining (I keep yardage in the stash in my fav colors so I have a lot of green).
So here I am with the finished product.  There are a lot of differences between Claire's Outlander jacket and mine, but this is what works for me.  In the sake of honesty, this isn't pure cosplay, it's more inspiration, but chalk that up to the practical side of me. And if you've been on Facebook, Instagram (@sewingartistry) or the blog here you know that I'm looking at changing out the silhouette a little and in particular emphasizing more of a waist and making it a little higher.  This coat does all that.
But just a little more about the selection of the components, cause I know a lot of sewists get a little antsy about this particularly when your doing an "inspired" garment as opposed to one that is in the pattern book or catalog.
FABRIC:  The coat was going to be green from the start.  In my closet green is a mainstay and it goes with everything.  If you're more peaches 'n cream or a blue-based coloring, then green isn't going to work for you – a navy, grey, but no green.
TRIM:   This was the hard part cause I really wanted something a little more fur oriented instead of a fuzz.  This is a close furry type fabric and this was the scariest part of the selection.  But I did some quick calculating on this….the fur has a copper tone to it.  Copper/orange/rust is in the red family and is the opposite of green (and this green is more of an greyed-green rather than the bright olive in the photo.  In either case opposites work well for trims and accents.  They make a nice complement.
So here's my palette.  I have a nice grey-green and a nice copper – they are on opposite sides of the color wheel so these will make a nice contrast.  The other is that the grey-green is in the darker shades and the copper fur is a little lighter.  So not only do I have contrast in color, but I also have contrast in light and dark.
Working through a selection like this seems a little laborious, but using artistic principles  like this, can make all the difference in the world, and even if you feel you can't see it or imagine it or are struck by the "rightness" of it or can't know it, working through with these principles can really help you get comfy with it.  When I left the store, I couldn't see this and I was not struck with the rightness of it, but I had worked through the problem using common color palettes and light and dark contrasts and from that made my selection.  I use gut a lot when I'm putting together a project, but I also use artistic principles like complementary color palettes, contrast of light and dark just to name two.  These help me get through the choosing of fabrics, trim and notions for my projects.
Now there was one more thing…buttons, and you're not even going to believe this, but the main character (the dream male lead) has a clan crest with a Scottish red deer.  Now I'm not sure if this button is really an official Scottish red deer, but the button is copper (that's red enough for me) and has a deer on it.  To boot; it's a copper colored button which seals the deal for me.  It's a little small for the coat (I would have loved this a little larger, but the coat is double breasted and having a smaller button and doing it double breasted means that the proportions will actually work out well.  And in the meantime if I find a larger button, I'll just make the buttonholes larger (you can do that BTW!)
Here's a detail of the collar work.  The first thing I did was do a basic pad stitching on the collar around the roll line, which was going to be in the middle of the collar, not at the base as the pattern was designed.  Also the fur was a stretch fabric (did I mention that?….well it is), and it needed some stabilizing (with some organza, which didn't add extra weight to the collar).  Then once I got the collar on the coat, I needed to do some further stabilizing, and I wanted to attach the upper collar (the fur part) to the under collar so that they really acted and rolled as one.  This involved more hand pad stitching and basically I stopped when I got the collar to lay correctly.  Also notice how the fur slightly rolls over on the under side of the collar?  That's on purpose.  I don't mind if the fur shows on the underside of the collar, but I will go nuts if the olive fabric under side shows on the upper/fur collar.
Knowing how to do pad stitching and what it does is the secret to this technique.  This is why learning these techniques in their classic form not only gives you the information on HOW to do the technique, but also gives you information on how to use that technique in other garments.  I could have used horsehair canvas on both the upper (fur) and under (fabric) collars, but that would have been too thick.  How did I know that?  I've worked with horsehair canvas before and know it can get thick quick.  As a matter of fact one of the techniques you use in working with horsehair canvas is that the seams of the canvas have to be graded or clipped out, other wise you end up with a huge bulk at the seam allowance or corner folds of the collar and it's a big bump instead of a nice corner.
In addition I wanted the collar at the tips to curve down.  I can do that in a cinch with hand pad-stitching, but not on the machine.  This is the vision I had for this collar which is a world away from the pattern.  But the pattern I used was the BurdaStyle – just done differently because of the fold of the collar.
Now I have my Claire Beauchamp jacket from "The Rent" episode, but at the same time I have a coat that I can wear for 20 years (that's a verra reasonable life for this coat)  Mrs. Fitz would be proud and thank you Terry for the inspiration!