This is another one of my fav subjects, but an encounter with a book of patterns classified as "essentials" got me thinking I needed to update this subject a little.
Classic sometimes gets a beef that it's boring.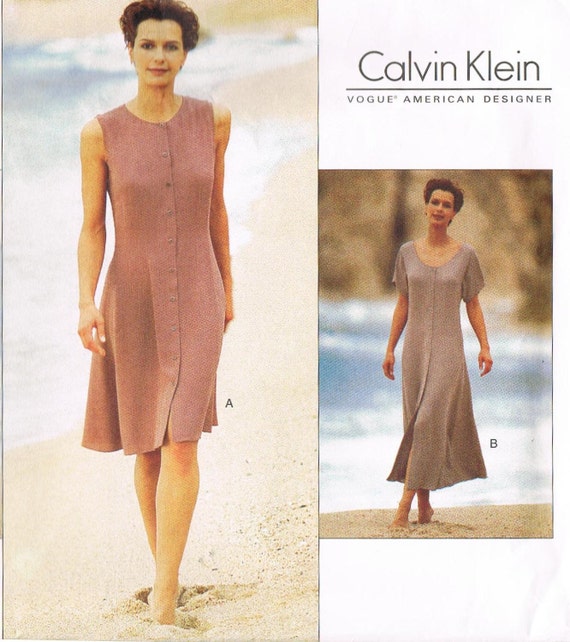 It's anything but boring.  It's its own category – – classic.
So how do you define classic.  You know it when it's been in your closet for 20 years, but 20 years ago how did you know it was going to be such a classic look?
The best way I like to differentiate classic from everything else is to ask:  Would I wear this in 5 years?….in 10 years?….in 20 years?  And, yes clothes do last that long and so do styles  – really!!!
Here are some past patterns I have and have made, that are classic.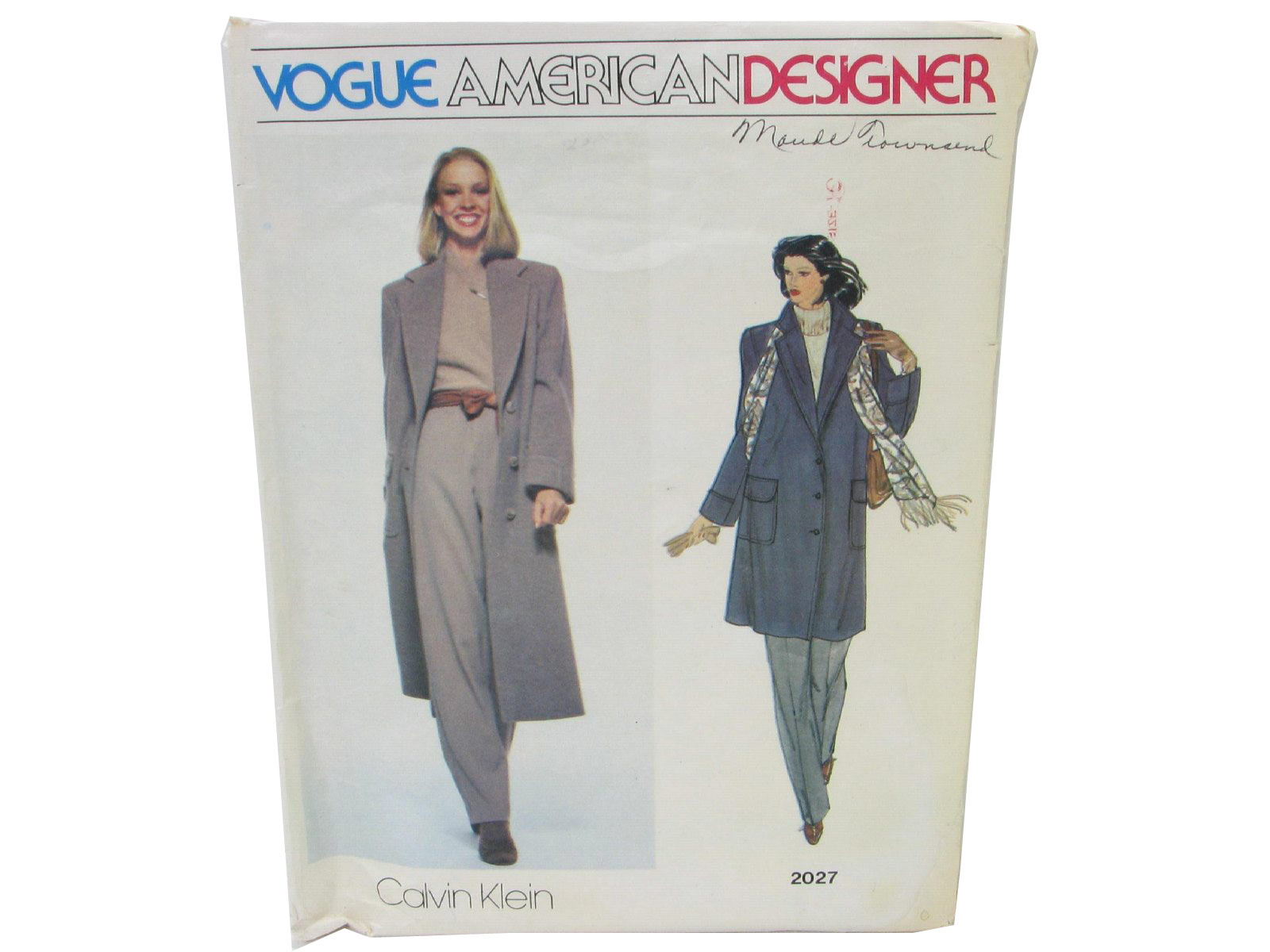 Calvin Klein in his heyday was a hallmark of classic and this coat is a perfect example.  This is from the shoulder pad mania of the 80's and although that dates it now, I have taken this coat and taken the shoulder pads out and it is still classic.  Although the button stance (the height of the first or top button) is dated and the shoulder width make this dated, it's still a classic.  I did this is a great classic white wool – which is really cream, with large thick pearl buttons.  I don't think I could come close to finding those buttons today.  However I still wear the coat (that's 30 years old!)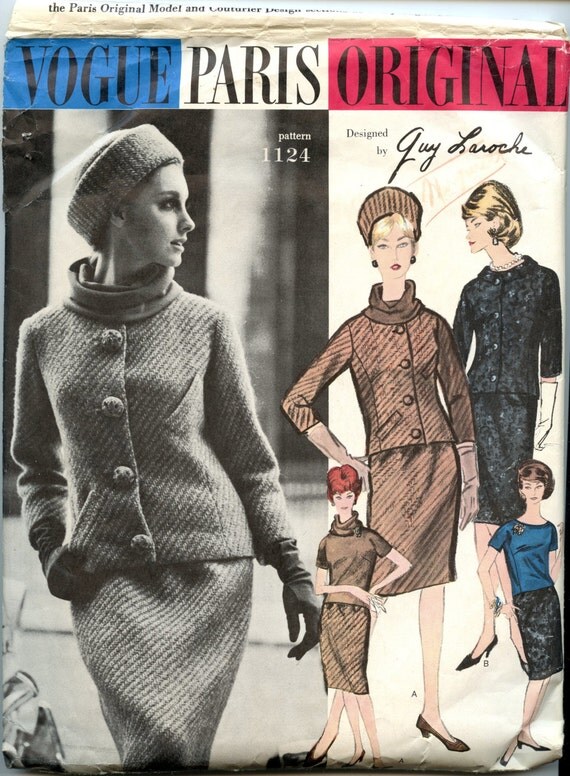 This is obviously dated, but even though it's obviously from the 1960's, it's got a tremendously classic style that is very much what you might see today.  The collar(s), bodice of the jacket, darts, fitting (although I would probably fit it more with a raised waist – this is the sort of thing that would totally update this pattern to make someone believe you just purchased this fresh from a Paris runway of 2015), make the buttons a bit smaller, and dart, not gather the skirt.  Those are some details – very minor ones – that would change this ensemble.  Even if that weren't done and you had this hanging in your closet, you would definitely wear it – that's a classic style.
Vogue 9093 is a current pattern that looks fairly inconspicuous, but upon closer look, there are some fitting and design details that make this stand out.  These are the sorts of details that you notice when you sew.  That's one reason sewing can make you a much sharper and more discriminating consumer.  It has great fitting seams, which can lend itself to contrasting blocking.  But blocking doesn't always have to be contrasting. 
Doing a quick mock up of this, the inserts on the side are in herringbone, while the front and sleeves are in tweed.  This is about as classic as you can get – trendless.  It's really hard to tell what era or time frame this is from and that's very descriptive of classic.
This is anoher great classic design.  The seam treatment here is fun, but not doing this seam treatment makes it more classic and timeless.  The raw edge seam is more of the early 2000's and late 1990's and that what would date this.  Doing this jacket up in a tweed or nice wool in a classic navy, black, chestnut, claret, forest green, oxblood red or any classic color bright, intense, dark or light would make this a beautiful classic jacket.  If you wanted to do something to define the seam, a clean, classic piping in a contrasting color would be perfect.
Although the draped "waterfall" front cardi is something very current right now, this has enough of a drape to be fashionable now, but fold this over and anchor it with a belt can make this into a classic look.
I made this jacket 3 times.  Twice in bright intense wool gabardine colors.  Once in a red Ultrasuede.  The first two were great and lasted 10 years, but blue and bright yellow in a jacket didn't work for a more investment wardrobe look.  Blue wasn't my color and the yellow was too intense.   The red Ultrasuede lasted for 20 years, and the fabric begin to pill and wear.  I thought 20 years was a good long life, so passed it on to the recycle shop.
Even though the lower shoulder and high-cut underarm were clear hallmarks of the 1960's, this jacket has a lot of classic in it.  The seams don't lend themselves to some excellent fitting like a more tradition princess seam that falls just to the side of or on top of the bust point.  This could benefit from and nice small bust dart from the side front seam just to the bust point.  And raising the waist nip would make this right on point for a current fashionable look.
So hopefully this gives you some ideas about classic.  The bottom line is timeless.  Asking "Would I wear this in 10 years or would this be dated in 10 years?" is almost always a great way to go.  That doesn't mean that there aren't some classic styles out there that make a statement, but the question still works.  If you can wear this in 5 or 10 years, it's almost always classic.