I grew up in fashion during the 50's and 60's.  It was a dramatic time of change, but the fashions were fabulous and the experimentation going on was really interesting.  What new ways of darting and shaping and dart placement could designers employ to get fit and the look they wanted.  All of the designers agreed at the time that the line of the cut was king.  They meant that the execution of a classic or simple design was all in the cut of the fabric to make the garment lay correctly.
Design went from this:
to this:
which may seem rather blasé now, but at the time it was very radical.
Here's the thing about this "new" style was that it was so simple and elegantly basic, that if there was one mistake, it showed in spades.  That meant that although this look like this could be designed by an kindergartner, it was in fact done by really talented, gifted and highly trained designers who knew exactly what they were doing.
It was as heady a time for fashion as there ever was.  The 1950's and 1960's and 1970's saw fashion reign as king.  If you didn't follow the dictates of fashion you were immediately out.  If however you picked up on the latest look, you were queen and revered!  Fashion, the line, the cut was everything.
Fashion's hold on the look of clothes isn't so strong today.  We are more ruled by individualism and each designer has his/her own look which makes for a much nicer way to shop and purchase clothes, although it can be a little confusing with the mish-mash of good and bad mixed together.  But what does still hold true no matter what is the line and the cut of the garment which is all in the line and cut of the pattern.  If this is off, the garment is toast.   If it's on, the garment sings like a well-honed hum!
This was one of the mainstays of Yves St. Laurent, who in 1953 started at the House of Dior and after a few years, Dior named YSL as his successor.  His first collection for the maison was instrumental in preventing financial collapse of the maison.  Then YSL was drafted by the French military, and fired by Dior (speculation was the disastrous 1960 Dior collection and this would give Dior a way to replace YSL).  After the military, YSL sued and won, and with funds from an American millionaire started his own house with his business partner in the early 60's.
The house started with the styles of the time, but even though YSL was following the styles, he has his own take, and it was his own stamp that made his designs stand out.
So OK that's the history part – what was there about his work that made it stand out.  In a word:  CLASSIC.  The dang designer didn't know how to do anything but classic.  And classic can so easily get boring or fade into the background – not so with YSL's classic work.  He would take a traditional or authentic look and put his own stamp on it and POW – like that it was a remade classic that was new and fresh.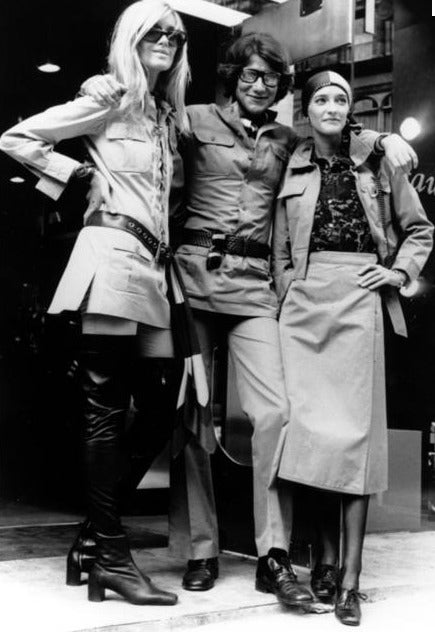 It was so hot – the lowered belt, the tighter waist/torso, the larger collar made this an immediate classic and you had to add it to your wardrobe.
Then there was the Modrian dress:
From the painting
So here's the deal – he's designing this from this painting – so does he start with the red, blue and yellow at top?…in the middle?…at the bottom?..and only two or three or four colors per row?…where does he put all the colors?…why does he arrange them the way he does?  This is the whole genius of the dress – how he worked out all those problems into a dress that is a classic today – still.
Then the famous smoking jacket – Le Smoking – this wasn't just a tuxedo for women it was Le Smoking!!!
How could this not help but be a classic.  And although I don't have my safari jacket any more, I do have a pic of my version of YSL's Le Smoking:
Yes, this was back in my wild & crazy days!!!  But there's a lot more in detail here than shows.  This was a sit-down formal dinner honoring my cousin who was inducted into the state's hall of fame.  The length on the pants was set at the very lowest the pants could go over the shoes and not crush or break the crease.  There was no crease in the pants, the hung soft on the hanger.  My cummerbund had an elastic waist (dinner remember), cause I wanted to be comfy.  A traditional buttoned/placketed shirt with traditional type "stud" looking type buttons, and I am small so a large bow would have overwhelmed this, so did a thin almost bolo-type tie (I'm a western sort of gal).  To top it off a silk velvet jacket with the silk charmeuse satin shawl collar based on the more formal men's suit with the shawl collar.  So in essence I was copying what YSL was doing – taking a traditional style and putting my own stamp on it.
This was the genius of what St. Laurent did more than anything else:  Took traditional styles and made them his own look – the Mondrian Dress, Le Smoking  Jacket and the Safari Jacket were all traditional styles or inspiration that he branded as his own.
That doesn't mean that he didn't do completely original designs as well.  He most certainly did, and the "Pink Bow" dress is one of my favorites.  Only YSL could do this and get away with it.
This is the hallmark of a fabulous designer.  He/She understands the parameters within which he/she is working and knows how to do some serious problem-solving.  You can't see the problems that come with a design like the Pink Bow Dress, until you put it on the client and realize that you've got a huge problem. What is it?   In the pink dress (on the left) if the dress is all one color, the shape and silhouette of the client gets lost:  where is the waist?….is there a waist?….where does the waist stop and the bow start?  Well, you can't see when it's all one color.
But make the dress black?…what happens?….magic!!!
And the creation of a great evening gown.
Not only did YSL make great designs and sent the bar for his piers in the 60's, 70's and 80's, he knew how to explain what he was doing.  Some of my favorite design theorems come from YSL.
When asked what the women from the countries of recent Iron Curtain lifted sanctions should wear, knowing that they don't have many resources, YSL says that the black turtleneck and the black pencil skirt are a must for every woman's wardrobe.  I have extended that to the black leggings – with a nod to Tim Gunn who's probably the best-quoted fashion expert after YSL.
One of my favs is that YSL said there are 7 parts to a woman's body that a designer can use:
portrait, neck, shoulder area
bust
waist
hips
legs
back
silhouette
Accentuate too many of these and you look like a tart!
Accent too little and you look like a bag lady:
I don't care how "in" this may appear, it's not attractive – there's not one part of her body that's accentuated.
Of course being the designer YSL was, he knew how many and how few to use.
And when asked what was the core of his designs?…..good cut and good line.  So what exactly does that mean?  It means that the line or silhouette or shape of each seam, dart and any other fitting mechanism is shaped with great care so that it is the most flattering possible.  With clothes that are so classic, it's hard to hide the mistakes.  If there are few seams and darts, then each one counts a whole lot more than throwing on a bunch of layered clothing creating that hodge podge look.  Yes, I know this was a revolution from the over-ornamentation of the 90's, but really – ugly has never been beautiful (no matter how often repeated), and it never will!
And there was more.  YSL defined and honed the Power Suit and Power Jacket for women.
Not so much by the abundance of designs, but by the tailoring and the fitting and shaping of the suit.  This was during the heyday of the massive shoulders, but like Alexander McQueen, YSL's tailoring skills were phenomenal.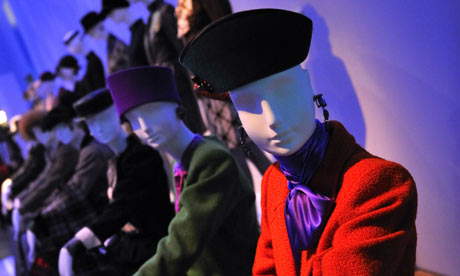 This was one of the most elegant, classic and eminently wearable ventures into androgyny that I've ever seen.  At the same time he was doing some of the most elegant beading and detail on evening jackets, that can be worn today and be in as much style as back then.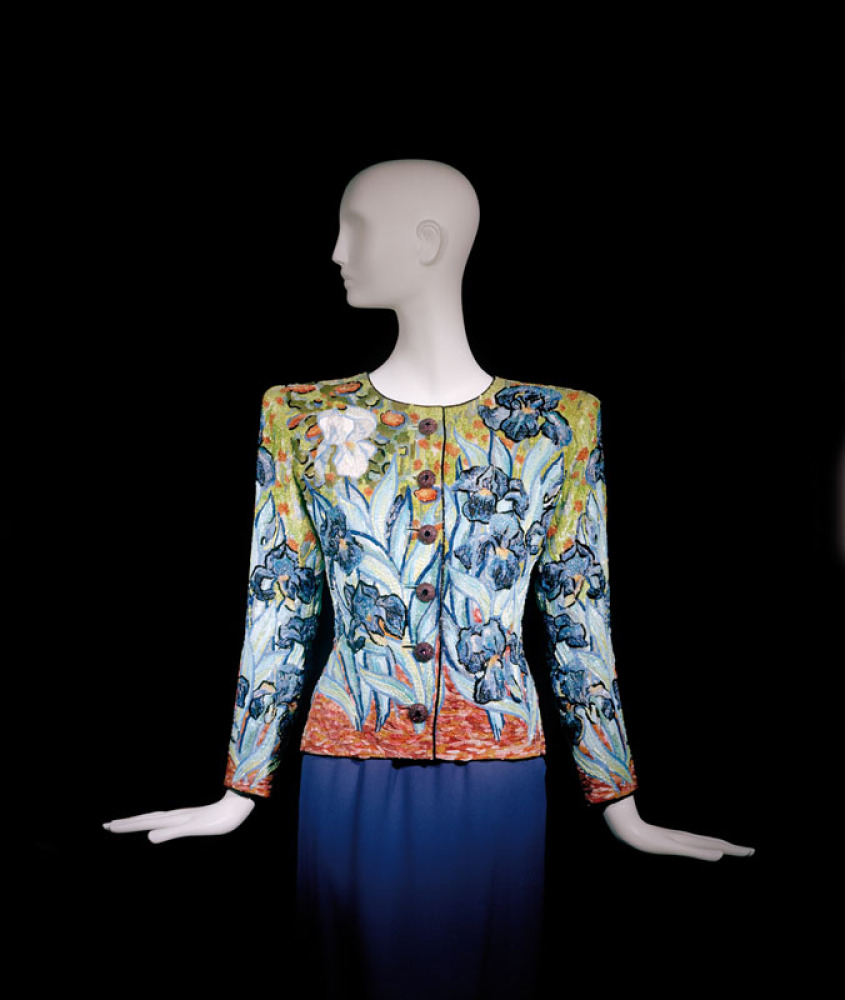 The shoulders are a little big, but that is the only line on this that does not make this literally timeless….you would have to wait a few more years for this to be back in again.
But this sort of garment never goes out of style – it does take a certain confident person to wear it, but it's a fabulous look, almost an homage to the 50's designers.
Here's a wonderful video of YSL Retrospective Exhibit at the Petit Palace in Paris, and looking at it you get a sense of how much YSL and his genius affected 3 decades of fashion.
So we sewists can learn so much – the Goldilocks rules for good design (not too many, not too few, but just the right number)
Always have a black turtleneck, black pencil skirt and (cause we all know how savvy Tim Gunn is) updated with a black pair of leggings
And do remember the cut and line of your pattern pieces and remember simple is not always easy – cause each one of those seams has to be the right cut and line to work.
UPDATE:  Just after I posted this, it's announced that a new museum will open at the location at YSL's original design house.   There are all sorts of links in this article, and I suspect (just as Valentino did), the YSL will go online.  Some of my fav links are:
If you want to watch the movie Yves Saint Laurent, sanctioned and with the help of his long time partner, Pierre

Berge

, it's on Amazon now.