REALLY Big!!!
This is right in our own backyard, and the students are being recognized and awarded in a very big way.
So what in the world is the YMA?  It's the Young Menswear Association, which doesn't tell you much, especially since it isn't for men exclusively – but I suspect this is how it started and has morphed to include women and men.  But it is a professional organization that is highly regarded by the fashion industry and fashion designers.  They give big-time scholarships every year.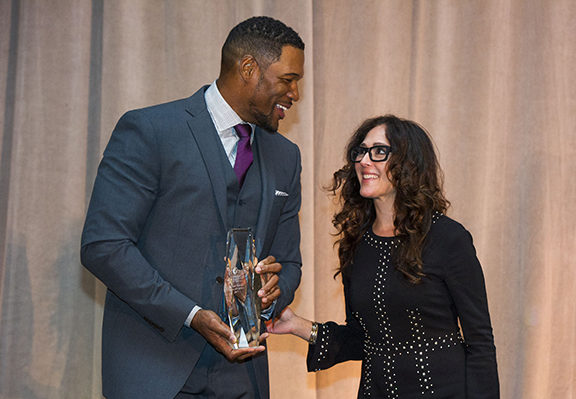 But there are some qualifications:
The school must be one of the qualifying member schools
Students have to maintain a G.P.A. of 3.0 (in a 4.0 GPA system)
Have to have a major in a fashion industry category
Be a current freshman, sophomore, junior or senior
Desire to enter the fashion industry
So this isn't just handed out to someone who looks good or does his/her hair right!!  The entries are submitted by the member schools.
This year Jessica Hoover, Natalie Berg, Lauren Walker and Sierra Winrow, Oklahoma State University, Design, Housing and Merchandise students were announced as winners….FOUR students in our back yard got scholarships.  But you not only get a scholarship, you get to schmooze with the big fish playing in the big pond in New York, where you can network and get your name known in a very big way.
This school is garnering more and more of these awards as it teaches style, artistry and design by professors who all have light behind their eyes.  This school is such a treat.  No more monotonous tones of the Ben Stein Ferris Bueller's Day Off fame;  no more busy work that immediately sets you to sleep.  These profs challenge their students to do more and come up with creative and inventive was to make the students excel past their dreams.
And all in our very own back yard.
This is a school that is competing with FIT, Parsons, FIDM and other well-known design schools – right in our back yard.  It's a school that focuses on design and graduating students so they can work in their design fields, not simply to have a design degree because it's cool.  The profs at DHM want their grads to get a job in their field of study.  And here's the amazing thing – they are…their grads are teaching flat pattern design in Paris, working in ateliers in Tokyo, working at Michael Kors or in many other fashion industry vocations.
All in our own back yard.
Currently they have built a state-of-the-art facility on campus that puts this school in the big league.  Back in the day when I was out job-hunting, if you didn't know computers (DOS in the beginning, then Windows at least 3.11 for Workgroups – remember that?!)   Well, if you didn't know those programs, you couldn't get a job.  Today the same is true of the design and fashion industry.  If you don't know CAD (Computer Aided Design), then you're looking at a job in an older firm or at a less modern employer.  The DHM school is aiming for a state-of-the-art CAD lab which again puts their graduating students on the vanguard of the fashion and design industry……
….right in our very own back yard.
Why is this being in our back yard so important?  The school puts Oklahoma on the map for design.  The school, being a member of not only the YMAFSF (Young Menswear Association Fashion Scholarship Fund), but they are also a member of the CFDA – (Remember when Princess Diana came to present an award from the CFDA and took the country by storm?…..it's the same group).
Because of the school's endeavor to compete with the best design schools in the country, we really owe it our support.  They've done most of the hard work, but they can't do it alone.  There are a lot of lost causes out there that pull at your heart strings, but this cause is anything but lost.  As a matter of fact it's like the rocket ship that is on it's final countdown, and how fun to be a part of it right as it gets ready to take off.  They make giving so easy – online, or you can call 800-622-4678 (that link works if you're on a smart phone).
And this doesn't have to be a huge sum.  Anything you can give will work. This is a program that is working and working well and is a huge asset to our state and to this region of the country.  It brings such positive reflection on this part of the country and our state that's it's hard not to support it!
Again, here's the link that will give directly to the building fund.  This will make your money go right to this school and toward their making this school the state-of-the-art school……..right in our back yard!!!
Save