While Mrs. Trump has been mostly in New York, we haven't seen much of her style, until this first trip abroad.  As a person in the news, it's worthy to note her style and in particular what sort of style it reflects.  The first lady, whether she or we like it or not, can and does set a fashion style and trend.
Mrs. Trump was a former model and has some knowledge of style, but she's also been with the big fishes in the big pond, so to speak, in Palm Beach and New York, so she knows how to dress for almost any occasion.  That showed in spades on this first trip abroad.  Her style is polished, finished, clean, succinct, holds no punches while being completely user-friendly.  One thing we know for sure is that this is her imprint on her look and projects her character and personality.  Mrs. Trump is also aware of the comment she makes with her style selections.
For a while now, Paris has wanted us to dress up a little more and that's clearly evident with Mrs. Trump's wardrobe on the road as it were.  The trip started with the Max Mara sweater top and the Hervé Pierre rust leather skirt.  This sets the silhouette that Mrs. Trump clearly likes and keeps to for the trip.
Next up is her first outfit in Saudi Arabia.  While covering her body, which is a nod to the tradition of the country, she looks completely confident in her style.  It's considerate of the custom of the country, but very fashion forward.  This is similar silhouette with a waist-accentuated jumpsuit.  I have to say that I have never found jumpsuits very comfy, but this one looks imminently so as it has a lower inseam height, and therefore lots of room to move.  To keep the suit from looking entirely she adroitly Paris it with that killer gold belt.  She's in the country of great wealth, and it's no small secret that on the street most of the Saudi women wear the traditional clothing, but at home, they are dressed to the nines and don't think the Saudi women aren't taking notes.  The outfit was considerate of the local customs, but screaming classic style with the black and gold accent.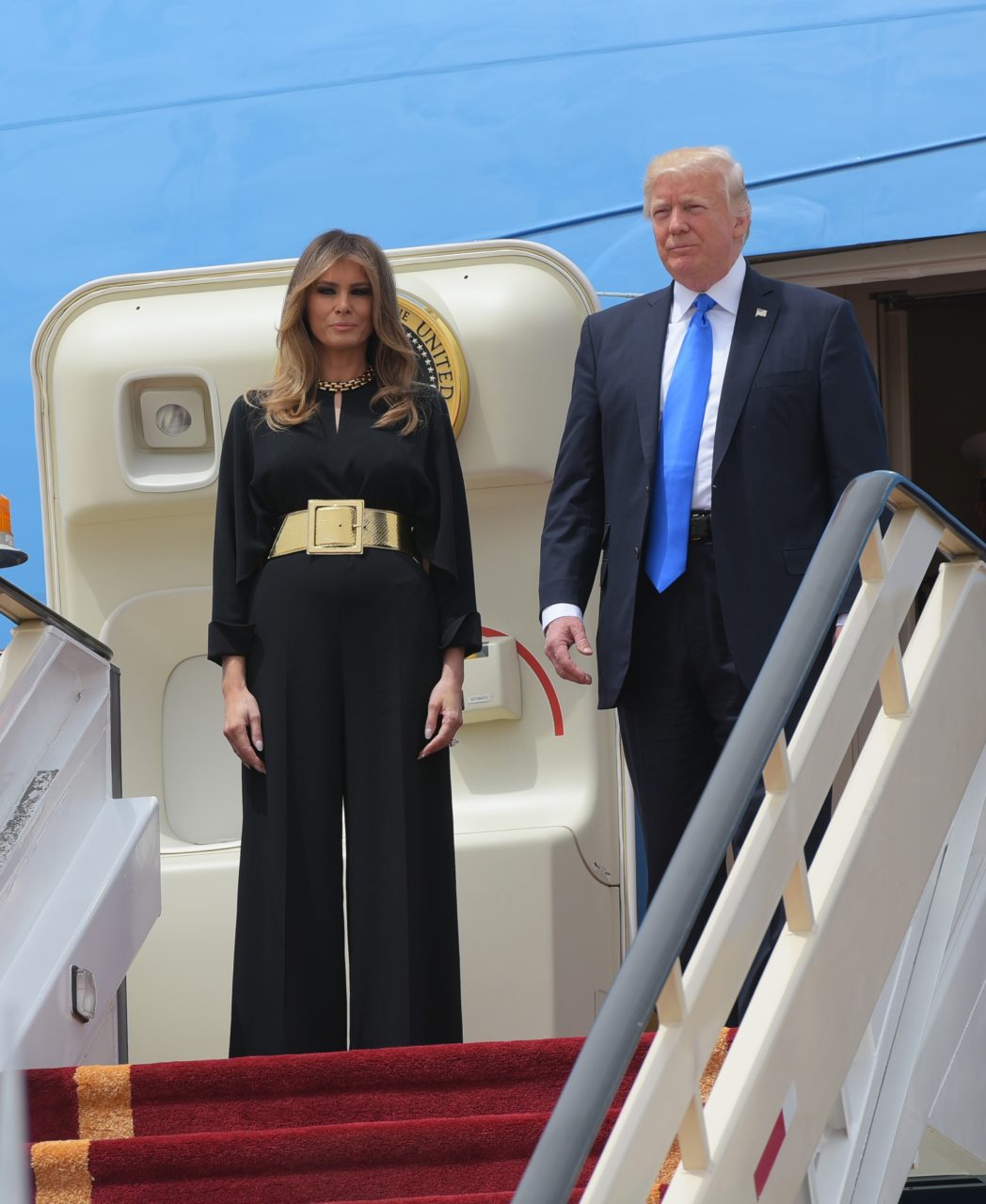 While no one seems to have much info on this dress, it's equally classic and yet very fashionable.  Mrs. Trump has a very curvy figure, and for anyone who thinks you can't fit that figure, this dress is worth noting.  NOTE:  I recently discovered this is a Reem Acra, which makes sense – another fashionable gown from a very classic designer.
Honestly, I thought this was the killer of the whole trip.  This has such fabulously creative style and being cold-natured, I love the whole idea of those sleeves.  This isn't the first time these type of sleeves have been seen in elegant events, but Mrs. Trump wears them with such style and poise.  That's something we haven't seen in a while.  This is someone who is used to wearing a more polished style with ease.  There's nothing stilted, faked or cumbersome for her.  What I like here is that she is dressing up.  It's that simple.  While we've seen fashion go through a whole dressing down for 20 years, it's so refreshingly new to see dress-up again.
When I was designing formal wear during the dressing down period of fashion, I always lamented that these girls didn't know the beautiful style of the 80's.  Yes it got a bit much, and it was inevitable that the pendulum of fashion would swing the other way, but after 20 years of yoga pants, leggings as pants, it's glorious to see polished style come back into fashion.  Heres' the interesting thing:  So far, the clothes that Mrs. Trump has worn would make a fabulous exhibit in a fashion museum, and we haven't even gotten into the first half of the first year.
I tried ever photo of this dress and manipulated it to look at the seams and darts, but it looks like there is a diagonal dart from the bust to the waist allowing that great fit, although I noticed that it's not fit tightly around the waist, mostly because that would be too fitted.  Mrs. Trump's curvy figure is enough that she doesn't need to always close fit around the waistline.  But by far it's the sleeves that that are the best part of this dress.  This looks like some Parisian couture technique, but very clearly this is an attached cape-like piece that is most likely a wrap around so that the beginning starts under the arm, wraps in front of the arm (where it is slit above the elbow) then comes over the shoulder and attached to the neckline.  Because of the slit in the arm, this allows for the air to rush in which means there's a huge sashay factor – the dress moves beautifully when she walks in it.  Also here's someone who can wear a lot of jewelry, but elects the elegant crystal necklace as her only bling.  These style notes, the movement of the dress, fit of the dress, silhouette, accessories (matching shoes and an elegant statement necklace) all show her classic yet very stylish take on fashion.
She then dons a series of work outfits for touring and day wear.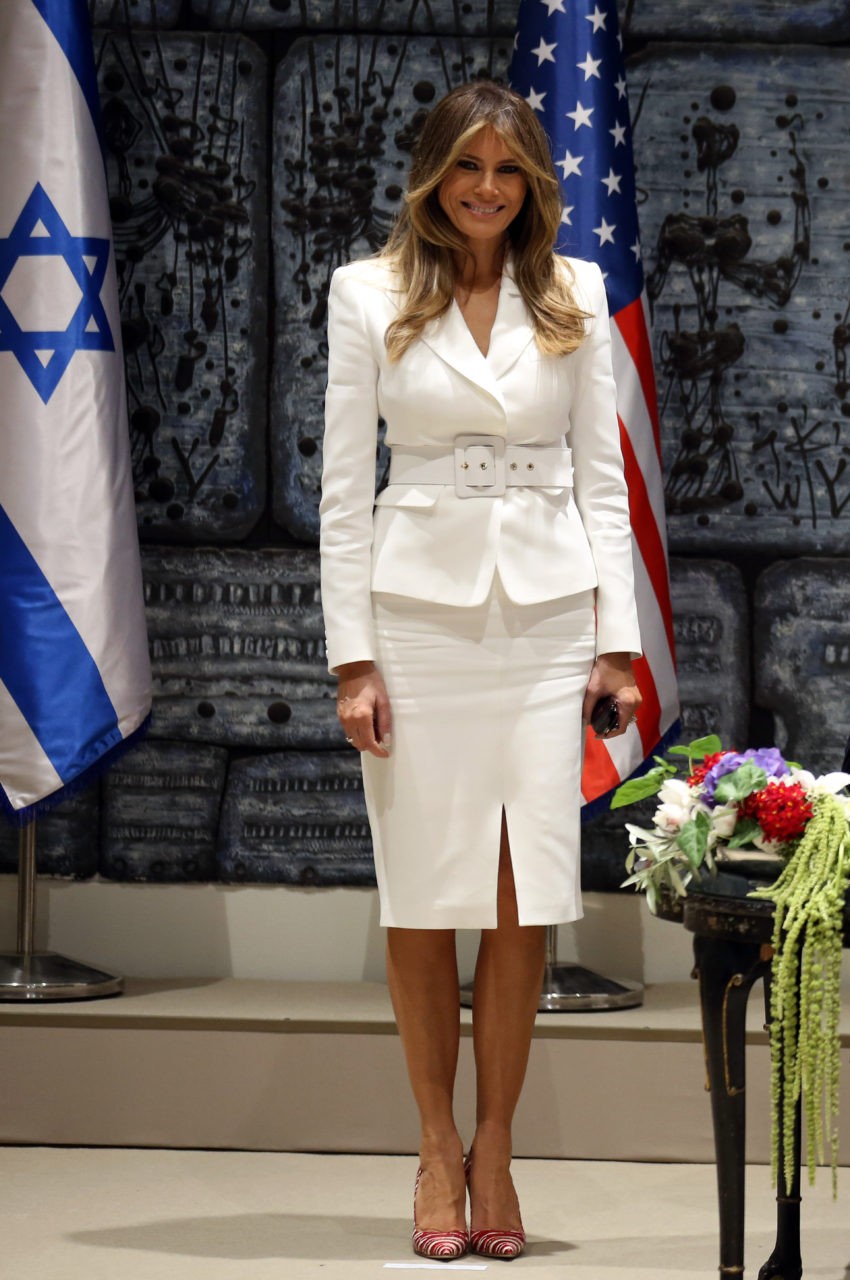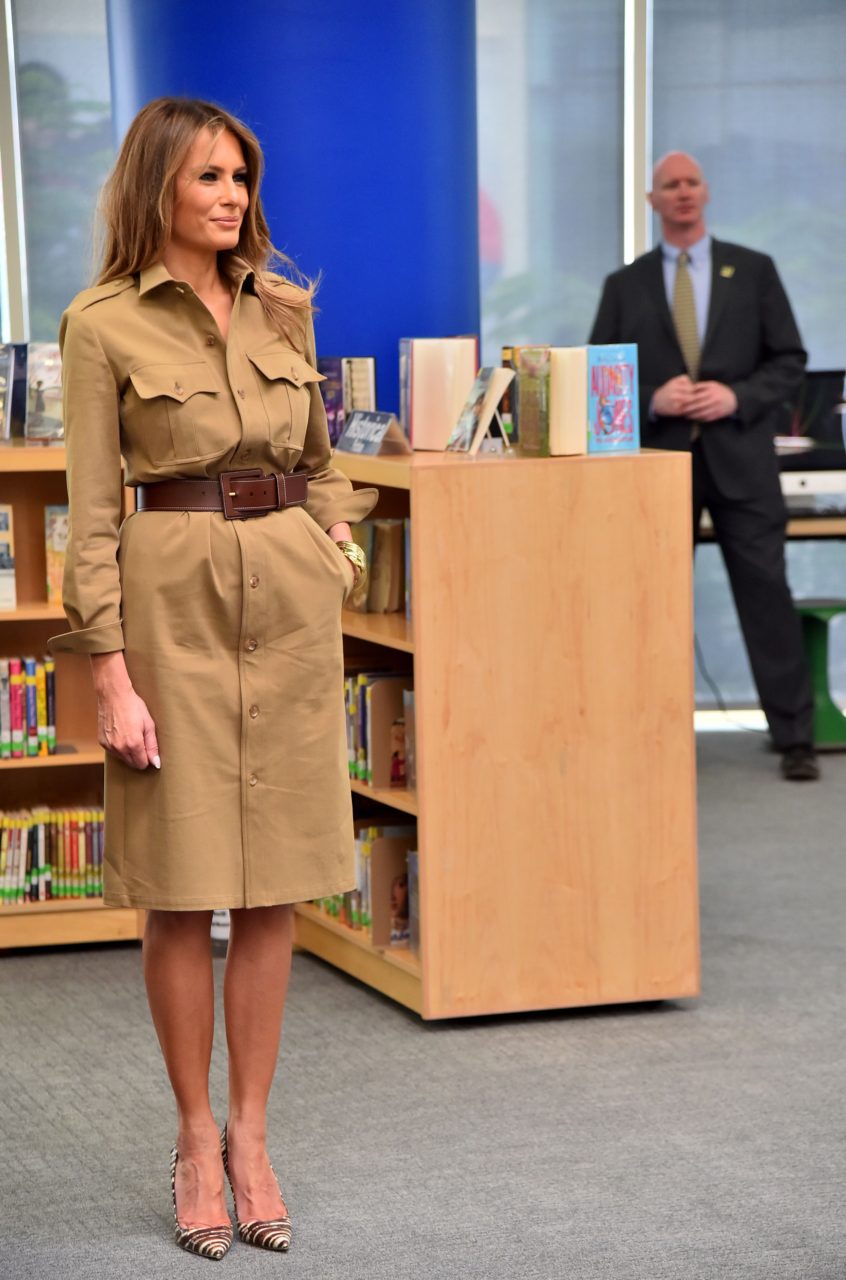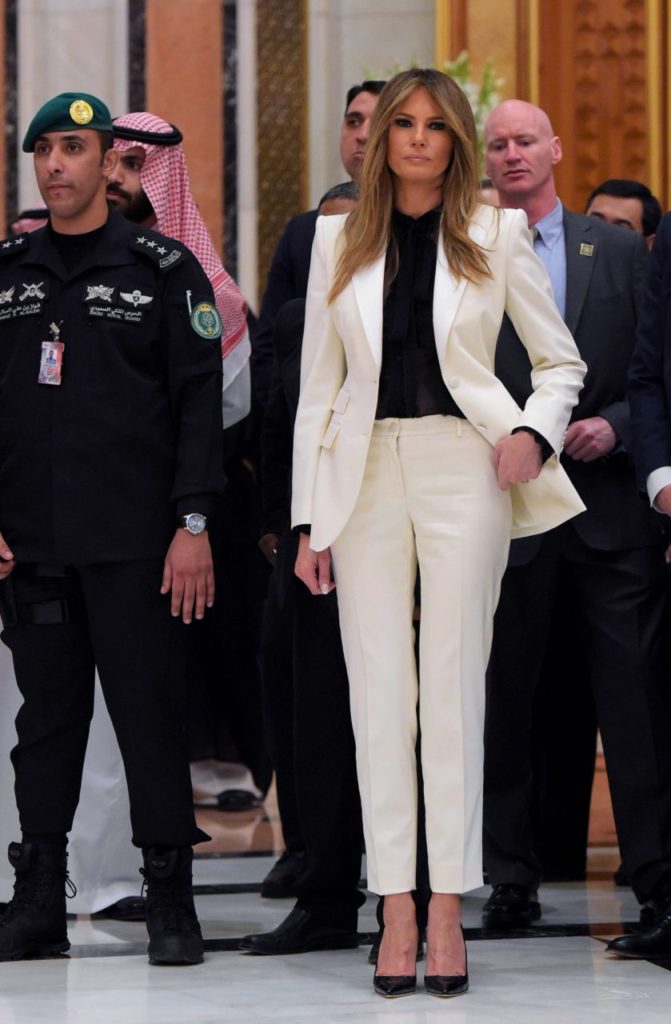 For her evening look in Israel, she wore a Dolce and Gabbana.  Another classic but very fashion-forward look.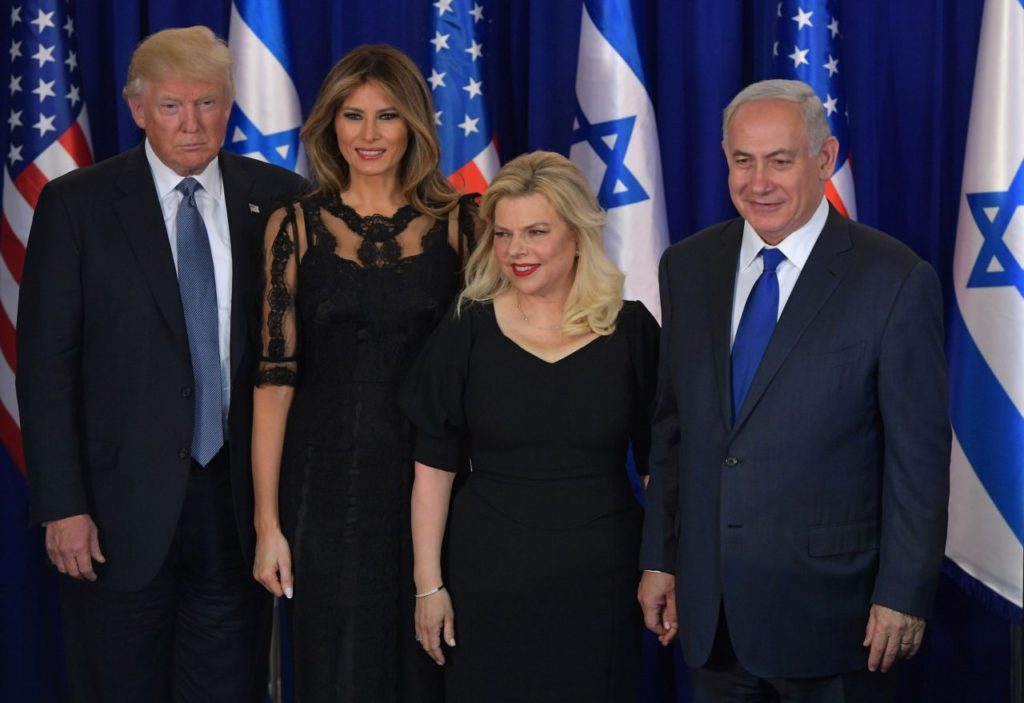 Then she steps off the plane in Rome in my favorite look for the whole trip.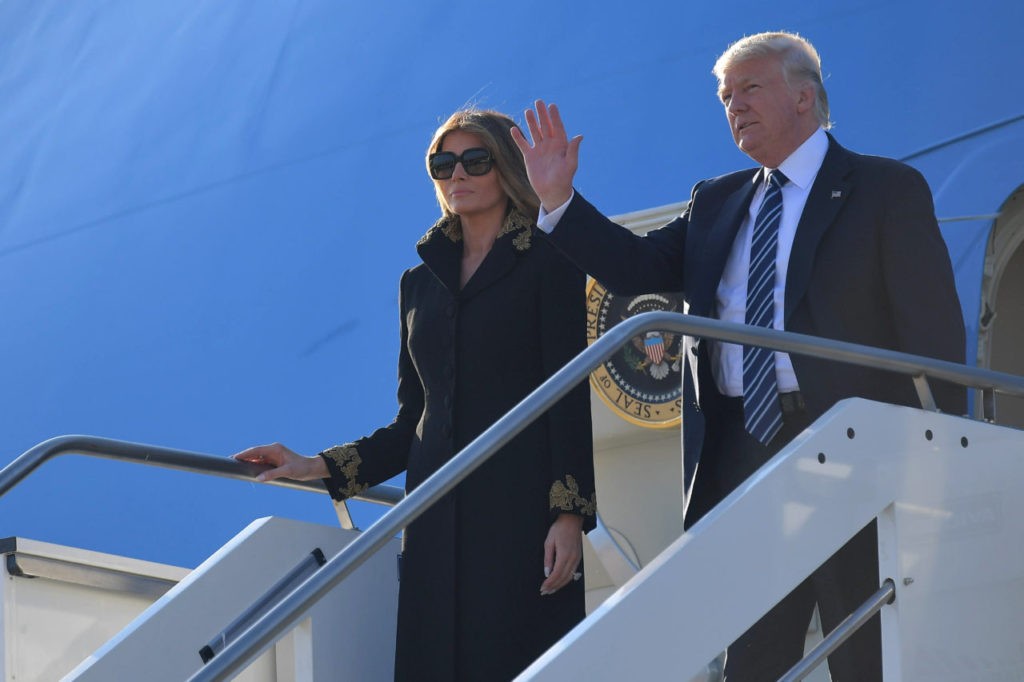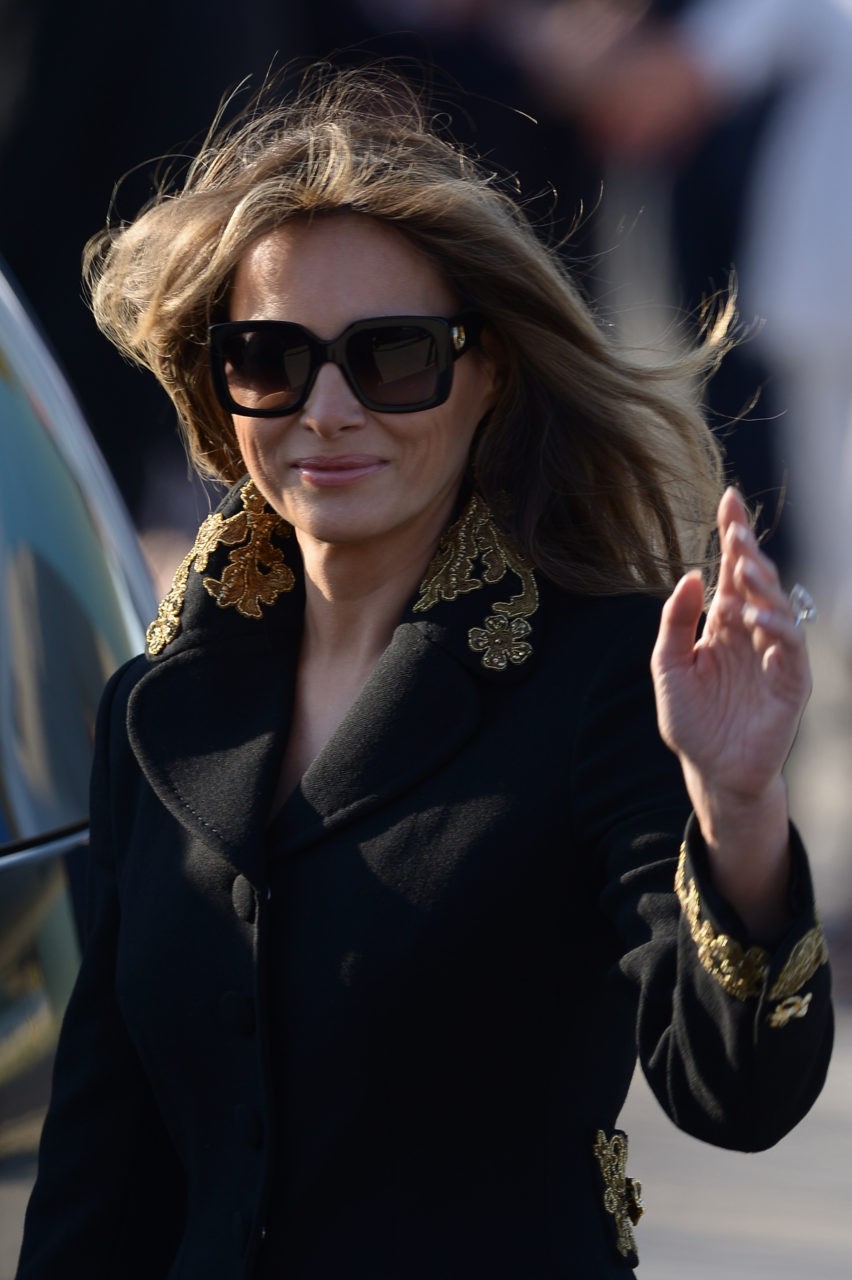 This is the kind of thing that has a quiet quality to it and yet a lot of glamour.
This coat is a killer coat for about any occasion.  It's classic enough to dress up and dress down.  Remember how fashion had us use jeans as a dress up pant?  Well, we're trending the other direction where dress up can be used for daytime.  I love this idea.  The idea of looking elegant and classic during the day is just as important as looking elegant and classic at night.
At the Vatican again a beautiful lace jacket and dress with a gorgeous lace dress by Dolce and Gabbana, modest and appropriate for the Sistine Chapel and Vatican.  She wears a lot of Dolce and Gabbana and I can see why.  They are designers of elegant, classic clothing.
In Belgium, she dons another classic outfit.  Most of her shoes on this trip are Manolo Blahnik which are expensive shoes – in the category of Louboutin shoes.  I've never had a pair of Loutoutins but I suspect that they are the same as Manolo Blahnik which I have had, and the pitch on the shoe is fabulous.  That means that when you put it on, it has great support in the arch of your foot.  I recently discovered a company, VivianLou, that makes an insert for shoes that re-pitches the foot so that it's a much more stable and more comfortable heel to wear.  I've used them on a pair of 2½" heels that I haven't worn anything that high in decades.  They felt great, but I had to walk slowly!  Mrs. Trump's shoes on this outfit match her Michael Kors outfit all professional looking and ready to go.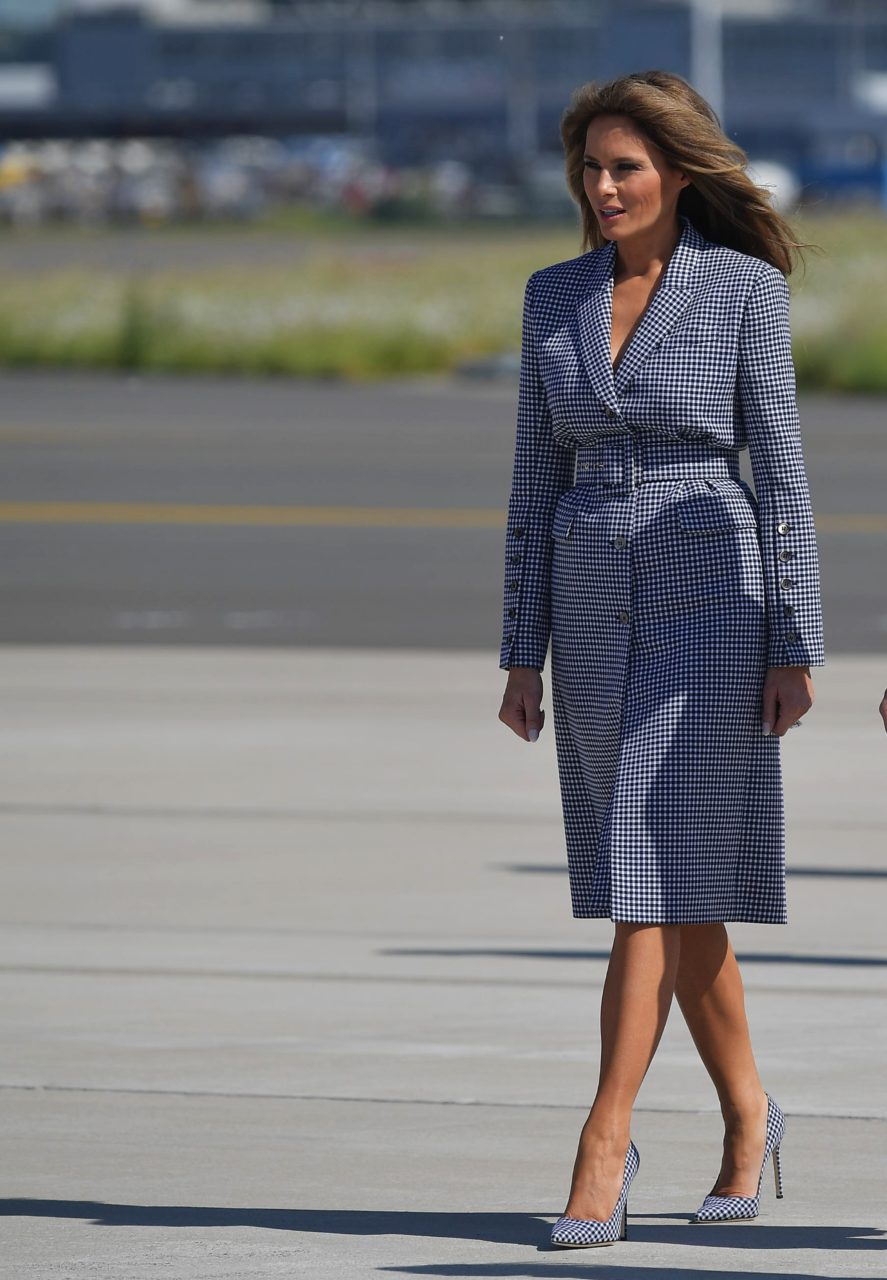 I love the sleeve detailing on this coat/dress.  This is somewhat reminiscent of what Coco Chanel did on her famous jackets.  She said she placed them where the buttons could be seen, which I like the way this is done on this jacket.  I also love the matching shoes.
There's a lot to glean here from these styles.  For me, the most important thing is the polished, finished and very professionally classic look.  This is what Mrs. Trump is known for, but I also like that she's giving this look a boost in fashion.  These outfits are all so classic, that she can wear them again and again, which I hope she does.  That's the whole purpose of classic and why it's such a thrifty and valuable look to cultivate.  The trip's not over, so there will be more to come.
NOTE:  Hey gang, I didn't mean for this post to become political.  This is a sewing site, so as to keep it that way, comments will be strictly monitored.  If you would like to make a comment about fashion or sewing write on!  I ALWAYS love to hear your comments about fashion and sewing!!!!
Save
Save
Save
Save