So one of my followers here on the blog has some fabric that sounds perfect for a coat dress.  But no luck with a pattern, which sounded like a blog to me as I can include all sorts of pictures and descriptions in here.
So first, what is a coatdress?  The best way to define it is with pictures, and this shows you why the item is so popular right now.
It's the Kate Effect that every retailer and shop owner hopes for!  Basically, as you can see, this is a dress but worn as a coat.  It has a defined waistline (not necessarily a belted waistband, but defined waist),  cleanly fitted (not skin tight) and in Kate's instance she like a fuller skirt.  These garments can almost function as a coat and a dress, if you're going someplace that's really cold on the inside or you can tolerate a warmer garment inside and out, then this may be a great look for you.  If not, you can do a similar silhouette and use it as an outer coat.  This will probably be more useful and last longer in your closet.  If you want something (and are willing to put the time in to make it) for a short time, then making a coat dress, is probably for you.
So I did a  coat a couple of years ago based this on a costume
But here's the deal.  I liked this garment, but realistically there were some features that plainly wouldn't work with my lifestyle, and that's what we can do as sewists – design something that was inspired by something else, but revise it enough so that it becomes very useable for the person who's creating it.  In this case, I don't need to have the bum roll (I have a natural one already) but the excessive box pleats in the back are to accommodate that bum roll and so I don't need those.  The fur was another feature that I didn't need to have.  I live south of the Mason-Dixon line where we have mild winters (compared to those northern states), and I simply don't require that thick or heavy fur.   So what I wanted was this line of look but a useful garment that will keep me warm and yet be stylish and have the line and look of this coat in the pictures above.
The first thing I wanted to do was to find a pattern that would work the best for my look.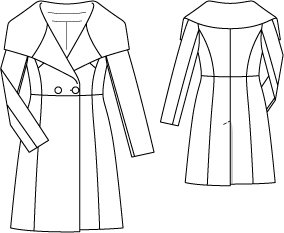 Looking at this pattern – for me, this works.  There are some features of this pattern I really like those bust darts in the side front seam.  Also in the side front seam, there is a little bust, chest and waist fitting in that side front seam, and then the bust is tweaked with that lateral dart from the side front seam.  I've used this dart a lot in the past and had great fitting luck with it.  So this also had a huge collar.  I've sewn long enough to know that collar can look smashing with it half up and half down, but how to make it stay that way.  That's a problem I would solve when I get some of the fabric, but I have a pretty good idea what I'm going to do with that fabric.  A big change in this coat is that I'm cold – even in the summer, and that double button configuration isn't going to work for me at all.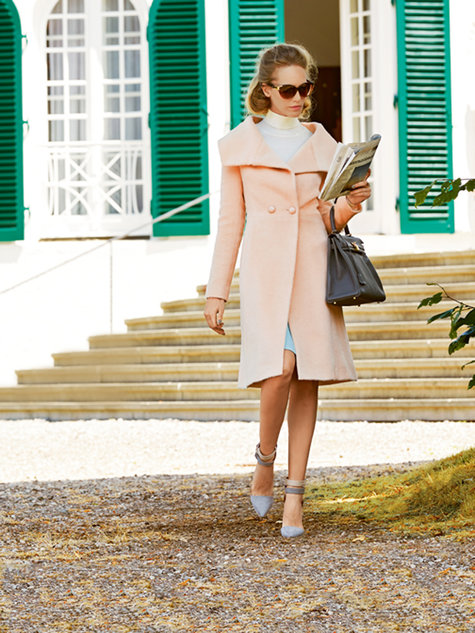 Here's the problem with this collar – the way the tech sketch is above is not like the photograph above.  Notice where the "stance" is.  This is the part of the coat where the first button occurs signifying the division between the collar and/or lapel.  This is a huge discrepancy when building this collar, especially for what I was trying to do which was make the stance much higher.  What this told me is that I could most likely take this stance all the way to the top of the coat at the coat/collar seamline and it would roll very well.  So what might appear as a real pattern flaw (in that there is a huge discrepancy between the collar stance in the photograph and collar stance in the tech drawing) proved to me that I could make this coat button all the way to the top and make the collar bend up the exact way I wanted.
So before I went too far, I had to find some fabric, and the green was one of the most appealing things to me about the coat, and then to find the fur.  What I found was a beautiful green wool and then a stretch knit almost like a fabric that bordered on tacky.  It really didn't have much going for it.  But that doesn't mean it was unusable.  It took a lot of manipulating, but I stabilized it with horsehair canvas interfacing and pad stitch the back so that it would fold exactly where I wanted :
Notice the pick stitches in the under color.  This is to shape the collar exactly where I wanted to that it will fold exactly where I wanted.  It's high to frame my neck and face and yet keep me warm.  Remember this fur had about 50% stretch but doesn't stretch at all cause the interfacing keeps it stable.
In the end, I have a new-ish looking coat dress and yet it has the flavor of the 18th-century costume.  It features my waist and has shape around my waist.  At the same time, it's very warm, usable and flatters my figure AND my style.  This makes it a great look for my wardrobe.
This coat really shows the main feature of a coat dress, which is the waist.  Your pattern doesn't necessarily have to have a waist line.  It can have a belt, but it must either have a waist or a belt. It must have more of an hourglass shape – usually, that means a larger collar or shoulders and flared skirt or even gathered skirt.    This is more about the profile and line than it is about waist or no waist.
Now, we all don't have a skinny little waist, and that's fine, you don't have to have an hourglass figure to look good in a coat dress.  The whole idea here is the look of a silhouette.  It's very permissible to have the illusion of a waist – like nipping in just above the waist and then flaring slighting out from that "upper" waistline.  This gives the illusion of a waist and the silhouette that you need to make a coat dress.  This is a much better solution that even putting a tie on a coat.  On a rectangular or apple shape a tie can often exaggerate the "non-waist" silhouette, so having something that slightly nips in at a higher waistline and slightly flares out is all you need.    If you do have a waist, thank your lucky stars and go for it!
I put together some great patterns to use on my Pinterest Coat Board.  Not all the patterns are coat dresses, but all the patterns labeled in the description are good to use for coat dresses.