Recently, I watched House of Z, which is fantastic.  Yes, the fashions are out of this world and yes the eye candy is out of this world.  But that's not all that makes this film so fabulous.  The story is so pertinent, and can even be applied to every one of us sewists.  No matter how little or small a sewists you may think you are, the story is so inspiring. And yes, he knows how to sew – that's how he knows how to put together those fabulous dresses.
This is the story of Zac Posen from his very beginning to today.  How he was as a kid playing with fabrics and other materials to make beautiful garments.  There were several things that struck me about the film:  1.) how he seemed to have an innate ability to create, 2.) the unbounded love and support from his family, 3.) the meteoric rise to fame, 4.) how no one is ready for that much fame that fast, 5.) the inevitable fall after too much fame too fast, and 6.) the recovery and realization of his own talent.  If that sounds rather blah and ho-hum, in the film they do a good job of making in pertinent and real.  The part I like is that there is not one sewist out there who hasn't suffered a similar track even within the assembly of one garment…."Oh, boy, I can do this," to "Good Grief, what was I thinking," to "Hey I can do this and it will look fabulous!"  I also like how confidently committed he was to his calling (which is something we all should be – whatever that calling is), and even though he had the weight of a lot of pressure on his shoulders and mind, he plugged through it.  That's what very successful people do.  In addition, he continues to move the challenge bar a little higher, making him venture a little more into unknown, unexplored fields.  This sort of exploring is nothing short of sheer bravery.   This moving the challenge bar always a little higher is what separates the really gifted from the ho-hum.  The cream always rises to the top and because he has the courage and drive to go further, to brave the unknown further, he becomes more.  There is a lesson for all of us in that.  No, we don't need to put on a fashion show to the raves of Anna and André.  But there is nothing wrong with stretching our knowledge into the unknown (for us) to make ourselves better and learn things we only dreamed were possible.  Without the effort to try, there is no success.  This movie inspires as much for the fashion as it does for the creativity in all of us.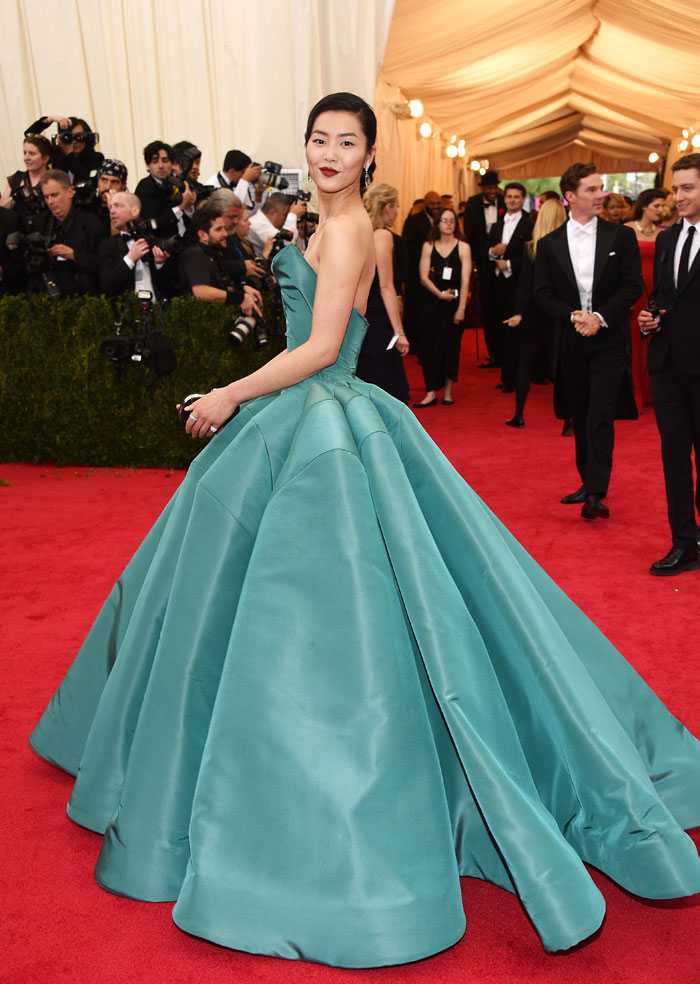 If you think you don't know how to sew and can create a gown like this, your mind will totally be changed watching this film.  There were so many problems with this dress and they were on a very strict deadline – so much so that the dress might not make it, but it was so glorious that he couldn't not do it…..that's the passion coming through in droves, that as you begin to look at his clothes you can see how totally glamorous they are.
BTW – you think beautiful isn't in….looking at Zac Posen's collections will beautiful is way WAY chic now!!
It was so terribly inspiring to watch that it brought up a list of some of my fav films for fashion……
From my fav to not so fav but still inspirational:
Signe Chanel – This is on M2M (link below on the logo), and if you're a sewist and don't watch this I will come haunt you because you will thank me over and over.  Watching the ladies of the atelier of Maison Chanel is so much fun.  This is a series and I like the very first episodes the best, cause that's all the designing, sewing, cutting, drafting, draping and everything that we do.  The words out of your mouth will be – "That's how I do it!!!"  or "That's how you do that!!!"  It's a blast!
Breakfast at Tiffany's  – for a long, long time in my career designing for formalwear, I would get the in-between girls.  They weren't quite mature, but they were more mature than little dolly-type clothes.  They were between Shirley Temple and Madonna.  Mother would be horrified if they wore Madonna type clothes and the kid would be horrified to wear Shirley Temple type clothes.  What suited?  None other than the LBD especially out of Breakfast at Tiffany.  I would have the movie on standby and show the kid the dress and she would be thrilled, and Mom was ecstatic – mature, adult, classic, pretty, gorgeous, simple – it fit the bill perfectly.  That's the style in Breakfast, and why it has lasted throughout the decades.
To Catch a Thief No one can make an entrance like the glamorous Grace Kelley in the hotel waiting for Cary Grant to meet her for swimming on the Riviera.  That outfit is a killer, but then so many of her outfits capped off by the masked costume ball outfit.  All had impeccable detailing and the fit was….well….the clothes fit instead of being too tight or too lose.
Designing Woman –  OK I have to admit that this was my style.  I loved that thin waist and those full skirts and those billowing blouses.  These were the clothes I made for my Barbie, who had cocktail parties and formal events to go to every day and every night!
 Rear Window – a close second to Designing Woman, but the clothes are as spectacular and well-fitted and glamorous as can be expected.  They were really tailored beautifully.
Charade – Not quite as fabulous as Breakfast, but the clothes are still to die for.  All by Givenchy in the middle of their famous film/design collaboration.
Sabrina – Completes the 3 favorite fils of the Hepburn/Givenchy era.  The others got a little jumping the shark and too affected and didn't work as well.
Bullitt – No one really understood McQueen and thought his style was simply accidental elegance.  The truth is that McQueen went through a gazillion turtlenecks before he found the right one and wow, was it fabulous.  Although Bissett's clothes were great, it was Bullitt who stole the fashion show and set a whole new look for men with this movie.
The Thomas Crown Affair (1968) – In the Bullitt mode, but as much McQueen as Dunaway make a show in this movie of a successful career gal who wears success-making clothes in the late 60's.
The Thomas Crown Affair (1999) – in the height of the Grunge, how does a successful woman look successful?  By wearing what looks successful in the age of ill-fitting, torn, shabby clothing is this grand style in the movie.  This was a beacon in a very, very dark world of ugly fashion.  I loved the movie for that alone.
Annie Hall – when it came out it was instrumental in starting a whole new look.  The power of the ensembles by Annie Hall were so powerful that it was seen on most of the runways after this movie came out.  The movie is really rather ho-hum because the fashions so outshine anything else about or in the movie.
How to Marry A Millionaire & Gentlemen Prefer Blonds –  Both of these are from the same era, and in Marry – there are no more different types than these three stars and yet they all look splendid in their outfits. And if that weren't enough, if only for the very reason that the two stars in Gentlemen not only had completely different bodies and sizes, that were size 14 and 16, this movie is worth viewing.  A voluptuous figure was what it was all about in the 1950's and this movie shows that with correct styling, no matter what your figure flaws, you can look fabulous.  Here's to all the full-figured gals out there.
Breathless – only because it's significant because of the beat or beatnik style.  For me personally it doesn't do anything, but it is worth a mention as a style for inspiration.
Also-Rans to Mention for Inspiration – High Society (1956) – although the fashions were memorable, and they were executed well, To Catch A Theif and Designing Woman really did more for this style, but it's an also-ran here; To Have and To Have Not, in my heyday, a killer inspiration movie, although those times have passed;  The Women (1939) – talk about fitting different sizes and shapes, this is the textbook on what can be done with almost any shape, size, and style.
Movies about designers are also very inspiring and here's my list of those in order:
Diana Vreeland The Eye Has To Travel,  The September Issue, Bill Cunningham New York, and check out M2M videos and films
Unzipped – Mizrahi is multi-talented and that can be a huge problem;  where do you put most of your time and energy?….everywhere?  You can't, but seeing all that he can do is remarkably inspiring.
Funny Face – and this might be in the above category except it is about fashion.  The sets are almost as fabulous as the fashion, but the fashion is the main character here and it never EVER gets old.  These fashions are truly timeless.
Coco Before Chanel – It still amazes me everytime I make a Chanel jacket – the quilted one – how this basic technique can make such a fabulously wonderful jacket.  All those RTW Chanel jackets and the wannabes are so far down not even to be classified as 2nds – they are like 200ths!!!!  Once you've made one and have one, they are truly to die for.
House of Z – I'm not sure because this is so recent or because the story is as compelling as the fashion or that it's because he's still designing and hasn't really reached the peak of his career yet, but the story of dreaming, fulfilling your dream, fulfillment disillusionment, being drawn off the focus, refocusing, reclaiming your place in the world because you realize your talent will be enough, or what.  But this film is just as good for the fashion as it is for the story.
Yves St, Laurent and Saint Laurent (both 2014) These are two different films;  the first about his whole life and the second about him during the peak of his career.  This was my mentor designer while I was learning to sew and out making anything and everything for me.  I derived more inspiration from him than anyone else when I was growing into my sewing mastery and even have an original from YSL that I will never part with.
The September Issue is a great film about how the largest issue of the year is put together.  This is more of an "in the business" film, but still fun.\
Bill Cunningham worked for the New York Times for years and was ahead of most trends before they really got legs and were off and running.  He ran an "On the Street" look and it was pithy, current and always informative.  Too bad he's no longer with us, cause there's really no one out there to fill his shoes.
Diana Vreeland The Eye Has To Travel – is about the former editor of Vogue US.  Always a very stylish lady, she talks about how she got to be the editor and what she wanted to do while there – more of an in the business sort of film, but I find it very interesting.
If you're interested in other ideas there's a great streaming service M2M where there are tons of videos, films, documentaries, and shorts as well as videos of current runway shows.  It's literally a panoply of inspiration for ideas and simply plain fun to go through and get ideas or otherwise be inspired.
In the meantime, if you haven't seen House of Z, it's on Netflix and Amazon Video now and it is so worth a view.