Again, there is NOTHING more fun for me than taking an older dress and making it all new again.
Emily was a client who came to me with her old deb dress and wanted to create something new for her. Her new dress is a lot more classic, but with a raised waistline and classic bodice to show off this beautiful bride, who doesn't need much before the dress will start taking away from her good looks.
What makes this so special and makes it work is that raised waistline.  It's not an empire waistline. What makes this gown so special is the way it walks and flows because of that raised waistline.  This is such a fresh and modern look that it immediately updates what would otherwise be a boring dress.  These kind of details are essential when designing for clients.  It's not only knowing what the silhouette that is modern and fresh but how to do it.  I love the way she walks in this dress cause it tells me that she's really working it!
Empire waistline (more common in Europe and known as Regency in England) has a waistline right under the bust.  This waistline is just above the waist, usually 1″ or so, but no more than 1½" above the waist.  What this does is it ensures that the waist shows, but without the dreaded muffin top.
The truth is that the waist is ABOVE the belly button.  The female figure will have a hip bone, and above that, the lowest rib bone and the waist is between those two bone.  This is so foreign to most people because we have had hipsters in style for so long, that most folks think their waistline is on their belly button, but it's not. As time goes on and styles change you'll see that.  But on the muffin-top front, we are so ingrained to believe that the muffin top is absolutely the silhouette from hell, that we forget that once upon a time, the muffin top was part of a dreamy figure look.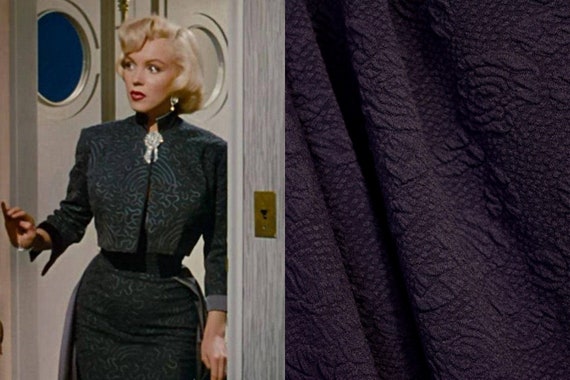 This is all about fashion and right now there are two things that are vital to keeping a young and fresh look – fitting your pants around the knees and fitting raising your waist a little.  Both of these will give you a great look.
Another neat part of this dress was the way I bustled the train.
This looks like there isn't a bustle, and that's the way she wanted it – so that it looked like a classic dress that was all the same length.  This dress was really classic and lean, as this bride is cute enough on her own and doesn't need a lot to make her look prettier.  Also, she's small and knows that doing too much is easy to do for small people.
But that's not the end.  We had a lot of fun doing her rehearsal dinner dress.
I loved taking Emily's debutante dress and making it into her wedding gown, but this dress was dreamy for me.  This was her favorite dress design and her favorite flower design on her favorite dress that made this dress work.  I literally cut out all the medallions from lace fabric of navy and light blue lace fabrics, and then arranged them on the dress so that they were balanced but not symmetrical.  The fabric is peau de soie, only we made it up on the pearlized side, not the shiny side and with a great Bemberg rayon lining (the skirt is actually backed because I didn't want any lining hem showing under the sassy skirt at the same time, the dress had to be lined.
This was really so much fun for me cause I got to show something I love doing which is working with lace medallions so that they are arranged in a way that is totally personal for the client.  While the garment is on the client I get to start creating and using her as a palette!  This client was really wonderful because she was so clear and specific about what she wanted, that it was fairly easy to get to a place where we were both happy.
This shows a little bit of the process of sewing on the lace.  I use an embroidery foot (#29) the kind with the clear plastic foot, Superior Threads MonoPoly (from my local BerninaOKC) and then guide it around on the lace till it's all covered and attached.  Yeah…..guide it around…you got it – that's the VERY scary part!  This part takes hours and hours and hours, but it really is a labor of love cause it turns out so beautiful when it's finished, and it's exclusive to her.
As if that weren't enough we did a gorgeous cipher monogram for her wedding gown.
Working with clients like this is so much fun.  All my brides this spring have been a blast cause each one has trusted me to do the dresses of their dreams and that's a huge task these days when trust is broken about as often as the wind changes direction.  I take each one of my clients to heart and want to do everything that can make their dreams come true, within reality – I can't do Jessica Rabit dresses, but I can do almost anything else!