There's an interesting article in this morning's Wall Street Journal about a men's coat refashioning from $450 to $3,450 (almost 8 times the cost).  There are a couple of things that are interesting to note.  And yes, I note you can't get the whole article, but if you go to your local library you can pull out the article and often the library can print it.  (It's up and public now!)
So first is the construction of the coat.  The shoulders on the left are obviously stronger and more pronounced, while the shoulders on almost all the coats on the right are almost all raglan, albeit very crisply shouldered.  And by that I mean they have a distinct shoulder pad that makes for a definite shoulder line, not the normal sloping shoulder of a raglan sleeve.
The author notes that the crisp sleeve of the Celine ($3,450) version is very effective and very handsome, and is trying to work out how to do this in a vintage model.  He purchases a $108 vintage version, and of course receiving it, the coat has some serious redo factors – it's too long, and the shoulders aren't as crisp nor are they as modern, IOW the coat is dated.  He takes it to a local tailor (he recommends a tailor that has 4 stars, as opposed to the dry-cleaner alterations), and the tailor says he can alter the coat for almost 3 times the cost of the coat.
Spending Less on the Original Garment is Always More Expensive
I found this not only interesting but fairly common.  When I receive a cheaply made wedding gown, the first thing I comment to the client is that it almost always has to be redone.  I received one gown that was strapless with hardly any body or form to the bodice and NO boning.  What are merchants, designers, and manufacturers thinking when they make a strapless gown without boning!  I can't imagine.  So the dressmaker/tailor has to undo a lot of the construction of the garment simply to get to the part to fix and then finish the garment back up.  This is like sewing the garment twice, with the only difference being that in un-constructing the garment, it has to be done in such a delicate way so that the garment will hold together after it has been reassembled.
The second thing to comment is that the dressmaker/tailor has to have enough savvy, experience (in not only working through many problems, but familiarity with vintage clothing assembly techniques as well as styles), and then, of course, the wherewithal skill to know the techniques to use to accomplish the goal at hand.  Even the author recognizes that this is past the purview of the local cleaners alterations department.
Why This Particular Example Works
In this case, the author's experiment was well done, but it was for several reasons.
He picked a good vintage garment to start with, even though it was online, he had enough expertise to find something that would work toward the style he was attempting to copy
He also knew that this would be a project for a competent tailor (therefore more expensive than an alterations person who does simple repair)
The author had a decent idea about the style
The Fashion Upside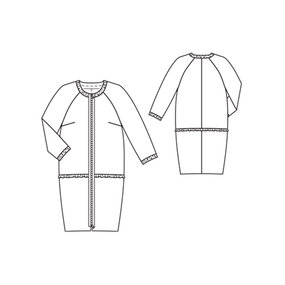 OK so there's a lesson here to learn about refashioning, but there's more to learn here.  I absolutely love the idea of a real coat instead of a cover or wrap or shawl or cloak or any number of other coverings for the winter.  It's refreshing to see this sort of finishing and tailoring even if it is minimal.  For one thing, it shows at the least a bit of shape and effort to fit, especially at the shoulders.  In both cases (the copy and the original) the structure of the coat depends upon good shoulders.  (Uh-Oh here she goes again on the shoulders…..but…) The shoulders really do matters, especially in this style.
This style has a raglan sleeve and most often we see this with a soft or sloping shoulder.  This is absolutely not the look of this coat or what we want here.  Part of what makes this coat so au courant is that it does have a strong shoulder.
What we are looking for is the much stronger shoulder as in the first photo above which shows almost a set-in shoulder look on Jagger, Marsalis, O'Toole, Armstrong, Churchill, Wagner, and Power.
There are a couple of patterns out there that are pretty neat for this look.  The first one is this Katherine Tilton jacket/coat that is absolutely sublime.  I've made this up and love it, but it is a stable knit pattern and works best that way.  That said, it has all the bells and whistles I like.  Like:  good shoulder structure (get yourself some set-in shoulder pads (these are my favorite, but if you have really sloping shoulders, don't be afraid to use these – remember these pads are the ONLY thing delineating your shoulder and making that crispness in the shoulder line.  The nice thing is that you can adjust the pad for your shoulder width and height instead of having to move around that pesky set in shoulder/armscye seam.)
My Favorite Pattern
Here you can see why this coat is so great.  If you don't like the stand-up collar, then simply fold it down to make a nice faux lapel, but it is nice to have the collar up for those cold windy winter days.  This also has the raglan sleeve and a great line in the body to shape to you every so slightly.  If you have a large bust, simply put an FBA in that front piece and you're in great shape.  You would do this here the same way you would with a set-in sleeve.  (Check out the Resource Libary for info on darts and the FBA is part of that package).  Click on the pic to the left for more info on the pattern.  This has that modern shape and look that is so popular now and getting more so.  This coat is so great-looking, it's almost like a dress that masquerades as a coat!
What's even more, here are some excellent suggestions in keeping with the style of the Celine coat above.  It's not an exact copy – but need I say how boring that is.  The Celine coat above is nice and all, but face it, we can do so much better.  The houndstooth is nice above, but it's a little clashing and something more sublime would make this coat last and last and last.  And of course that it's in a stretch knit, would make it totally comfy.  The selections I have chosen are ponte, but if you find this in neoprene or a scuba knit, it could be a little water resistant – not water-proof, but it would make a nice protection for that semi-day day (not for the frog-strangling thunderstorms).
Here are Some Fabric Ideas (click the pic to the left for more info on the fabric)
Does this just scream English wool – well it's a ponte – this is what I'm talking about for this pattern.
Another beautiful wool looking ponte – mostly in greys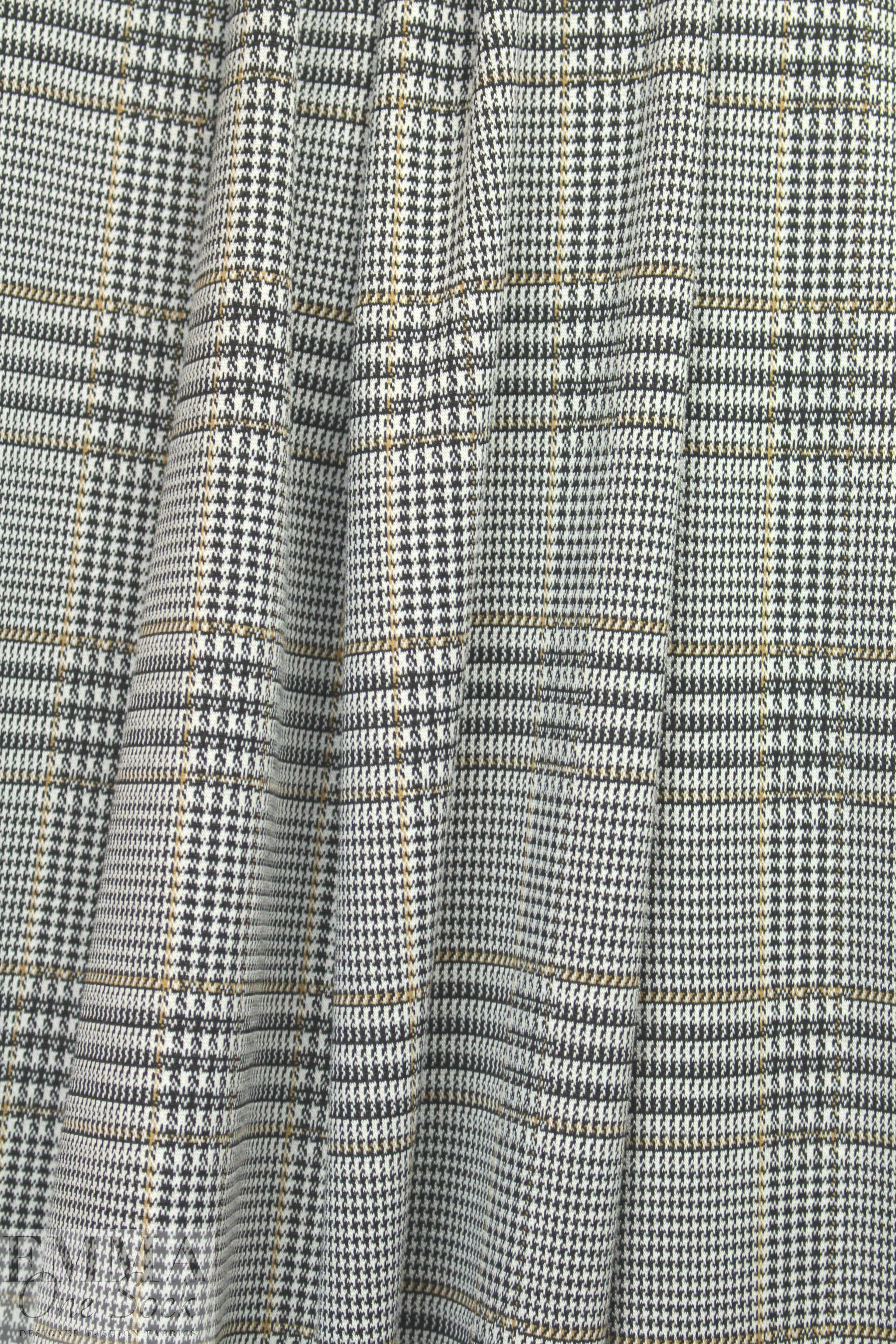 This is a little lighter color, but same sort of beautiful wool-looking plaid.
And from a source, you wouldn't expect, but a great look for this coat for the English wool coat look.  I've seen these at my local Joann's and they are really a nice print.
Another houndstooth check and of all the ones I have up here, this is probably the closest I would go to the houndstooth above.
This is more grey and white rather than a warmer colored tone.  It looks warmer on my monitor, but it's not.
This one is a much warmer tone and very "menswear" looking which is perfect for this coat.
The whole purpose is to keep the coat looking like you bought the fabric from an exclusive mill in England, but the pattern is designed to be made with a stable knit which is a ponte, scuba knit, neoprene, double knit or something like that.  Usually with no more than 20% stretch.  You don't have to make this coat out of that fabric, however, we're trying for the look of the Celine coat and if that's what you're looking for, for winter, this is it.
Also note, the coat doesn't have a lining.  VogueFabricsStore.com does sell a knit lining.  I have not used it, but you might look at that if your coat has to be lined.  Also, I'm from the Southern Plains, so down here, we don't need those thick coats the folks up north need.