Whatever else you may say about Anna Wintour, she purports herself in absolutely the most professional and fashionable manner possible.  Sometimes it's hard to see what's what on the runway, but looking at a fashion expert and what she wears, makes fashion a lot easier to understands.  After all, if this is what she chooses to wear, then it must be good enough for the rest of us.   I caught a couple of photos of her during Wimbleton and wow!  Talk about inspiration.
Not all of us can wear something like this, but there's still something to take away here.  First is the length – it works well proportionally with her height.  I'm not fond of the shorter sleeves for older women (such as her age), but she keeps her arms in great shape, so it isn't all that bad.  If you're not living at the gym and your arms aren't picture-perfect, the sleeve length can easily be lengthened to hit at your best length.   Most of us either don't have the time or genes in our body to do this, so this with a bit longer sleeve would give the same sharp look.  If you have the figure to wear this, then flaunt it.  This is a straight semi-fitted dress with darts in the front.
But wait – there's an option here for all of us.  What happens if we do this in a scuba knit or a stretch-woven?  I like the idea of a scuba knit better.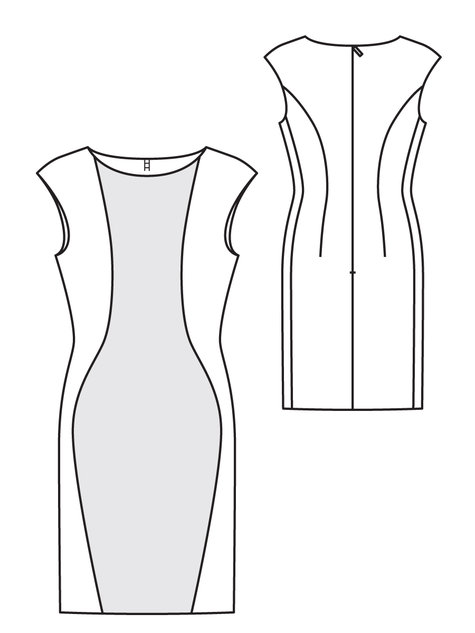 Left is a great woven pattern (click the pic for more info) to use for this dress, but also the pattern on the right is drafted specifically for scuba knit.  The right pattern also has a jacket that you can copy the armhole from the jacket onto the dress then simply use the sleeve on the jacket for the dress.  The sleeve as it is, is very hard to draft a sleeve head for cause it's a semi-capped sleeve cut.  But since the pattern download includes the jacket, it's really easier to draft this from the jacket than to draft a whole sleeve from scratch.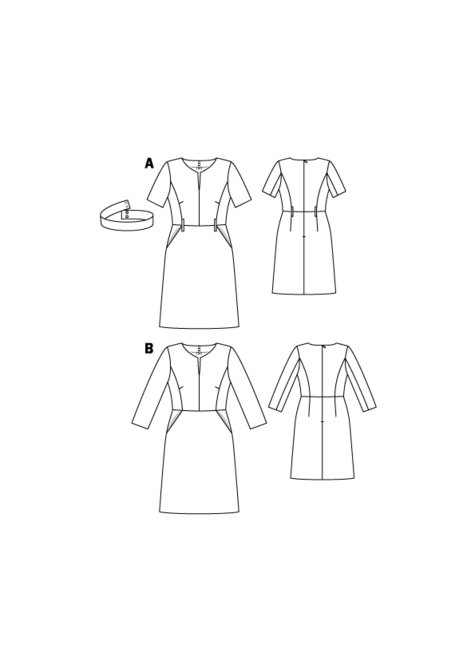 This is another great pattern that can be used for the style of the Anna Wintour dress above.  It has ample darts and fitting devices to alter so that you can make it fit your shape, size, and style.  All these patterns you can click for more information.
Isn't this a simply charming dress?
Colorful, swingy and totally refreshing, and so totally appropriate.  Here I adore the longer hem because full swishy dresses like this will swish around and always show part of the leg, at the same time, long dresses have more fabric and more fabric to swish around.  I just love the whole idea of this.
Here are some great patterns to use to make this dress
The longer view has all the bells and whistles on this, but instead of gathering in the skirt, you can pleat it.  Notice on Anna's version, that the pleats are all in the same direction, but you can make this so that the pleats go back (that means there's a box.  That means you will have a box pleat in center front and an inverted pleat in center back – or where the pleats meet like the pressed sides look like they are kissing).  Like this:
This is a much more attractive pleating arrangement because the pleats all fold backward (unlike the dress Wintour wears directly above where all the pleats are in one direction).  This makes for a very attractive box pleat in center from and equally attractive inverted box pleat in back.  Another couture technique that is so quiet it's hard to see it unless you're looking for it.  That means it's in that sublime quiet quality category.  So if someone does notice, take note – they are a real designer or true artist!
The Big Take-Away
So if the head honcho or HBIC of fashion is wearing dresses all summer, what does that say for fall?!!!
WEAR DRESSES or in our case – make some dresses!