About
From the beginning of my acquaintance with assembling garments, I knew I loved it – didn't even know what it was called or that I could be associated with a drainage apparatus!  But I knew I loved the assembly and figuring out the function and purpose of each dart and piece of the pattern, although I didn't know it was a pattern at the time.  The bonus was to generate a beautiful garment that could be enjoyed over and over.
Dressing Barbie
What is it about Barbie, that most of we sewists start with dressing her?  I think it is the imagination running nuts thinking about all the things that Barbie can do that we aren't old enough to do – go out by ourselves..go on a date…go to one formal event after another (my Barbie seemed to be invited to the opening of an envelope and they are all formal events!)
One day my babysitter, noticing my desire to sew for Barbie, took me to the local 5 & dime (the WalMart in my younger days).  She showed me the pattern book, which I immediately assumed was a book to give ideas to folks who didn't have ideas about what to sew.  Well, that was all fine and good – but I had enough ideas thankyouverymuch, and certainly didn't need anymore – I was overflowing with ideas back then!
She patiently sat me down by one of the books while she went to a stack of cabinets and asked the clerk for a pattern number and opened it up and pulled out the directions.  Ho hum, whatever (I was a know-it-all back then), and pretty soon it dawned on me; you did not have to draw up your own pattern;  you could buy a pattern already drawn up for you and it would look like the dress in the big books on the tables.  OMG
It was like my Helen Keller "wa-wa" moment! Here I had been drawing up all of Barbie's patterns and couldn't believe that someone had thought up these wonderful things and they could be had.  I had to have one NOW!  So I purchased a wonderful shirt-waist dress pattern with a zipper up the back.  I wasn't sure how to do a zipper but was so excited that thought I could learn.
Well, my first zip wasn't the best, but I had made up the pattern.  It was so exciting.
First Dresses for Me!
Finally, we do grow up (hopefully) and use all that info on our own wonderful dresses.
I found this fabulous pink fabric and a pink ribbon to go with it.  I was a tiny thing back then and so I didn't have any fitting issues,  although the skirt looked a little full, at the time it was not – this was exactly the style, hence the big ear-to-ear grin.  I lined it and wore it and felt like a million bucks in the dress.
This got me hooked, but one problem;  I had maxed-out on the knowledge I knew enough sewing to make this dress.  I couldn't wait till I got to high school where I heard that sewing was taught.  I was finally going to learn all I needed to know.
In the meantime, I started drooling over patterns.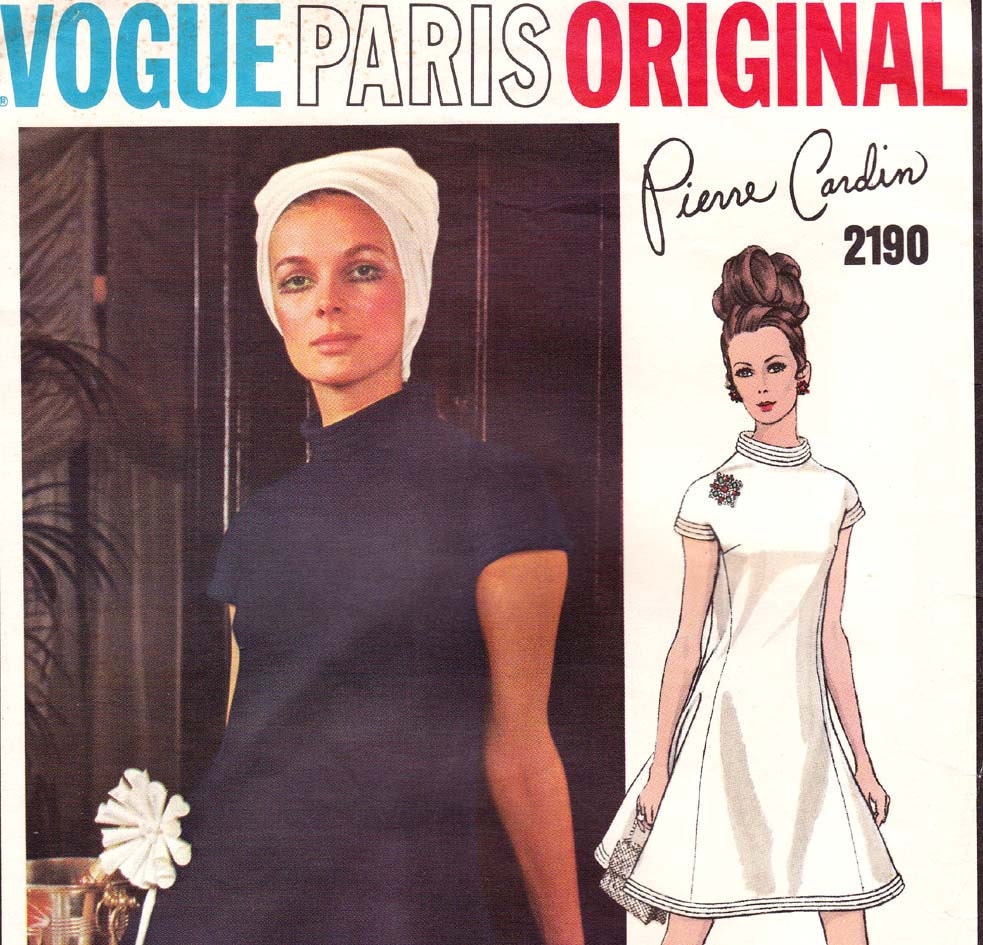 Finally  High  School!
I could take sewing from someone who knew something about sewing and learn how to sew.  The class started with the makings of a baby bib in front of us, with an introduction by the teacher that we were all going to learn how to make a baby bib.  Imagination had long since left this sewing curriculum, at which point  I immediately stuck up my hand and exclaimed that this was not an appropriate message to send to the young ladies of today to relegate them to a life of baby-making as the only choice for a woman, was very limiting.  Why didn't we make something pertinent to our lives now?….a skirt….a shirt?
I was immediately sent to the principal's office, where, after what seemed like copious hours of negotiation between my mother and the principal, it was agreed that I would not dawn the door of the Home Ec. department of high school during my years in high school.  I supposed it was just not meant to be.  Frankly, I was crushed.  I had so looked forward to learning how to sew.
I was a creative little thing and knew I needed to look elsewhere to express my artistic talent. So I devoted myself to learning about art and learned to study and work at art stuff (the watercolor of the old C. R. Anthony's [one of the forerunners of WalMart – the old Five & Dime stores] above is a watercolor from my memories of it as a child).  But my love always rested with sewing.
At this point, it's also fair to say that sewing was falling out of favor in curricula throughout the US.  It was deemed as some sort of ball-and-chain symbol of the old ways of a woman who was chained to the stove, kitchen, sewing machine, laundry room – well you get the idea.  There was a concerted and purposeful effort to demonize sewing and sewists.  And although Julia Child did a lot to bring cooking out, nothing brought sewing out. And it was the other valid and very expressive artistic skill that was lumped into this demonized group of skills and traits that labeled all participants as old-fashioned, passé and obsolete.  Who needed such skills in the modern 60's?  I can't say that cleaning or the laundry room has much creativity to it (and believe me, when I'm doing the laundry, I'm looking for it!), but sewing and cooking did.  Cooking made it out, but sewing never did.
As I went to college, not only were Home Ec classes being dropped from curricula, often there wasn't even a Home Ec department as women moved more and more into areas perceived as more prestigious:  business, design (as opposed to creating), fine art, music, even teaching, but certainly nothing like sewing.
…and she sews all her own clothes
I majored in art at college, and although I enjoyed it – it was a great intellectual pursuit, but my love was elsewhere.  By this time I had become so used to the idea that I wasn't going to study sewing (remember this was not encouraged or even talked about – it was as if it were illegal it was so taboo) much less find a teacher – ever – who would teach sewing.  But I did get a great art background.
After College, I started my best Mary Tyler Moore imitation in the big city in the business and banking community.  I know – nothing to do with art, but this was what was perceived as prestigious and an appropriate career for a young lady just out of college.  Remember this is the time of Mary Tyler Moore and That Girl – it was prestigious to go to the city and make good – which meant: have a career!
Every once in a while I would let my imagination (and any idea of my limitations) run amok and visit a fabulous fabric store in the downtown of my big city.  It was glorious.  My imagination went nuts, and in a moment of weakness would buy a piece of fabric and make it up for some special occasion – it was just what I was looking for – perfect color – perfect weight – I knew exactly what I wanted.  Get a pattern close to it, and go home, cut it out (just as the directions ordered), sew it together (again according to the directions) and promptly something would happen that would mess it up.  The seams weren't quite right;  the fit was off;  the detail work around the neck wasn't good;  combine all these and it was another mess-up;  it just didn't work!  I had an older, completely metal Singer – back when Singers were great machines.  But my technique was missing the finer qualities, thus all my garments turned out nothing like what a professional garment was, or even what would be sold as RTW in the stores.
I thought that I just wasn't cut out to sew (ha! – OK, bad joke!)  There was some mysterious group that taught sewing and kept all the knowledge to themselves.  I should just forget about it and think about doing something else – like furthering my art work.  So I decided the best way to further my art career was to work at a local art center.  It showed mostly modern art, but a few Impressionism and very little Classical or Baroque, which allowed me to further my understanding, knowledge and expertise in more modern forms of art.
I married, which allowed me more time to paint and still work at the art center, but my heart wasn't in it, and you could see me often wishing and dreaming while looking at the latest fashion magazines.  It was always puzzling to me how someone could sew so well and others couldn't:
….was it in the genes?
….was there some deep dark secret that eluded me and would for the rest of my life?
If it was a matter of payola, dues or subscriptions, I would gladly have paid it.  It was a mystery, and one I thought I was never supposed to solve and therefore never would understand:
…how to cut out a pattern right
…was there a right and wrong way
…how to even pick out a pattern and the right fabric
…how was I supposed to know what size to buy
…how could I make my seams turn out un-crinkly and pretty
…how could I make my sewing look professional
…how was I ever supposed to know how to sew at all when I really wanted to learn!
I can not tell you the frustration level I had for so many years.  I didn't really want to be a designer because I didn't know how to sew (I felt you had to learn how to sew before you could be a designer – I'm funny that way!!!!) – that's what I needed to learn – how to sew;  that's what I wanted to learn – sewing.
And Then….
I read in a local magazine/newspaper about some sewing classes being offered through a very nice sewing shop that I had patronized (and would secretly go visit dreaming of this or that garment, but hardly ever buying anything as I had finally accepted that I couldn't sew).  I had heard great things about this teacher;  she was an expert and had sewn for many of the best-dressed ladies in my city;  she worked out of this shop that had beautifully fine fabrics, so I thought fine:  I'm going to test her to see if she really knows what she thinks she does.  I was going to put her through the wringer
I started my first class with her in 1976.  I decided to sew a shirt-waist dress with front inserted placket, collar, collar band, cuffs, set-in sleeve and housetop plackets on the sleeves and in plaid with white contrasting collar and cuff (very popular back then).  The class was 8 weeks long.
I WAS IN HEAVEN!  I finished the dress in 3 weeks, one of the ladies there had some samples of the beautiful new large plaids that Ralph Lauren was showing for the fall coats – they were gorgeous and I really wanted one.
I looked at my teacher and asked if she could teach me how to make a coat, and she said, you pick out the fabric and I'll teach you how to sew your own coat.
Oemgee!  Could it be I found my match at last!
Working With My Mentor, Erma
I made that coat (and it was a killer gorgeous coat).  After the first 8 weeks, I was begging her when was her next class –   NOT FOR ANOTHER TWO MONTHS….what?  I had to wait another two months?  I tried to be patient, but it was very hard.
Everyone knew of Audrey in my day and her style.  My favorite vision of myself was  Ms. Prescott in her "Think Pink" mode…..
What I adored, was that she was creating – let's not talk about the logic that fashion magazine editors told the designers what to do – well, they did, but it was a tad more indirect than this, but no matter.  It was that Ms. Prescott knew what to do – I did too.  I related!!!
Remember this is like a kid in a candy store.  I had tried tackling sewing on my own and ran into all the usual problems (they were always the same thing)
…there was that place in the notch on a collar that never turned out right
…or that place on the pocket that didn't look even
…or that hem that looked funny
…or the turn of the neckline that always bunched up
…or the detailing around the face that would show no matter what but it didn't lay quit flat or curved like it was supposed to.
…let's not go into the set-in sleeves – they always puckered no matter what (I was convinced that for years the pattern companies were making a huge mistake just for folks like me that couldn't seem to get them in just right – it was all a plot!!!)
…until now.
I bided my time waiting for that next class and came fully prepared….if my teacher was only going to teach for 8 weeks every four to six months, I was going to cram so many questions and projects into that class time.
I'm here to tell you that first 8 weeks couldn't touch the next 8 weeks and on and on.  I was like a sponge.  I couldn't get enough.  The curriculum for me was loose, and she would take each student as far or as slow as they wanted to go.  I went as fast as Erma would take me.
In the meantime, I had a wonderful aunt (actually I had a set of glamorous aunts that would spin the head of the most sophisticated kid – they were totally inspiring).  But one lived close to me, and she had heard about my teacher and how I had sewn a coat and dress in the first class and couldn't wait to take more.  I had hinted to my mother that I needed a new machine, and my aunt wanted to buy me one – a Bernina.
Isn't she beautiful.  I have her red hair and penchant for green anything!   I was so touched with her generosity, and there never seemed to be anything I could do to pay her back.   This was the final step from my transition from mistakes and frustration to manifestation of all these swirling ideas in my head!  It was glorious.
Update:  Time always comes full circle, and although I couldn't do her daughter-in-law's dress, her grand-daughter's dress, I could do her great-grand daughter's dress and did we have a blast.
From this:
to this:
I felt as though my sweet aunt was over our shoulder with the puffiest head bragging about her family.  We had a blast, plus I had the chance to get to know my grand niece (I'm not sure, but we're definitely related!) all that much better.
Erma
Erma was a lovely lady.  She was from simple background, but all her aunts saved up their money and sent her to the Parsons School of Design, where she learned to sew, tailor and design.
She was a very giving and generous person.  She never, ever put a boundary on what I could learn – she used to say:  "The sky's the limit – you can learn what you will let yourself learn."  She was right.  I studied with her for 10 years ending my classes, with bringing in a picture of a project and we would discuss how I was going to handle certain features, details and aspects of the design.  I would go off and make it up and then bring it to her for examination.
We would discuss the whys and wherefores of what I had just done and how she would have done it differently or how she would have changed the design, or why she does or does not like this or that technique.
She was a blessing pure and simple to my life.  She gave me back the gift of sewing that I had as a little tyke sewing my Barbie dresses, dreaming of Ms. Prescott and being a fashion designer (who knew how to sew) in a large metro area.  Only now I was sewing them for myself. My friends grew tired of asking me where I got my clothes, they all knew – I made them, usually with a mumbling "grrrrrr…. under their breath!
After Erma…
During the time I was studying with Erma I had access to gorgeous fabrics.  A local lady had fabulous New York contacts for designer end cuts and would order them regularly.  I was a full time sewist (sewing artist).  While all my friends were spending hundreds of thousands (yes, that's hundreds) at the local boutiques, I was designing and doing all of my own clothes and looking just as good, if not better (cause my clothes were proportioned for me and fit).  What became apparent to me was that I wasn't having to reform myself to fit the look, size, shape and style of what was available in the boutiques.  I could tweak designer looks, or even completely redo them to fit my needs, my style, my look, my size and my shape with the fabric I loved.  I loved this.  I loved it so much that I really didn't want to do shopping.  I wouldn't be happy with what I bought, and after having had the knowledge of how to design and construct my own garments, I really wasn't interested in being limited to just this one type of dress or that one type of suit, and certainly didn't want to be limited to what was available in the stores or for that matter only available to what was offered to the stores from the designers.  I wanted "my look" sometimes inspired by designers sometimes not.
What was fun was when designers would come into my city for fund-raisers or fashion shows (we did that sort of thing back then).  Bill Blass would look at me and think, "Uhhhh, ummmm," and I would say, yeah, I know you didn't do this fabric in this style and then we would laugh.
This was when my cousin, Jack Kilpatrick, was given the honor of our state Hall of Fame.  He wore the family kilt and I wore my take of YSL Le Smoking.  This had just come out and it was the rage.  The whole outfit was so totally comfy cause I had designed it for my bod, and felt great in it.  Maybe YSL's didn't have the cummerbund, but loved it as it was part of the whole tuxedo look, mine had the satin lapels and trim where I wanted and not where I didn't want it.  Most of all it had the look I wanted that night.
In one of my all time greatest acknowledgements to YSL, I did the Opium dress.  This was inspired by the gown that YSL used to introduce his perfume, Opium. I loved this dress, and can still fit into it.  Actually I think my leg looks just as good and maybe a tad more natural than – dare I say – Angelina's a la Oscars 2012!!!!
But here's the thing I begin to notice.  I was flying with the big gals of fashion in my city and keeping up with them.  What happens here is that after you get into the hang of doing this, you set your own style – it's not mysterious or magical or any other-worldly method – it's common sense and a matter of observation.
After you start noticing what the designers are doing, you'll notice trends, or one look that particularly suits you or part of a look.  You incorporate that into your next sewing project, and poof you're off doing your own thing and developing your own style.
I loved fashion so much and it was so beautiful that it was a fabulous fun every day.  I would each day think of new projects and ideas to play with and new techniques to work with and do.  The most amazing thing to me was not so much the money I was saving, but how many clothes I had.  I would and did make 3 and 4 suits a season, new ball gowns (and yes that plural!) every year and many separate pieces – just after seeing a technique here or an idea there, I couldn't wait to get back to my studio and incorporate that into my newest project.
Imagine going into your closet and opening the doors and everything you see not only fits, but looks good on you and make you feel great.  It's all what you would want to wear.  The decision then becomes, what mood are you in – a little more artistic?….a little more fun?…a little more serious?…a little more businesslike?
Claire Kennedy Design (Karl Lagerfeld move over!!!)
My reputation grew, and it became common knowledge that most everything I wore, I had designed and completed myself.  No one ever asked if I designed my clothes, except some would say, "Gee I love that jacket look, I need a jacket like that. (Hint, hint!)"  But they all knew where it came from – my head.
Soon, I was asked to do things for my friends, and one of them was to make a debutante gown for one of my friend's daughter.  I thought – "What fun this would be!  Karl Lagerfeld: Watch Out!!!"
And it was fun.  I branched out into bridal too, and to be able to share in either happy event was sort of like an extra plus.  My clients were fun, creative and wonderful to work with.  I figured that by the time they got to my door, they were pretty clear about who they were and what they wanted, so I lucked out with great clients.
Every day I got to walk into my studio and do exactly what I had been wanting to do all my life – design beautiful gowns for all my clients during some of the happiest moments in their lives.  No matter what shape, style or size, I could style, design, shape and fit each client to what they wanted and to best show off their assets.  Eventually what happened is as the moms began to what was happening to their daughters, they begin to want me to do something for them, so my business again expanded into formal wear and evening dresses.
Unlike a lot of the retail shops, I could turn on a dime.  I didn't have inventory I had to put on sale.  I didn't have old styles I had get rid of.  I only had fabric and the latest ideas in my head waiting for just the right gal to walk through  my door.  It was so much fun designing for these girls.  They wanted the latest styles just like I did, only I didn't have to have the cute figures they had, and I got to fit them anyway. 
One day I was sitting in my studio creating like wildfire, and one of the things I love about sewing is that it is calming and an introspective time.  I can "listen" to audio books, watch a good biography or Jane Austin movie or sometimes just let my creative my wander.  I try and have pencil and pad ready for ideas, which is a good idea for all artist cause it seems while creating is when all the creative ideas come.  Later when you have time, the blank appears!!!
And I began to notice how lucky I am that all I need to do is think of what I want, and with some times, fabric and the skill set I have, voila:  here is my design ready to wear.  If I wanted a Chanel jacket – just get some fabric, and it's done;  if I want a pair of tailored pants for a business presentation – get some wool, and it's done;  if I want a frilly dress with the latest Galliano Parisian runway features – get some fabric, and it's done.
Frankly, I'm very spoiled and very used having just about anything I want.  But I began to think how much fun it would be to pass this on to others.  What could be more fun than learning how to make your own garment just the way you want, with just the right about of flare for your style, to fit into your daily/weekly/monthly routine, to fit your size and to just be a reflection of you!
Teaching
I approached the local Bernina store where I have purchased my machines since I started sewing professionally, and started teaching there, which is where I teach today. This is my current class schedule.
The most fun I have is seeing my students express their own ideas and seeing them expressed so beautifully technically.
Each one of these gals has their own imprint upon these jackets.  Although I taught the general Chanel technique, each one of these students created their own jackets to look just like what they wanted.  What is so exciting about this picture is that each jacket looks just like the person who created it.  More than anything, I'm thrilled I can be a part of them discovering that they no longer have to be frustrated or lost in the world of sewing as I was for so many years.
Truly this is what I love seeing my students learn most of all.
Contact me
I really do love to hear from you….if you can't/won't post here, email me. What I really hope to accomplish more than anything else with this blog is to take you from beginning sewing into not only something more artistic but also something more technical or (hold on to your seat) way more advanced than you would have thought possible.  Most often how I got to another level of expertise, was by being so inspired and probably more obsessed that I had to have that jacket or dress or skirt or whatever, and I could sew it.  So email me at claireokc at sewingartistry dot com .
Articles about Claire:
[table id=3 /]
More ways to stay in touch with me!
[table id=4 /]
Save
Save